Ups and downs 
The currency exchange rate on Friday was at 1 US dollar to 1,075 kyat; 1 euro to 1,163.4 kyat; 1 Chinese yuan to 173.47 kyat; and 1 Indian rupee to 16.99 kyat. 
The price of gold in Rangoon on Friday is 673,428 kyat per tical.
World Bank presents historic funding package for Burma
The World Bank has announced its first full funding framework for Burma since 1984, composed of more than US US$1.6 billion in credits, loans and grants and US$1 billion in investment. The Bank cited Burma's move from a state-driven to a market-oriented economy in its announcement. Also announced on Thursday by the Bank was an agricultural assistance project for Burma, which will see a loan of US$100 million to increase year-round farming productivity.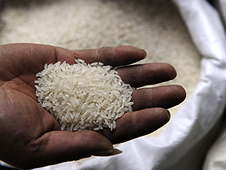 Selling rice to China
Burma's largest trading partner, China, has announced that it will officially start importing Burmese rice from May in a pilot programme, which came as a result of months of negotiations between the two governments. Burma exported 1.1 million tons of rice in the first nine months of the 2014-15 fiscal year, of which 800,000 tons went to its northern neighbour.
*DVB recently interviewed Ye Min Aung, the Myanmar Rice Federation (MRF) general secretary, about the development of Burma's rice sector and the path ahead. You can read the full interview on Saturday, 25 April 2015 on www.dvb.no
US drops sanctions again Win Aung
Win Aung has been removed from the United States' sanctions list, according to the US State Department on Thursday. Win Aung faced accusations of corruption as he oversaw Burma's chamber of commerce when it awarded his Dagon International construction firm large contracts, including the building of Burma's new capital Naypyidaw and reconstruction along the Irrawaddy Delta following the disastrous 2008 Cyclone Nargis. Dagon International and Dagon Timber were also removed from the sanctions list.
Philippines seeks rice imports from Burma
The Philippines is hoping to import rice from Burma in an attempt to diversify its supply of the grain, according to a Reutersreport, supplementing its new deals with Vietnam and Thailand. Burma in the 2014-15 fiscal year exported a total of 1.7 million tons of rice, bringing in US$645 million, up from 1.2 million tons in 2012-13. In May, Burma will pilot its first ever official export of 3,000 tonnes of rice to China under a new agreement between the two countries.
[related]
Foreign investment in Burma double last year
Burma attracted US$8.01 billion in foreign direct investment in the 2014- 15 fiscal year ending 31 March, a figure more than double the previous year, according to the Directorate of Investment and Company Administration. The oil and gas sector topped the list at $3.22 billion, followed by transport and communication with approved capital of $1.68 billion. China remains the top foreign investor with 74 Chinese firms having invested $14.7 billion since 1988-89. Singapore is the second-largest source of FDI followed by South Korea and Hong Kong.
Read more: http://www.dvb.no/news/burma-posts-record-year-for-foreign-investment-myanmar/50157
Thilawa SEZ (Phase 1) slated to open end of June
Burma's first special economic zone (SEZ) will become operational in a commercial sense as from the end of June, DPAreported on Thursday, citing the managing director of Myanmar Thilawa SEZ Holdings. "Construction of eight local and foreign factories on Phase 1 of Thilawa SEZ is almost finished," said Thein Han. Phase 1 occupies nearly 400 hectares southeast of Rangoon, and when fully functional could create up to 50,000 job opportunities, he said. A majority of the 40 firms signed up at Thilawa are from Japan.
Japanese bank opens doors for business in Burma
The first foreign bank to operate in Burma for decades officially opened the doors of its Rangoon branch on Wednesday. Central Bank governor Kyaw Kyaw Maung described the opening of Japan's Bank of Tokyo-Mitsubishi UFJ, or BTMU, as a "new milestone", adding he hoped that it would strengthen the economy by providing more investment and business financing.
Read more: http://www.dvb.no/news/japanese-bank-opens-doors-for-business-in-burma-myanmar/50124
Massive coal-fired plant for Mon State
A US$2.3 billion coal-fired power plant is set to be built in Mon State under a new deal between the Toyo-Thai Corporation and Burma's Ministry of Electric Power. The 1,280-megawatt plant at Ye Township will supply electricity to Burma's national grid, and will be powered by four million tonnes of coal to be imported annually, according to Myanmar Business Today.Construction of the project is expected to take from four to six years.
Twelve private hospitals for Burma from Indonesian giant
Indonesia's Lippo Group are planning to open twelve state of the art hospitals in Burma, the corporation's deputy chairman James Riady announced at the World Economic Forum in Jakarta on 20 April. The cost is expected to total US$400-500 million, and the hospitals will be privately run under the private Siloam Hospitals group, according to Indonesian press reports. James reportedly cited Burma's large population and plentiful resources as reason for the investment.
Burma's flooding of tin market leads to global price drop
Burma's productivity in tin mining has contributed to a global drop in the price of the metal, reaching a five-and-a-half year low as it plummeted nine percent last week, according to Dow Jones Business News. Burma's supply of iron ore has gone from nothing to around 21,000 tonnes annually in just a few years, most of which goes to China. A global limit on exports has been implemented to halt the drop, as the increase in supply from outstrips the rising demand.