Two persons have been hospitalised after the vehicle in which they were travelling from Mogaung to Hpakant was apparently targeted in a controlled landmine explosion on Thursday.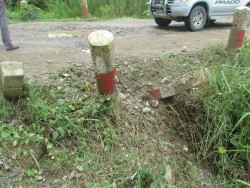 The two have been hospitalised in Mogaung, some 65 kilometres west of Kachin State capital Myitkyina. Two others travelling in the Land Rover were uninjured. It is unknown whether any of the four were affiliated with an armed group or government office.
Speaking to DVB on Friday, Win Naing, an MP from Mogaung, said, "The vehicle was blasted on the main road eight miles from Mogaung, near the village of Pahote. All the windows were shattered, and two victims suffered minor cuts. The other two were uninjured."
Witnesses at the scene said that a red wire trailing from a ditch at the side of the road indicated that a person or persons unknown had activated the landmine using what is described as a "string-pulled command-detonated" device.
The incident happened just after 8am. No organisation has claimed responsibility for the explosion, nor is any motive clear.
In addition to Burmese government forces, several armed groups are active in the Mogaung-Hpakant area, including the Kachin Independence Army, the Arakan Army, and the Shanni (or Red Shan) militia.
[related]
Yesterday, one person was killed and seven injured in Shan State by a landmine. According to Shan Herald, one of the injured identified the explosion as coming from a "string-pulled command-detonated device". No connections are being drawn between the two incidents.