FROM THE DVB NEWSROOM
CDM members prevented from distance learning
The regime's Office of the Director of Education announced that any educational staff involved in the Civil Disobedience Movement (CDM) against military rule would not be allowed to enroll in distance learning courses at the Yangon University of Education and Sagaing University of Education. It will carefully check all applications and block those who've participated in the CDM. "It means teachers who were removed [from their posts for joining the CDM] will face difficulties being promoted in the future. They won't be allowed to take courses that will benefit their careers," stated the Office of the Director of Education in Yangon. The regime is forcing those who apply for distance learning courses to sign a pledge not to get involved in politics or the CDM.
Bangladesh bank freezes regime accounts
The Bangladesh state-owned Sonali Bank froze the accounts of the Myanma Foreign Trade Bank and Myanma Investment and Commercial Bank, RFA reported. Sonali Bank Chief Executive Officer Md. Afzal Karim confirmed the decision on Aug. 16. The move came after the U.S. sent a letter to the Bangladesh foreign ministry on Aug. 3 calling for the accounts to be frozen. U.S. officials imposed sanctions on Myanma Foreign Trade Bank and Myanma Investment and Commercial Bank in June. Both banks had a total of $1.1 million USD deposited at Sonali Bank. The two banks handle much of the military regime's foreign currency reserves.
H&M investigates labor violations at factories
Fashion retailer H&M is investigating 20 cases of suspected labor rights violations at Burma's garment factories supplying the clothing retailer, Reuters reported. The investigation came after the Business and Human Rights Resource Centre (BHRRC) found 156 cases of labor abuse in garment factories from February 2022 to 2023. "All the cases raised in the report by BHRRC are being followed up and where needed remediated through our local team on the ground and in close cooperation with relevant stakeholders," stated H&M. Wage reduction, wage theft, unfair dismissal, and mandatory overtime, were among the most common labor rights violations in Burma's garment industry, states BHRRC.
News by Region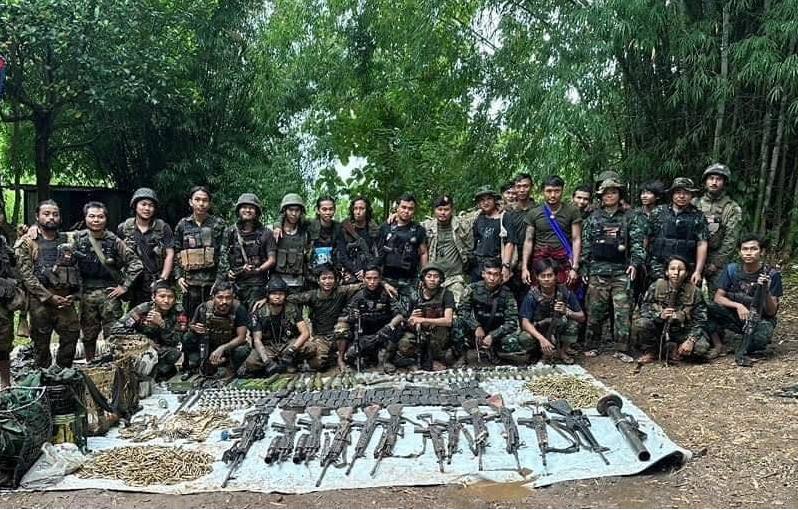 KAREN—Resistance group Cobra Column claimed that 15 Burma Army troops, including a major, were killed and more than 20 others were injured in fighting south of Myawaddy town on Aug. 15. It reported two of its members killed and five injured. The Burma Army launched an offensive to reclaim an outpost previously captured by the Cobra Column and the Karen National Liberation Army (KNLA). The Burma Army deployed troops and weapons. It also carried out airstrikes on the area. "It was a situation where the two sides had to shoot each other at close range. They had a lot of forces," Cobra Column Commander Bo Taw Baw told DVB.
KACHIN—The bodies of two men bearing signs of torture were recovered in Hpakant on Aug. 17. "One body was discarded in front of the market, while the other was placed on top of the Yuma Bridge. Visible bruises were evident," said a witness. Both victims were found blindfolded with their hands bound behind their backs. A piece of paper was reportedly placed on the victim's bodies stating: "military dog, thief, robber." The identities remain unknown.

MANDALAY—The Burma Army sealed off Golden Gate Private High School in Maha Aungmye Township and arrested the founder on Aug. 17. "A group of military personnel and administrators arrived and sealed the school. I heard teachers were also arrested," said a resident. The founder was arrested for allegedly hiring teachers who participated in the CDM, and for supporting the People's Defense Force (PDF) and National Unity Government (NUG).
RAKHINE—Over 370 jailed Rohingya were released and sent back to Maungdaw district, regime officials confirmed. Those freed were either granted amnesty or had completed their prison sentences. Twenty-seven Bangladesh citizens were also reportedly released. Rohingya continue to flee Rakhine State and the refugee camps in Bangladesh due to restricted living conditions. At least 189 Rohingya have been arrested outside of Rakhine State in 2023, according to regime sources.
SHAN—The illicit economies of Shan State and northern Laos now are larger than their legal economies, states the International Crisis Group (ICG). "Myanmar's Shan State and northern Laos's Bokeo Province have become a contiguous zone of criminality that is largely beyond the reach of the two countries' authorities," said Richard Horsey, the ICG Senior Adviser on Burma. Horsey added that online scam operations, money laundering, drug trafficking, and illegal wildlife trade have occurred in the region. Illicit activities have increased in Shan State as armed groups involved in crime include the Border Guard Forces (BGF) and Ethnic Armed Organizations (EAO), added ICG.