FROM THE DVB NEWSROOM
Chin forces seize India-Burma border town
The Chin National Army (CNA/CNF) and Chinland Defense Force (CDF) seized the India-Burma border town of Rikhawdar in Falam district, Chin State on Nov. 13. The Chin anti-coup resistance groups began the operation to seize two military outposts on Nov. 12.
"Resistance forces now occupy the regime's checkpoints on the [border] bridge," said a Chin fighter. Airstrikes were carried out by the regime on Rikhawdar. Two civilians were injured by artillery fired from Burma which landed in India.
Reuters reported that 43 military personnel fled into Mizoram, surrendering to Indian police. Thousands of Rikhawdar residents have sought refuge across the border in India since the 2021 military coup. The CDF announced that it has shut down all roads into Rikhawdar.
Convicted regime minister's son apprehended
The son of the regime's former Home Affairs Minister Soe Htut was arrested and is under investigation for bribery. Soe Htut was arrested on Sept. 25 and sentenced to five years for corruption in relation to passport issuance.
"Soe Htut's son was arrested after the former minister was apprehended. Police Colonel Kyaw Thiha was implicated in the case along with other officials and has also been detained," according to an unnamed source close to the police.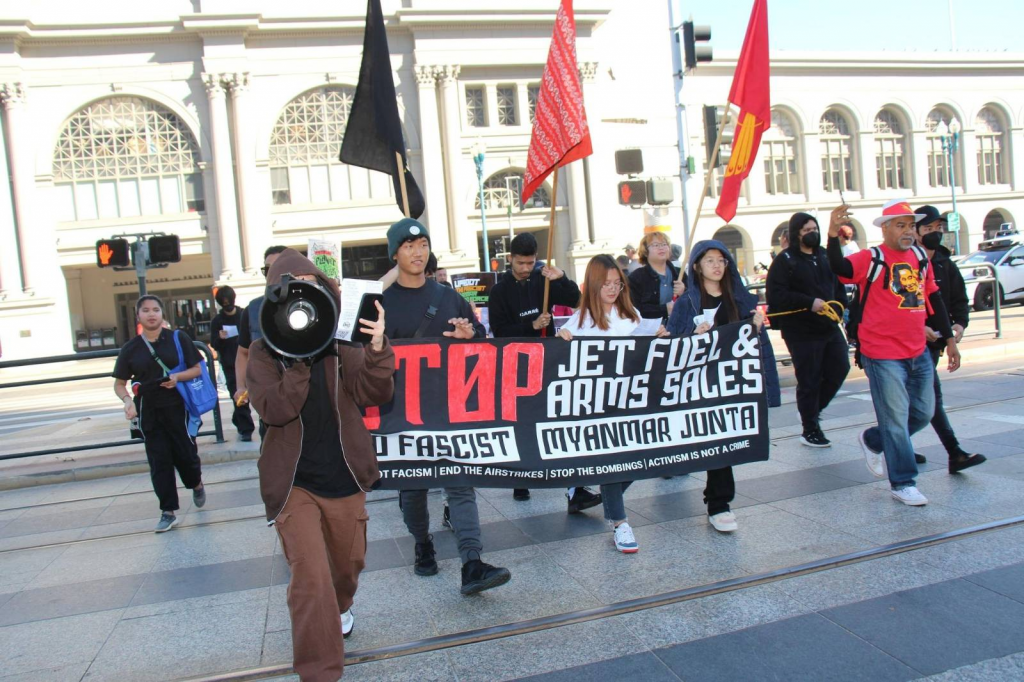 Protest against military at APEC Summit in US
The All Burma Federation of Student Unions (ABFSU-USA) staged a protest outside the Asia-Pacific Economic Cooperation (APEC) Leader's Week 2023 in San Francisco on Nov. 13. The summit is hosted in the U.S. city from Nov. 11-17.
Protesters carried banners reading "Stop jet fuel [and] arms sales to [the] fascist Myanmar junta." China and Singapore are APEC members. China has been accused of providing $260 million USD in arms, while entities in Singapore allegedly supplied $250 million USD in supplies to the military.
News by Region
ARAKAN—A curfew was imposed in Sittwe from 9 p.m. to 6 p.m. on Nov. 13 after fighting erupted between the Arakan Army (AA) and the military. Ten Sittwe residents were arrested, including an administrator. All waterways and roads into the state have been blocked.
The military ordered its battalions in Buthidaung Township to be ready in anticipation of an attack from the Brotherhood Alliance from Maungdaw Township. The Brotherhood announced that it had seized a border guard outpost in Rathedaung Township on Nov. 14.
BAGO—The military imposed a curfew from 8 p.m. to 6 am. on Nov. 13 around Nawaday Bridge in Pyay. It connects the east and west banks of the Ayeyarwady River and is located on the main road that links Pyay to Sittwe. The navy is conducting patrols in the Ayeyarwady River. "The area is fully guarded by security forces," an unnamed source in Pyay told DVB.
MON—Fourteen military personnel, including two high-ranking military officers, were reportedly killed and 23 surrendered to the People's Defense Force (PDF) and Karen National Liberation Army (KNLA) in Kyaikmaraw Township on Nov. 13, stated the National Unity Government (NUG) Ministry of Defense.
SHAN—More than 20 civilians were killed and at least 15 were injured by artillery in Moebye and Loikaw townships from Nov. 11-13, according to the Karenni Human Rights Group (KnHRG). "The [military] has been indiscriminately shelling the town," said a Moebye resident. Many homes were destroyed.
YANGON—A bomb detonated in front of a bar in Mayangone Township on Nov. 13. "The sound of the explosion was really loud. The bomb was inside a beer can," said a Mayangone resident. No casualties were reported and no group has claimed responsibility. A staff member said the bar was also bombed in April 2022.