The village of Tuikhingzang in Tonzang Township, Chin State, was struck by mudslides at about 3am on Friday.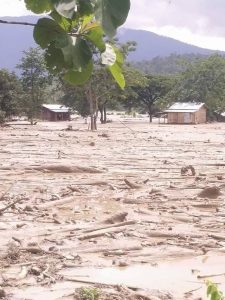 Ngun Lal, a Chin resident in Kale, Sagaing Division, who went to the scene at dawn, said, "The village has been completely under thick mud, and it has got to be abandoned."
Ngun Lal said that the mudslides had taken place gradually and that residents had managed to run away from the incident although it had been at night.
"The villagers said that the hill above their village had been affected by recent heavy rains causing landslides and soil erosion. Debris and mud which had been piling up on the hillside had started flowing toward the village, thus flooding the houses," said Lal, chief editor of the Chin Times, a local newspaper in Kalay.
No one is reported dead or seriously injured.
Tuikhingzang (a.k.a. Hakhalay), a hillside village bordering Kale Township, is home to 352 people of 66 households.
[related]
Some of the victims are taking shelter at a temporary camp built near Thado village in Tonzang Township while others, mostly women and children, are staying at Khampat village and in Kale with the help of Chin communities and churches.
Hung Ngai, chief minister of the Chin State government, had made a visit to the village, according to government sources.