FROM THE DVB NEWSROOM
Burmese-Americans and pro-democracy supporters staged twin anti-China protests in New York City and Washington, D.C. on June 2. This was the fourth protest held outside the Chinese embassy in the U.S. capital. A month-long series of protests began on May 19 to raise awareness about the role China is playing in Burma following the 2021 military coup. "The reason for protesting in front of the Chinese embassy in Washington, D.C. is that there are many embassies [nearby]. We want them to hear the people's voices," said San Mann, a Burmese-American pro-democracy activist.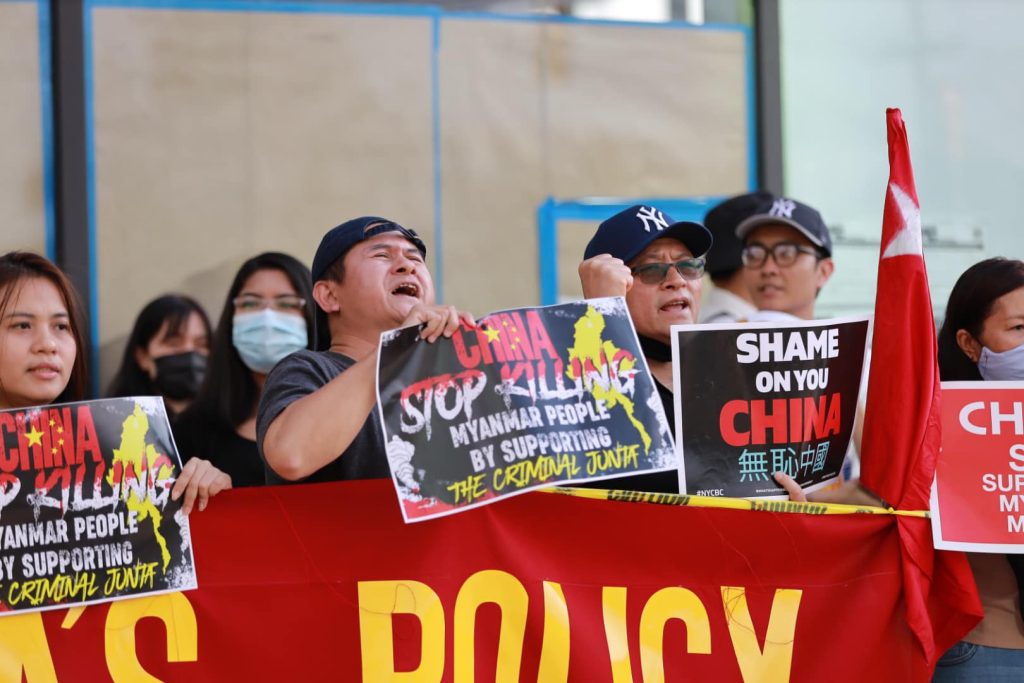 The New York City Burmese Community (NYCBC) held its protest outside the Chinese consulate in Midtown Manhattan. Protesters held signs that read: 'China's Policy Burma's Misery' and condemned the Chinese government's "blatant disregard for the Burmese people's pursuit of democracy" through its support for the military regime ensconced in Naypyidaw. Anti-China protests have also taken place inside Burma, in areas under the control of anti-military resistance groups. Several Chinese officials have made visits to Burma in recent weeks. Foreign Minister Qin Gang held meetings with military regime officials in May, including former dictator Than Shwe. Major-General Yang Yang, the acting director-general of the Intelligence Bureau of the Joint Staff Department of China's Central Military Commission, visited Naypyidaw last week. Director-General Peng Xiubin of the International Liaison Department of the Communist Party of China (CPC), visited Burma in April. Following the Chinese Foreign Minister's visit to Naypyidaw, the military regime released 2,153 political prisoners.