FROM THE DVB NEWSROOM
UN states recent fighting has displaced 25,700 civilians
Over 25,700 people in northern Shan and southeast Burma have become Internally Displaced Persons (IDPs) since fighting between the military and anti-coup resistance groups escalated nationwide on Oct. 26, stated the U.N. Office for the Coordination of Humanitarian Affairs (UNOCHA).
Mobile phone services in Shan, Bago, and Karen states have been disrupted. China's Foreign Ministry spokesperson Wang Wenbin reiterated calls for a cessation of hostilities along its border during a press conference in Beijing on Nov. 2.
"We urged all parties to immediately stop the fighting, settle differences peacefully through dialogue and consultation, avoid escalation of the situation and take effective measures to ensure security and stability at the China-Myanmar border," said Wang Wenbin.
Fighting between the Brotherhood Alliance and military began Oct. 27 and has led to security checkpoints across northern Shan State, making it difficult to get people or goods into the area. Nine out of the 22 townships in northern Shan have been affected by the conflict. The number of IDPs in the area prior to Oct. 26 was 14,470.
Thai nationals still trapped in northern Shan State
At least 162 Thai nationals have been trapped in Laukkai, located in the Kokang Self-Administered Zone of northern Shan State. Bangkok is planning a rescue operation, Thai PBS reported.
"The Thai Embassy in Myanmar has settled the Thais in a safe shelter and is providing them with necessities. The embassy is talking to the Myanmar authorities to find ways to get them back to Thailand as soon as possible," said a Thai government spokesperson.
The 162 Thais are reportedly among 500 foreigners stranded due to the fighting in northern Shan State. Humanitarian workers said that the foreigners were rescued from cyber scam centers operating in Laukkai. They are currently staying at a military outpost near the front line.
Migrant workers report rights violations in Thailand
Around 135 migrants from Burma, including those employed under the Memorandum of Understanding (MOU), working at a garment factory in Ratchaburi, Thailand have reported rights violations to the Aid Alliance Committee for Myanmar Workers (AAC). It stated that the factory closed down on Oct. 24, without any prior notice to its employees.
"Under Thai Labor Law, workers who experience a work stoppage are entitled to unemployment compensation based on their length of employment," added the AAC. Among the migrant workers are 15 undocumented and 120 under the MOU signed between Bangkok and Naypyidaw.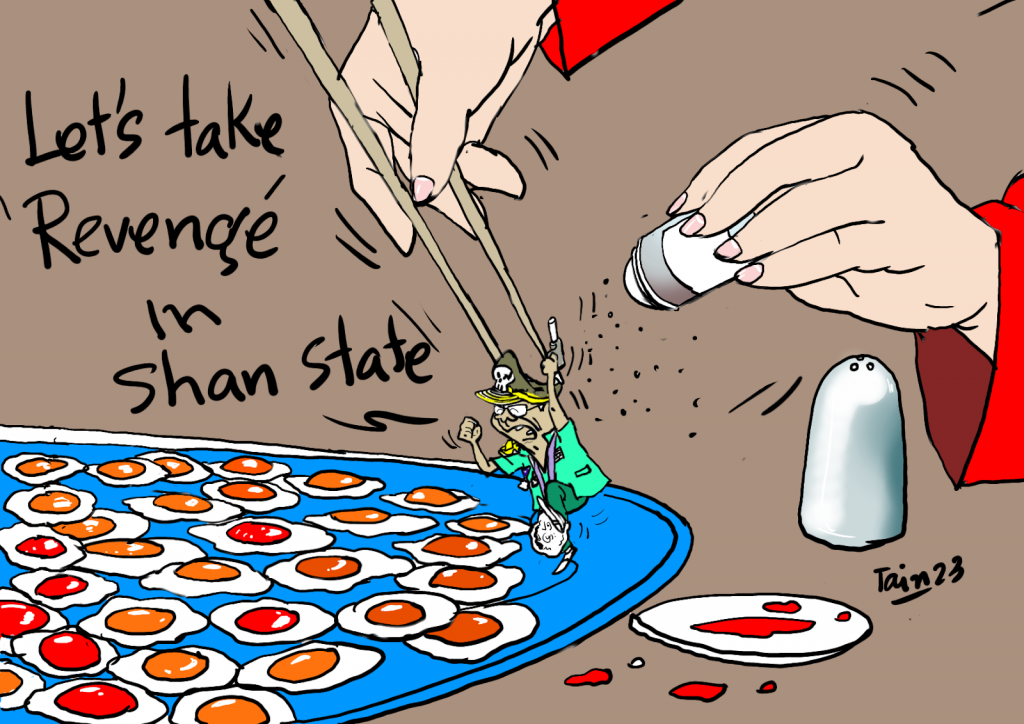 News by Region
AYEYARWADY—At least 167 Rohingya were apprehended together with 10 others in Ngapudaw Township on Nov. 2. They were intercepted by the Burma Navy at sea near Hainggyikyun town.
"Many Rohingya are being held in a water storage facility," an unnamed source in Ngapudaw told DVB. It is believed that they had fled from Rakhine State but their intended destination remains unknown.
KACHIN—The regime Chief Minister Khet Htein Nan said that a roundtrip ticket from Myitkyina to Mogaung on the Myitkyina-Mandalay railway line will be free for one month starting on Nov. 1. The Mogaung People's Defense Force (PDF) urged people not to ride the train.
"There were not many riders after a resistance group said it won't take any responsibility for the riders' security. So, in response [the regime Chief Minister] said that he will pay all train fares until the end of the month," said a Mogaung resident. The railway line had been suspended since 2021.
KARENNI—The Karenni Nationalities Defense Force (KNDF) announced it had joined Operation 1027 which began Oct. 27 in Shan State. "The KNDF Battalion (606) is now fighting under the strategy of the northern alliance forces," a KNDF spokesperson told the Kantarawaddy Times.
NAYPYIDAW—State Counsellor Aung San Suu Kyi continues to be denied visitors, despite prison visits resuming across the country on Oct. 24. "State-level officials, including top ousted leaders, are still not allowed to meet with visitors," an unnamed source close to the Naypyidaw Prison told DVB.
Jailed National League for Democracy (NLD) government officials have been unable to meet with their lawyers since December 2022. President Win Myint and Central Executive Committee member Win Htein are among the NLD officials being denied visitors. Aung San Suu Kyi's son, Kim Aris, has stepped up calls for his mother's release.
SAGAING—Three civilians were killed by artillery in U Yin and Let Pan Chaung villages in Kale town on Nov. 3-4. "The [military] fires artillery every day," said a Kale resident.
The Burma Army has been reportedly firing artillery around Kale as fighting between it and anti-coup resistance forces continues. Five thousand civilians have fled their homes to safety in the forests and mountains.
SHAN—Eighteen civilians, including children, were killed and 44 were injured by aerial bombardments and artillery in northern Shan State since Oct. 27, stated the National Unity Government (NUG).
The NUG added that over 90 military outposts have been seized in northern Shan State. Eighty residential and 12 religious buildings have been damaged. At least four towns, including Chinshwehaw – a strategic trade town on the China-Myanmar border – are now under the control of the Brotherhood Alliance.
A mother and her son were killed after a makeshift bomb shelter they were hiding in collapsed in Muse Township. The two had entered the shelter on Nov. 1 and were reported missing until neighbors recovered their bodies on Nov. 2.
"They had hidden in the trenches at night when they heard the sounds of heavy weapons, but they did not emerge in the morning," a witness told DVB. Two locals were killed and three were injured, including children, by an airstrike carried out on Muse on Nov. 2.