A court has ruled that a woman who died as protesters clashed with police during a demonstration at the Latpadaung copper mine on 24 December last year was killed by a gunshot wound. The decision opens the possibility for her relatives to press for police officers to be charged with murder.
Farmer Khin Win, 50, was shot in the head when riot police opened fire on a crowd of villagers. The group had earlier attempted to prevent workers from mine operators Myanmar Wanbao from fencing off land that the farmers claim to be rightfully theirs.
The nature of Khin Win's death was confirmed by the Sagaing Division's Salingyi Township court on Thursday, based on the findings from an investigation including eyewitness accounts and forensic evidence.
"The judge concluded that Daw Khin Win did not die of natural causes, such as illness, but from a gunshot wound," said a local named Daw Nuu who attended the court hearing.
Forensic doctor Tin Nwe who conducted the autopsy on Khin Win's body confirmed she had died from a bullet wound to the forehead.
[related]
A report released by the Myanmar National Human Rights Commission on 14 January also said that a gunshot wound was the cause of death. The report recommended that action be taken against police for failing implement standard riot control procedures.
Previously, Khin Win's sister had her attempts to file murder charges against the local officials rebuffed. Khin Mar Aye had hoped to bring charges against the Sagaing Division Border and Security Affairs minister, the regional police chief and the commander of the Yinmarbin District police.
Thein Than Oo, her laywer, said the Salingyi court's decision had effectively opened a window to sue the police for Khin Win's murder.
"Previously, the Salingyi Police Commander Than Naing, in response to Khin Mar Aye's filing of the murder charges, said that the case could not yet be opened as there was a pending deceased person matter, and that the cause of death had to be investigated first. But now the judge has ruled that she was shot in the head, and closed the deceased person case, so the police will have to give a yes or no answer on whether to open a murder case nor not," said Thein Than Oo.
"If they refuse, we will seek an order to investigation from the Supreme Court."
Thein Than Oo said that the plaintiffs plan to file murder charge against the police after the Thingyan [Burmese new year] holidays. He says that the legal team have compiled evidence including witness accounts, photographs and video footage.
Police have maintained that villagers attacked them during a standoff starting on 22 December 2014 with missiles fired from slingshots. Villagers contend that police responded in kind, before firing on the crowd with live ammunition. A similar confrontation the following day was broken up and dispersed by police using rubber bullets.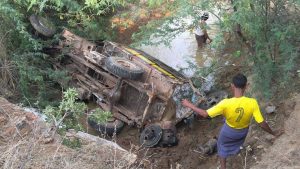 Hundreds of local villagers and their supporters have been protesting the Latpadaung copper mine since its inception more than 10 years ago. Many have been displaced to make way for the project, which was originally contracted to a Canadian firm, Ivanhoe Mines.
The controversial mine was temporarily suspended when activists and Buddhist monks staged a mass sit-in protest in 2012. The protest was broken up brutally by riot police on 29 November that year when some 80 protestors were injured, including several monks, many with horrific burns that experts have attributed to white phosphorous.
A subsequent investigation headed by opposition leader Aung San Suu Kyi failed to pronounce anyone guilty for the violent crackdown, and to many villagers' dismay, recommended to the government that the project be resumed.
Since Khin Win's killing, Suu Kyi has blamed the violence on the Latpadaung Working Committee, accusing it of failing to implement the suggestions of her investigative commission.
Also on Thursday, fifteen Latpadaung villagers who attended the hearing were injured when the vehicle they were travelling in collided with a freight truck.
Resident of Mogyopyin village Pho La Pyae told DVB that the injuries included broken legs, arms and ribs.