FROM THE DVB NEWSROOM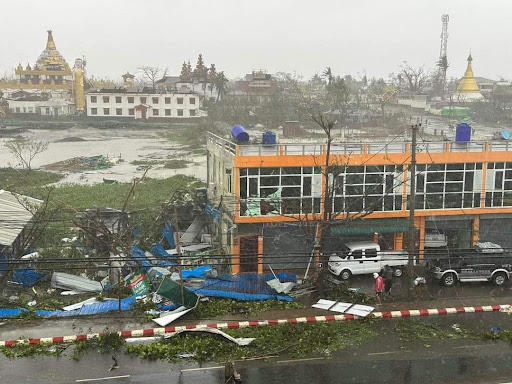 Cyclone Mocha leaves trail of destruction
At least five people were reportedly killed after Cyclone Mocha made landfall on May 14. Three were killed by falling trees in Ayeyarwady Region. Another two were killed in a landslide in Tachileik, Shan State, the National Unity Government (NUG) confirmed. No casualties have been reported in Rakhine State, where Cyclone Mocha made landfall Sunday afternoon. Sittwe residents have been stuck in their homes and need immediate assistance due to the storm surge and rising water. Both electrical and telecommunications towers were destroyed by the storm causing blackouts and a disruption in telephone and internet connections. The cyclone will weaken to a depression today as it reaches Sagaing Region.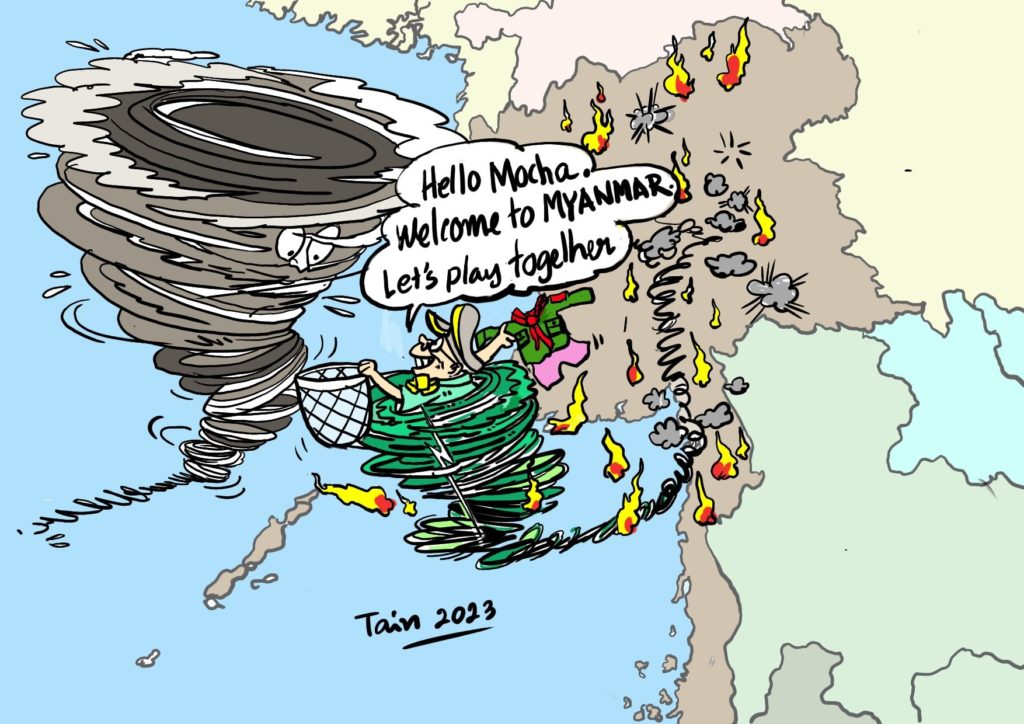 The World Food Programme (WFP) stated that it has enough food for over 400,000 people impacted by Cyclone Mocha. "We're preparing for the worst and hope for the best to occur," said Sheela Matthew, the WFP deputy director in Burma.
News by Region
BAGO—The bodies of 19 people, including seven children, were discovered in Nyaung Pin Thar village, Mone Township on May 13. The Karen National Union (KNU) stated that other villagers are still missing following fighting between the Karen National Liberation Army (KNLA) and the Burma Army caused locals to flee their homes on May 10. "The military just put all the blame on the villagers. They said they were sheltering PDF [People's Defense Force]. Actually, none of the villagers sheltered any groups," a local said.
KACHIN—Three people were killed at Shin Yin Hotel in Hpakant Township on May 12. "At about 10 p.m. the soldiers arrived in front of the hotel and later, we heard gunfire," a local said.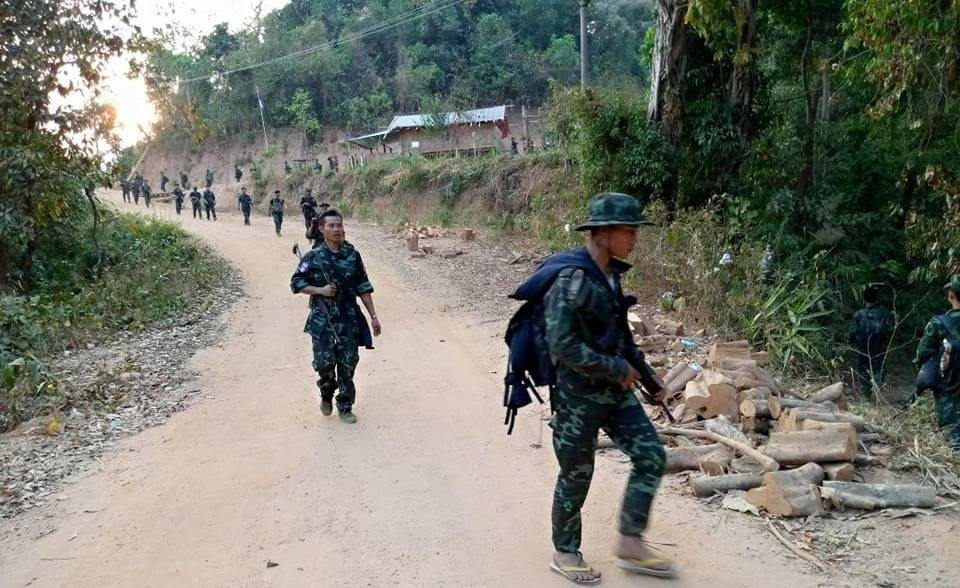 KAREN—More than 1,700 Burma Army personnel were killed and 1,188 were injured during fighting in the KNU territories since January, the KNU claimed. A total of 59 resistance fighters were killed and 196 were injured. More than 400,000 people living in KNU territory have been displaced by the fighting since the 2021 military coup. People living in displaced persons (IDP) camps are in need of urgent humanitarian assistance, the KNU stated.
MANDALAY—National League for Democracy (NLD) party member Win Mya Mya was released from Obo prison on May 12, the Mandalay Free Press (MFP) reported. She was sentenced in 2021 to three years in prison under Sec.505 (A) of the Penal Code. Win Mya Mya was one of two NLD Muslim candidates to win in the 2020 election.
MON—The businesses and homes of two residents of Kyaikhto Township were sealed by the Burma Army on May 10. The properties were seized as two locals have been held for over one month on charges of violating the Counter-Terrorism Law. Ten houses have been sealed by regime forces in Kyaikto Township since the 2021 coup.
SAGAING—Three children were killed and two women were injured by artillery shells in Bambwe Htan Zin village in Yinmabin Township on May 12. Locals reported an infant, a six-year-old, and a 16-year-old were killed. The Burma Army arrested 10 people. Thousands were forced to flee their homes due to the attack
An estimated amount of K600 million ($286,625 USD) worth of heroin was seized by the PDF in Tigyaing Township on May 11. The Tigyaing Administration group stated that five men were transporting the drugs from southern Shan State to Myitkyina, Kachin State. "They stored those drugs inside 660 soap containers. We have transferred to the Township Administration group to take action in accordance with the law," said a PDF spokesperson.
TANINTHARYI—Thirty-eight civilians were killed in Tanintharyi Region in April – the deadliest month on record since the 2021 coup – according to FE5 Tanintharyi Report Series, a group that provides monthly updates on the region. Eight were killed by the Burma Army and its affiliates. Fifteen were killed by the PDF and 15 were killed by unknown assailants. The highest number of civilian fatalities occurred in Launglon and Dawei townships. This year, 37 civilians were killed in January, 33 in February, and 26 in March.
YANGON—One man was killed in an explosion at a residential compound in North Okkalapa Township on May 11. The blast occurred in a room that was rented by the two men. "The explosion was very loud. People in the residential compound ran from their rooms. The Burma Army was able to arrive quickly. They arrested the injured man," a local said.
DVB English News goes inside a rebel camp to interview Maung Saungkha, the Chief Commander of the BPLA. DVB English is on-demand via Facebook, YouTube, Twitter, TikTok, Instagram & Substack.