A demonstration was held in Mandalay at 9am on Sunday to voice dissent at the continued detention of student activists who were arrested during a protest in the Pegu Division town of Letpadan on 10 March.
More than 300 people turned out to march from the Mya Taung Monastery at the corner of 85th and 35th streets to 80th Street and on to 30th Street.
The demonstration was made up of students, political activists, local residents and likeminded supporters from Monywa, Mogok and Sagaing. The march concluded at around 11am.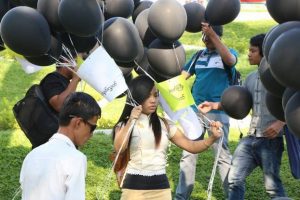 Meanwhile, in Rangoon, a similar demonstration was held at Inya Lake at 5pm on Saturday to call for the release of all detained students.
About 100 activists remain incarcerated in Tharrawaddy prison following a violent police crackdown on protestors in Letpadan nearly two weeks ago following a tense standoff for several days and failed negotiations between student leaders and local authorities on the viability of the student protest continuing south to Rangoon.
[related]