Two thousand acres of cultivated farmland flooded. Eight thousand people displaced. Eighty-four percent now living in poverty. More than a third hungry. Ten suicide attempts.
A new report by an international NGO and two local partners attempts to quantify the damage wrought by the forcible eviction of thousands of villagers in southern Shan State to make way for a 140 mega-watt hydropower dam to power Naypyidaw.
Some 8,000 people – of Kayan, Pa-O and Bamar ethnicities –  were displaced from Pinlaung Township in 2013 ahead of the completion of the Upper Paunglaung Dam, built by a consortium including Chinese and Swiss companies.
Two years on, villagers report widespread hunger, water shortages, joblessness and depression at government-built relocation sites with "water and sanitation facilities that are below standards for refugee camps."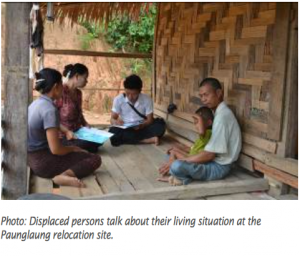 "We are dying on the ground," one rights activist said in an impassioned speech yesterday during a press conference at the House of Memories restaurant in Rangoon to mark the release of the study.
"The next generation is dying because we stop [the children's] schooling and reduce our food from three meals to two meals [per day] – and the government is talking about democracy!"
Physicians for Human Rights (PHR), a global nonprofit, partnered with local land rights group Land in Our Hands and the Kayan New Generation Youth to interview 358 villagers from Pinlaung.
They found unemployment had risen from 2 percent before the eviction to 20 percent afterwards, as residents were forced to abandon farming for less stable work.
The number living below the poverty line jumped from 15 percent to 84 percent.
More than a third of villagers interviewed reported moderate hunger – as opposed to just 2 percent who went hungry before the evictions and a national average of about 5 percent.
"Poverty creates a cycle," said Bill Davis of PHR. "Poverty can result in malnutrition. Malnutrition can result in sickness – people who are malnourished get sick more. People who are sick are not able to work."
Almost half of the villagers interviewed said drinking water was scarce. While the government installed water pumps at the relocation sites, residents complained that the water was dark and dank-smelling.
"Even when we wash our hands five times the smell is still there," said Min Min Htay, a former farmer from Pinlaung Township.

According to villagers quoted in the report, at least 10 people have attempted suicide since the evictions. Four have died. An 18-year-old girl who survived told interviewers: "If I die, my family will have more food."
Locals linked the suicide attempts with a prevailing sense of hopelessness among the community, who were previously farmers.
"Living without land is meaningless," said Min Min Htay, a former farmer. "At least we had rice to eat when we had land."
[related]
Two of the main companies, Yunnan Machinery Export Company and AF Colenco, did not immediately return a request seeking comment. British and German firms have also been involved.
There are 43 more dams planned across Burma, according to the Burma Rivers Network, and more than 100,00 people face eviction.
Alongside their report, PHR issued a series of recommendations to the government, which is scheduled to pass a new law governing land policy next year.
"The disaster created at Paunglaung is being repeated at dams, mines, SEZs [Special Economic Zones], agriculture plantations and other development projects across Myanmar," the report reads.
This article was republished with permission from Coconuts Yangon.