FROM THE DVB NEWSROOM
Dozens of miners remain missing after Hpakant landslide
At least 40 miners are missing and feared dead due to a landslide at a jade mining site in Hpakant Township on Aug. 13. The landslide occurred after a portion of a cliff collapsed into a nearby pond, generating waves that swept the working miners away. Search operations were halted after the cliff's complete collapse. "We have yet to recover any bodies. Our efforts are currently on hold," a rescue worker told DVB on Monday. Eight injured miners are reportedly now at Hpakant hospital. Landslides at Hpakant mining sites occur during the monsoon season. Over 200 miners were killed in 2020.
US delegation visits Rohingya refugee camps
A U.S. congressional delegation visited the Rohingya refugee camps in Cox's Bazar, Bangladesh on Aug. 14, the Dhaka Tribune reported. Congressmen surveyed the financial situation of the camps and held discussions with officials from the U.N. Refugee Agency (UNHCR) and International Organization for Migration (IOM). They met with Rohingya living in Kutupalong camp and with Bangladesh government officials at the Refugee Relief and Repatriation Office in Cox's Bazar. An Organization of Islamic Cooperation (OIC) delegation visited the refugee camps on Aug. 13. The World Food Programme (WFP) has cut food rations for Rohingya from $10 to $8 USD per month last March after a $56 million USD fundraising shortfall.
News by Region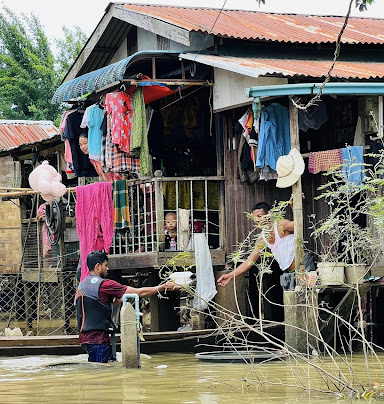 BAGO—Flood waters began to recede Aug. 13 and some residents were able to return to their homes in Bago town. They were sheltering at 40 relief centers. "It is still not good to go around," a Bago resident told DVB. Over 10,000 people were affected by the flooding, as roads were submerged making travel nearly impossible. "Relief work has now stopped, but we still have to continue distributing food packets to the locals," said a relief worker. Waterborne illness and an increase in the price of basic commodities is concerning residents who've returned home.
Two alleged military supporters were killed in Letpadan town on Aug. 12. "They were known to support the military, with one of them having a history as a crime news reporter. They had previously been targeted," a Letpadan resident told DVB. Local crime news reporter Kyin Htwe and his friend Thet Maung Maung were killed. No group claimed responsibility for the murders.
MANDALAY—The Shwetada social charity association chairperson was killed in a village of Madaya Township on Aug. 12. "He was shot while seated in front of his office," said a Madaya resident. No group claimed responsibility for the murder.
SAGAING—Five family members were killed in Kanbalu town on Aug. 13. "The entire family was killed, leaving only a two-year-old daughter behind," said a witness to the murders. No group claimed responsibility for the murders.
SHAN—At least 40 civilians accused of being affiliated with resistance forces have been killed in the Danu Self-Administered Zone since the 2021 military coup. Over 50 buildings were reportedly damaged in arson attacks, while more than 20 residences have been sealed off, according to a recent report from local sources. "These are the only records we have access to," a local told DVB.