Burma has been engaged in civil war for more than 60 years. Continued reports of widespread and systematic human rights abuses against civilians by the military have emerged throughout this period.
Underage recruitment is outlawed under both domestic and international law, and yet for decades, the practice has been commonplace in Burma.
In part one of a special double episode from DVB Debate, panellists discuss why children are recruited into the army and how this reflects on the country.
"If they want a larger military and only a few people want to serve, then they recruit those who are easy to take or easy to trick. That's how child soldiers are made," said Sui Khar from the Chin National Front.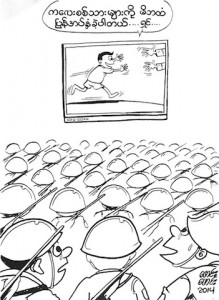 Audience member, Benjamin White, technical officer for the International Labour Organisation (ILO), said using child soldiers reflects a culture of impunity in the country.
"The use of child soldiers speaks of a general lack of human dignity, a lack of respect for rule of law; and when you have a lack of respect for rule of law, you have a generalised culture of impunity," he said.
In June 2012, the Burmese government signed a joint action plan with the UN to rid its forces of children. Since then, a total of 272 soldiers recruited as minors have been officially released and discharged. But Burma still ranks eighth worst in the world in the 2014 Child Soldiers Index, and some groups estimate there could be tens of thousands of soldiers who were recruited underage that are still in the military.
"If the child is now over 18 but he was recruited when he was underage, then we ask that child whether he wants to quit or continue.  We give them the freedom of choice," said Myat Min Thu, child protection officer for UNICEF.
The panellists discussed how effective the action plan could be while the military still has the power to intimidate.
"These children live under the command of the army. They have already been brainwashed to obey," said Aung Myo Min, executive director for Equality Myanmar.
"They may express their true feeling to their parents, as they cannot take anymore. But if they are asked in the army, they will say that they joined with their consent, that they don't want to quit and even that they enjoy it. There are so many cases like that."
Panellists argued that as long as the military continues to be able to act with impunity, this problem would not be solved.
"Just taking the children out of the army won't stop this problem. That's why I think we need to find the root cause," said Sui Khar.
"As far as you know, is there any case in which the recruiters have been punished under the court martial law? I think in these kinds of cases, the punishment would be less than the punishment for desertion," said Myat Min Zaw, a law professor from Malaysia Multimedia University.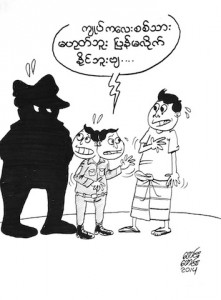 Others said that punishment is not the only way to improve the situation. Many children who have grown up in poverty are lured into the army with promises of an endless food supply and financial security.
Audience and panellists discussed who is responsible for protecting and supporting these communities.
"Such protection is what the government should be doing. But as the government is not doing it, we must. Even though the government says we can inform them of these issues, actually they only work around Naypyidaw," said Aung Myo Min.
There are now hotlines available for child recruits to call if they want to leave, and the UN taskforce is working to resettle and rehabilitate those who leave.
Guests in the studio argued that for some soldiers, it's too late for rehabilitation.
"What can be done for those who died in the battlefield? And what can be done for the children in the army units, battlefields and the border guard forces now?" asked Htet Aung Linn, from Rangoon-Laiza Peace March Group. "On our walking trip, we saw child soldiers throughout Nang Sar Yan line. What can be done for them?"
Former child soldier Soe Thiha Tun said his life was put on hold when he was recruited.
"As I was taken away in the middle of my high school education, my life has been delayed and I couldn't become as educated a person as my parents hoped."
[related]
"These children are like nails stuck in wood.  Even if the nails are dug out, there will be scars left on the wall," said Aung Myo Min.
During times of conflict, it is often the most vulnerable that become the victims, and women and children are routinely targeted. The studio generally agreed that there is still a lot of work to be done to help young soldiers recruited as children to leave the army without fear.
Coming up: Part two of the war crimes double bill, which will focus on sexual violence in conflict.
Watch the Burmese version at http://www.youtube.com/user/DVBDebate
Or join the debate by leaving your comment on our website.