Food is central to Burmese culture and traditional cuisine boasts a rich variety of dishes from all around the country. But as Burmese society changes, the daily diet is also altering; a dramatic dietary shift from natural items to imported and processed foods, combined with poor health and safety standards, has caused concern among food and hygiene experts.
Panellists on DVB Debate discussed how a lack of regulation in the food industry has affected the standard of food in Burma today.
"From what I've seen, the law is the key," said chef and food trainer, Zwe Nanda. "It depends on how the law is applied and whether it is followed. Even in England, if they didn't know the law and know their obligations, the situation would be the same. There, the law is applied and investigation groups check to see that the law is followed.  There are also groups independent from the government carrying out investigations and they can just go and check at any time without advance warning."
A lawyer for Myanmar Consumers Protection Association, Htoo Htoo Aung said there are laws in place but they are not implemented properly. "There are specific laws to take action here. But, even though there are laws, it seems like these laws are not being used," she said.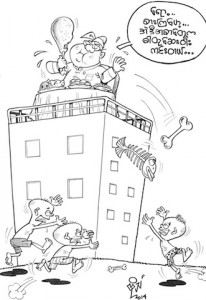 The Food and Drug Administration (FDA) monitors the safety and quality of food, drugs and cosmetics. But audience member Myo Thu Win from the Myanmar Consumer Protection Association said he did not trust the FDA.
"If you ask me if I trust the products approved by the FDA, I can bravely say that they are not trustworthy at all. To clarify, I will never trust any FDA-approved products so long as they are connected to the [former] military government," he said.
Sabai Kyi Maung, Assistant Director of the Department of Commerce and Consumer Affairs said they do face difficulties. "As a ministry, we are trying our best to protect consumers. But right now we are still facing some challenges," she said.
Street vendors in Burma have long provided conveniently placed and affordable food for city dwellers, but often the food is prepared using poor quality ingredients and unhygienic methods. Panellists discussed whether there is enough awareness of food quality and hygiene, disagreeing about who is responsible.
"When the street vendors sell unclean food they don't have the intention to harm the health of the consumers. They just have a limited understanding of what is safe. So, should we just prosecute these people? I don't mean we won't charge them, I just mean we need time to keep raising awareness," said Sabai Kyi Maung.
Chairman of the Myanmar Consumers Union, Yan Lin, said food products need to be clearly labelled with nutritional information. "People are not in the habit of looking at the labels on what they eat. Actually, the labels should be in Burmese," he said.
But Sabai Kyi Maung claimed businesses are unhappy about the added costs and administration involved in having to supply more information about what is in food.
[related]
"On the one hand we have to protect the consumers and on the other we must ensure we do not harm local businesses and the country's economy. Finding this balance is the major responsibility of consumer protection. As we are trying to find this balance, we cannot rush decisions like this. If we move too fast, one side will benefit but it will cause harm to the other side," she said.
Chairman of the Myanmar Consumers Protection Association, Ba Oak Khine disagreed and argued consumer protection should be a priority.
"We see this as a national responsibility. We will not stay quiet," he said. "I don't agree that helping one side will harm the other side. If an item is worth 100 kyat (US$0.10), it can be sold for 150 kyat for profit. But the quality of the product still needs to be safe."
The studio raised concerns about the quantity of unknown and harmful chemicals people ingest without knowing.
"Dangerous chemicals from fertilised vegetables and foods are entering our bodies without us realising. And I want to expose the dangerous things and unknown diseases our bodies are suffering from," said Khin Sandar from the Myanmar Consumers Protection Association.
The studio generally agreed that a combination of more education and effective legislation is needed to improve food standards.
You can join the debate or watch the full programme in Burmese at DVBDebate.com.
Or comment of our website at www.dvb.no.