In the past few years, many restrictions on Burma's media have been relaxed, censorship has been lifted, and dozens of new independent media originations have emerged.
But journalists are still facing ongoing risks and restrictions, and they continue to demand genuine media freedom.
On DVB Debate's panel this week: Zaw Thet Htwe from Myanmar Press Council; Myat Khine from Snap Shot weekly journal; Thiha Saw from the Myanmar Journalist Association; and Thiri Zaw from The Voice weekly journal.
Thiri Zaw warned that with one hand the government is giving the press greater freedom, but with the other they are trying to remain in control.
"Now we can see a degree of freedom in the media industry compared to the past, but if the current freedom is going to be controlled, then it won't work. It would mean that, in one way, the government is allowing freedom, but at the same time it is trying to take back control," she said.
Myat Khine discussed the fact that several journalists have been arrested and charged for just doing their job.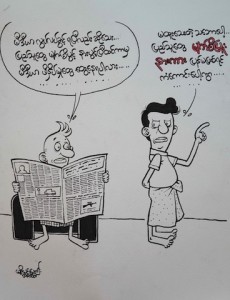 "Even though there is no official censorship at the moment, many media outlets are facing court cases," he said.
Last month DVB journalist Zaw Pe was sentenced to a year in prison under charges of "trespassing" and "disturbing a civil servant on duty" as he attempted to interview an education official for a story. Audience member Myint Zaw said the government is attempting to control the media by invoking these laws against journalists.
"These are not just guidelines for the media industry, these laws act as threats. [The government] are attempting to influence the media by using these existing laws," he said.
Maung Maung Win, lawyer for the Zaw Pe case, stressed the importance of having an independent judiciary.
"The judicial system is vital for a functioning society. It needs to be free and fair in order to see real freedom in the press industry," he said.
Even government officials acknowledge there are still limitations for journalists.
"There is no absolute freedom in the press. Due to demands from society, restrictions exist in many forms," said presidential spokesperson, Ye Htut, in a separate interview with DVB.
Panellists debated the importance of journalists being reliable, as well as free. The audience raised concerns about the influence of wealthy backers and newspaper owners over content in a newspaper, but others insisted that reliability is already a priority.
"Concerns over ownership are not a problem when we have editorial freedom. And if we have braver and more competent editors who are faithful to the industry, then ownership will not be a problem at all," said Aung Thura from 7 Day News.
The studio then discussed unreliable news sources, and questioned who should assume responsibility for one-sided and subjective reports on issues such as the religious clashes in Arakan State.
[related]
"There are 'spies' that exist within the media who want to diminish people's trust, so they create fake news. This can be seen in today's print and online media. The government uses this situation as a reason to legitimise retaking control of the media," said Nay Phone Latt from PEN Myanmar.
In January, Associated Press (AP) broke the story of a massacre in Duchira Dan village, in northern Arakan State's Maungdaw, but a government-backed investigation to look into the massacre found no evidence that it ever took place. Esther Htusan from AP said local media have a responsibility to question government statements.
"In the case of Duchira Dan, did the local media investigate this? As soon as the government issued a statement the local media just started to criticise certain groups based on that. How much do people really know about what is really happening inside this country?" she asked.
Several voices on the panel agreed that Burma had a long way to go before it will achieve true media freedom. As current media laws actually prevent journalists from doing their job, reporters continue to risk being arrested on spurious charges at the whim of a government official.
You can join the debate and watch the full programme in Burmese at dvbdebate.com
Or share your views with us by commenting on our website at dvb.no