Over the past few decades, social, economic, and political conditions in Burma have led to mass migration internally and abroad. Seeking better opportunities and higher wages away from home, Migrants often end up in low-skilled jobs where they sometimes face exploitation and harassment.
The executive director of the Foundation for Education and Development, Htoo Chit, said the government is unequipped to deal with the sheer volume of migrants who need assistance abroad.
"Our government does not appear to really understand the plight of Burmese migrant workers," he said. "As a non-governmental organisation, we have over 80 members of staff and that is not even enough to cover operations in two different regions. So you can imagine how unlikely it is that one government official would be able to deal with the issues of two million migrants."
Myo Aung, director general of the Department of Labour at the Ministry of Labour, acknowledges there are shortcomings in the system.
"Labour attaches posted in foreign countries have to rely on the relevant embassies they are attached to for assistance and while they are charged to see to migrant labour issues, we do face some difficulty in assisting those who have been sent to prison because of diplomatic procedures," he said.
Burmese citizens abroad have the right to protection from the union under the 2008 Constitution but there is no specific legislation protecting migrant workers abroad. Experts question what parliament can actually do to protect those in other countries.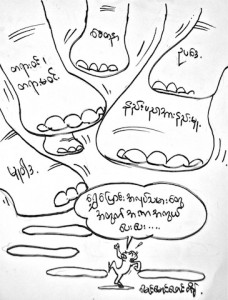 "The workers form the unions within the boundaries of the law. But they are still abused by their employers outside of the law," said Wunna Htun, from the Export and Import Manufacturers Union.
Political scientist Min Nyo, said it was important that the government ratify the International Labour Organization's (ILO) International Labour Standards, particularly the Migration for Employment and Migrant Workers conventions.
"ILO Conventions 97 and 143 are concerned with migrant labour but the Burmese government has not signed these yet. I would like to urge both the parliament and labour unions to help to make this happen," he said.
Lower House MP Thein Nyunt recently proposed to draft a law in parliament that would include provisions to protect migrant workers. But the proposal only received five votes in favour and was rejected.
"Even though I only won five votes I am not unhappy about it," he said. "Because this reveals the true face of those who always talk about human rights but in practice they won't fight for them."
Burma is surrounded by newly industrialised neighbouring countries with fast growing economies, and because of a greater opportunity to find work, a significant number of migrants seek employment away from home, mostly in Thailand.
There are currently 202 official overseas agencies sending workers abroad. But many agencies that send workers into exploitative or unbearable conditions are never made accountable.
"Employment agencies that are being allowed to officially run modern human trafficking operations should be severely punished immediately," said Htoo Chit.
Myo Aung said the department of labour are working to stop these agencies.
"Frankly, we are doing things very differently from before, and with regards to labour organisations we have enacted new laws. An employer must be punished for wrongdoing against their workers but it is necessary to provide us with a detailed report," he said.
[related]
Some illegal agencies send workers to situations were they are unregistered and unmonitored, leaving them especially vulnerable to exploitation and abuse.
Thant Zaw Win was a former migrant worker who was sent to China to work in a factory. He believes more education is needed to raise awareness about the risks and dangers that migrant workers face.
"There was no way for us to know if the agency we used was an officially appointed employment agent. So we ended up [in China]. We would like the government to provide educational workshops for migrant workers to save them from the kind of suffering we experienced," he said.
Thein Nyunt said because of the very nature of trafficking it is difficult to get all the information to be able to assist when things go wrong.
"The migrants are sent out of the country via legal channels but made illegal when they get to another country and are forced to work in the jaws of death, like on fishing boats. This kind of information never reaches those tasked to deal with these situations. All the migrants can do is to cry for help away from home, and that won't solve the problem," he said.
Many migrants live and work in poor conditions, settling in marginalised communities that lack health care services, water supplies and basic community sanitation. Migrants and people who work with them feel those in power need to take the migrants' plight seriously and enact legislation to protect them.
Join the debate or watch the full debate programme in Burmese on our Youtube channel.
Or comment on our website dvb.no.