As the deadline for political party registration approaches ahead of the 2015 elections a new party representing five Shan ethnic populations in Sagaing Division and Kachin State has been formed.
DVB interviewed the Red Shan [also known as the Tai Leng] and Northern Shan Ethnics Solidarity's chairman and founder Saw Tun Win, as the party waits to hear if their registration has been accepted.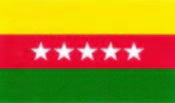 Can you tell us more about the party?
Our party represents five Shan ethnic groups in Kachin State and northern Sagaing Division including the Tai Leng, Tai Lon, Tai Lay, Tai Sa and Tai Khamti. Our aim is to bring about ethnic equality and rights, and an equal status in the future federal union for these ethnic groups. We want to take part in Burma's democratic transition.
Who are the founders?
The party was founded by 13 representatives of the Shan groups in Kachin State and along the Chindwin river in Sagaing Division, from towns such as Phaungpyin, Mawleik, Tamu and Kale. I am from Myitkyina, as is Sai Win Tin; U Aung Khin is from Homlin; U Sai Nyunt Maung is from Waingmaw; Sai Ohn Ohn is from Khamti. We are some of the leaders. The Union Election Commission approved the party's formation on 9 March, and we applied for party registration on 25 March. We hope the registration will be approved before Thingyan.
What is your relation with the Tai-Leng Nationalities Development Party (TNDP) that was founded in last year?
Some of our party members, including myself, were previously executives in the TNDP. I was a joint-general secretary, but there was a division over policy. We understood that there are other Shan ethnic groups in Kachin State [where the TNDP are based] such as Tai Khamti, Tai Lon, Tai Sa and Tai Lay – not just the Tai Leng – and we need to represent all of them, and promote unity. We thought that focusing only on the Tai Leng could be too radical. Therefore, we decided to found the Red Shan and Northern Shan Ethnics Solidarity.
What is the party's flag and logo?
The flag carries three horizontal stripes – yellow, red and green. On the red stripe are five white stars, representing the five Shan ethnic groups. The logo is also the same.
How many party members do you have?
At the moment, not many. Since our registration has not yet been passed, we can't yet campaign.
Would you like to add anything?
Just that we are prepared for the 2015 elections, and the political environment thereafter.
[related]