Striking workers from the Home Shin cold storage factory closed down their rally site outside City Hall in Rangoon at around 7pm on Monday after successfully negotiating terms with the factory owner and officials from the Labour Ministry.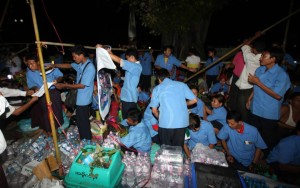 According to the agreement, workers who had worked at the factory for over three years are to be compensated with five months' salary while those working less than three years will receive the cash equivalent of three months' wages.
More than 100 workers from the Dagon Port township factory staged a protest in central Rangoon on Sunday after their employer, a Chinese national, had closed the factory and laid them off with what they considered to be inadequate compensation.
Holding placards that read: "For Workers' Unity!", "For Workers' Equality!" and "Non-dissolution of the Home Shin Workers Union!", the strikers laid out a series of demands: a clear explanation as to why the employer decided to shut down the cold storage facility; a guarantee from the owner and the government that if the factory reopens the same workers would be rehired; and additional compensation.
But although the strike action has been concluded satisfactorily, a lawsuit filed by the factory owner remains in place against the workers' union chairman Min Min and secretary Thiha.
The two were earlier charged under Penal Code Articles 341 (Wrongful restraint); 427 (Mischief causing damage); 114 (Abetting a crime); and 506 (Intimidation).
Min Min said that during the previous day's negotiations, the factory owner promised to "do his best" for them, but has not yet formally dropped the lawsuit.
[related]