Celebrated Burmese weather expert Tun Lwin has warned that the Kachin state capital of Myitkyina could be directly hit at any time by mass flooding and landslides caused by melting Himalayan glaciers.
"High precipitation, combined with the melting of ice in the Himalayas due to global warming, has led to the formation of artificial lakes along the foothills [of the Himalayas]," he said in an interview with DVB on Sunday. "As these new lakes have no solid soil underneath, they tend to outburst and cause a tremendous flow of water into the rivers downstream."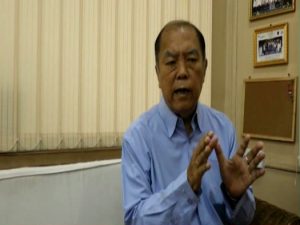 Myitkyina is situated some 40 kilometres (25 miles) south of Myitsone, the confluence of the Mali and N'Mai rivers, which together form the source of the Irrawaddy, or Ayeyarwady, the largest river in the country.
With a population of 480,000, Myitkyina is by far the largest city in the northern region of Burma, where it has long been the hub of a major trade route to China, including the export of jade, teak, timber and gold.
Tun Lwin said two environmental groups monitoring the Himalayas have also issued warnings about the potential of glacial lake outburst floods in the area, adding that such a phenomenon is not unprecedented, with Myitkyina suffering flash floods in August 2004 when lakes overflowed.
Markha, a lawyer in Myitkyina, described his first-hand experience of the disaster 11 years ago.
"The water level in our neighbourhood, Sitapu, rose to about a man's height, inundating the ground floors of our homes," he said. "The famous bronze statue in the Manaw festival ground was neck-deep in water."
[related]
During this traditional monsoon season, Burma has been more devastated than usual with flash floods inundating many parts of the country. Official sources say some 1.5 million people have been directly affected by floodwaters and landslides nationwide, and at least 117 persons have lost their lives.
Read more about Burma's flood crisis