Two student activists were arrested in Mandalay on Friday night for writing graffiti on a wall, calling President Thein Sein and Home Minister Ko Ko "terrorists" and demanding the release of students from prison.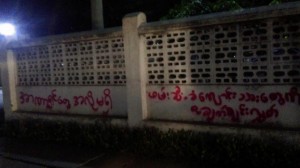 Police caught the two men red-handed, painting slogans on the wall of Workers Hospital, opposite the city's historic moat, at 8:25 pm on 20 March.
The pair, who posed in handcuffs for photographs following their arrest, were not identified other than to say they were fellow students who were protesting against the detention of their colleagues at demonstrations against the National Education Law in Rangoon and Pegu Division's Letpadan last week.
The slogans included: "We don't want dictatorship" and "Release all detained students!" as well as some graffiti in English directed at the president and minister for home affairs.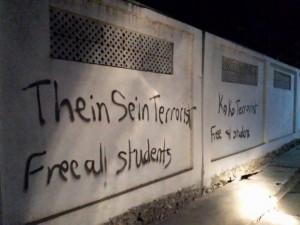 A night earlier, similar slogans had been painted on the offices of the mayor's office and municipality building in Mandalay.
The two unidentified activists were released from police custody at 1am.
Meanwhile in Naypyidaw on Friday, a proposal to discuss proposed amendments to the controversial National Education Law was approved by a resounding majority in the upper house of parliament.
[related]
Aung Kyi Nyunt, an MP representing Burma's main opposition party, Aung San Suu Kyi's National League for Democracy, told DVB that of a total of 146 representatives in the house, 142 had supported the motion to debate the proposal.
Among 81 articles up for discussion are proposals to ensure free primary education for all children in the country, and an increase in spending for health and education to 20 percent of the national budget within five years.