FROM THE DVB NEWSROOM
Hundreds of Burma nationals arrested in Malaysia
Over 400 Burma nationals were arrested in Kuala Lumpur, Malaysia on Aug. 5. Women and children were among those rounded up by Malaysian authorities, according to Myanmar Information in Malaysia (MIM). "Among those detained in Taman Len Seng, Kuala Lumpur there were 378 men, 51 women, making a total of 429 individuals arrested," stated MIM. This follows the arrest of 23 refugees, including Chin from Burma, at a temple in Seremban, Malaysia on July 31.
Military 'spare force' into early retirement
A total 62 military officers were forced to retire in the last week of July, sources told DVB. Among them were four generals, 14 brigadier generals, and 44 colonels. These retired military officials were reportedly part of the "military spare force," a group transferred to various ministries in Naypyidaw who lacked substantial authority. "The military spare force is made up of those who have been transferred from the army to the ministries. They are officers who were transferred to the civil service because they were not favored," an official told DVB.
NUG claims success in establishing judiciary
The National Unity Government (NUG) Ministry of Justice states that it has carried out legal services in areas under its control. NUG courts have heard 74 civil cases and 306 criminal cases as of June 2023. Verdicts have already been reached in 29 civil cases and 173 criminal cases. "The people of Myanmar deserve a judicial system that is fair, impartial, and consistent with democratic standards," stated the NUG. It has established prisons, courts, and law offices and has trained judges and prosecutors. Legal officials were trained in cooperation with the People's Defense Force (PDF), Ethnic Resistance Organizations (EROs), and civil society groups.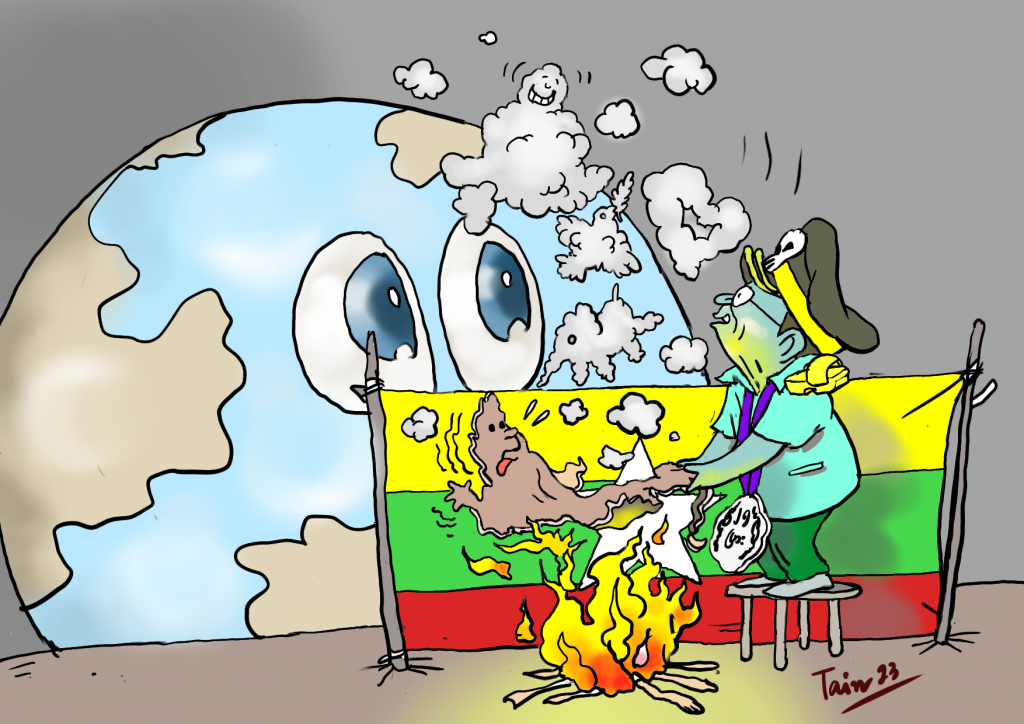 News by Region
KACHIN—One woman was killed when a cliff collapsed near a lake in a village of Hpakant Township on Aug. 5. Locals state that the woman was bathing in the lake when the cliff collapsed and she was swept away in a current. Another woman and her two children survived, according to residents. On Aug. 4, a miner was killed when another cliff collapsed at a jade mine in a nearby village.
MAGWAY—Kyaw Lin Tun, a battalion commander from Myingyan District Battalion 5 (MG-6) in Yesagyo Township, was killed on Aug. 4. "[The MG-6] raided a house and arrested the wife and kid of a resistance force member," said Wai Gyi, the leader of Yesagyo Township PDF. The PDF demanded Kyaw Lin Tun release the woman and child, which led to his death. Some MG6 members were arrested and others fled the area.
MON—More than 1,000 residents from Bilin Township have relocated from their homes to schools and monasteries due to floods in at least 20 villages, according to local rescue groups. The Bilin River reached 1,052 cm, which is 30 cm above the critical water level, causing floods in some wards on Aug. 2. "Although the flooding reduced on the night of August 4, the water rose again next morning," said a Bilin Township resident. Flooding also occurred in the Karen State townships of Kawkareik, Kyondoe, Hlaing Bwe, Hpa-an on Aug. 4.
RAKHINE—More than 70 Rohingya were arrested in a boat near Pyinsalu Town in Labutta Township on Aug. 5. "The boat was damaged and floating in the sea. Those Rohingyas were arrested with the fishing boat and brought to Poe Laung port," said a Poe Laung village resident. They are being held under investigation for violating the immigration law at Labutta Police Station. Regime officials claimed those detained were from Bangladesh and traveling to Malaysia. Nearly 800 Rohingya arrested in 2022 were sentenced to prison.
TANINTHARYI—The PDF claimed that five Burma Army troops were killed in an attack on a truck carrying 20 soldiers on Ye-Dawei road in Yebyu town on Aug. 3. More than 50 residents from Maungmaeshaung village were arrested by Burma Army troops after the attack and used as human shields, according to locals. They were all brought to the military base in Za Har village. Four students from Dawei Technology College were also arrested in Maungmaeshaung village on Aug. 3. They have not been released.
Read our latest story: Maung Saungkha seeks territory for Bamar People's Liberation Army.
Listen to our DVB English News Weekly Briefing: Aug. 4, 2023 on Spotify, YouTube, Apple & Google Podcasts.