FROM THE DVB NEWSROOM
Editor's note: We'll be switching our Daily Briefing newsletter over to MailChimp on July 17. This won't affect how most of you receive it in your email, but if you don't see it in your inbox, please check your Spam folder.
ICC prosecutor meets with Rohingya in Bangladesh
The International Criminal Court (ICC) Prosecutor Karim Ahmad Khan met with Rohingya refugees in the camps near Cox's Bazar, Bangladesh July 4-7 to gather evidence for its investigation into genocide against the Rohingya. Khan met with victims of the 2017 "clearance operation" in northern Rakhine State that led to the exodus of more than 700,000 Rohingya from Burma into Bangladesh. "The ICC prosecutor and his team visited two Rohingya camps. Our officials and representatives of Bangladesh's foreign ministry accompanied them during the visit to the camp," Mizanur Rahman, the Refugee Relief and Repatriation Commissioner of Bangladesh, told Spanish news agency EFE. The ICC authorized a petition from its prosecutor's office to investigate the crimes committed against the Rohingya. Last year, the U.S. labeled the 2017 attacks on Rohingya communities in Burma as genocide.
Five arrested in April for incitement released from prison
Five people arrested for incitement against the military for expressing their condolences online to the Pa Zi Gyi airstrike victims were released  from prison on July 7, sources told DVB. Kyaw Min Swe, who was charged with sedition, was released. May Pachi, who was sentenced to three years, was released. Myat Thu Thu, May La Than Sin and Shwe Yi Thein Tan were also released. All five were arrested April 11-12 for posting condolences on social media for victims of the Pa Zi Gyi airstrike in Sagaing Region.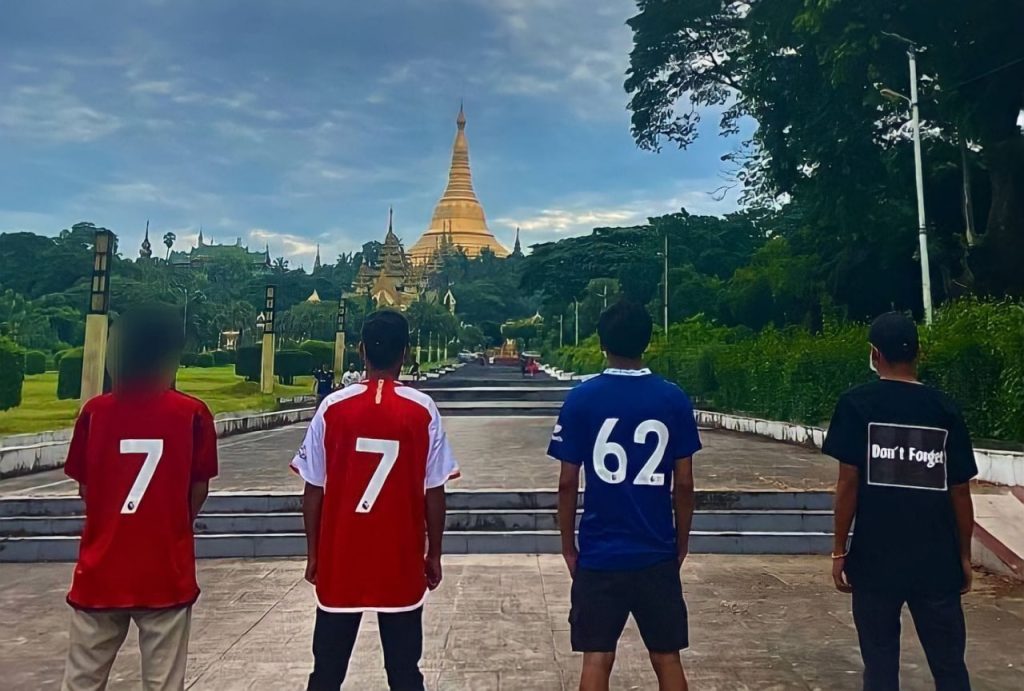 News by Region
AYEYARWADY—Twenty-one homes in Pathein, Maubin, Bogalay, Pantanaw and Warkhema townships were seized and sealed off last month. They belonged to members of the Civil Disobedience Movement (CDM) and alleged supporters of the People's Defense Force (PDF). The Assistance Association for Political Prisoners (AAPP) states that there have been 751 homes seized across Burma since March 31.
BAGO—The All Burma Federation of Student Unions (ABFSU) states that its vice-chair Khant Naing Lin died inside Kyaikzagaw prison. He was arrested in 2021 and sentenced to 15 years in prison under the Counter-Terrorism Law. The Assistance Association for Political Prisoners (AAPP) states that 125 students have been killed since the 2021 coup.
CHIN—Two women and a 9-year-old girl were killed by an airstrike and artillery in Mindat Township on July 8. Another person was injured and four homes were destroyed. Salai Har Awm, the Chinland Defense Force-Mindat (CDF) Information Officer, told DVB that the Burma Army carried out the attacks on Mindat without any engagement with CDF forces.
KACHIN—Striking railway workers were evicted from 249 homes inside a residential compound in Myitkyina. The evictions occurred after the regime issued a notice warning people inside the compound to move out by June 15. "People had to move without having any relocation plans," said a railway employee.
NAYPYIDAW—Eight employees from the office of the Myanma Oil and Gas Enterprise (MOGE) in Naypyidaw were arrested on July 6. "The Burma Army raided the office to investigate whether the employees support the National Unity Government and People's Defense Force. They came to arrest employees. They locked up the office, seized mobile phones and inspected every department," said an unnamed source. The arrests are related to a request filed by the Ministry of Electricity and Energy to the Central Bank to create bank accounts in foreign currencies to likely circumvent E.U. sanctions, the source added. The eight MOGE employees are being held at an interrogation center.
SAGAING—Seven vendors were killed by the Burma Army in Watlet Township on July 6. "The victims were four women and three men, between the ages of 30-45," said a Watlet Township resident. The victims encountered the Burma Army on their way to the market.
YANGON—Two men arrested for the alleged murder of Li Li Naing Kyaw were killed while attempting an escape from police custody on July 6, according to unnamed sources in the North Dagon Township administration. The incident occurred on Maung Ma Kan Road in North Dagon Township while the two men: Kaung Zar Ni Hein, 23, and Kyaw Thura, 30 were being transferred from an interrogation center. "The military authorities assert that these individuals were connected to the singer's case," an unnamed source told DVB. The two men were arrested on June 4 for the murder of Li Li Naing Kyaw. The mother and sister of Kaung Zar Ni Hein were killed in their home on June 6.