FROM THE DVB NEWSROOM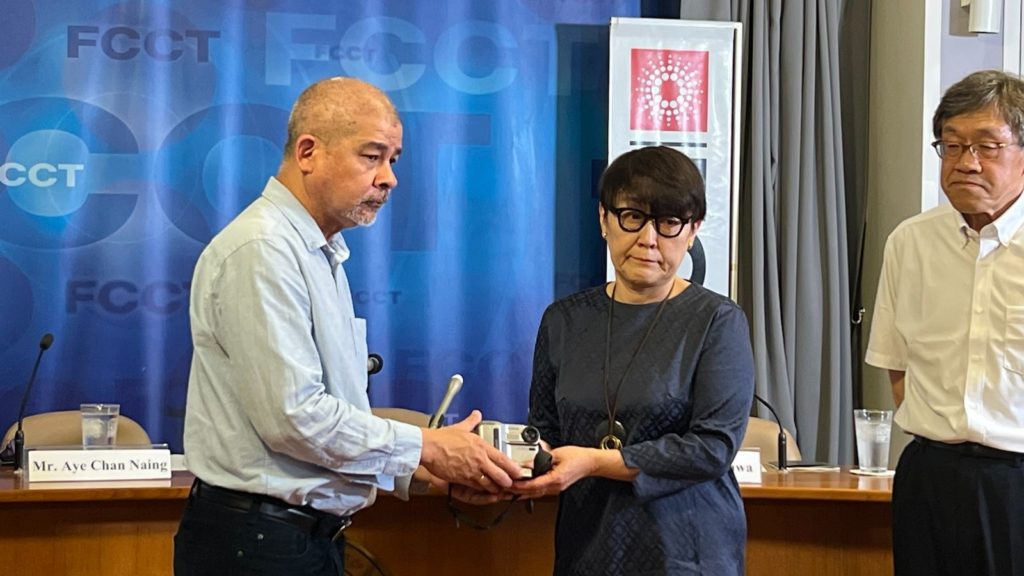 Killed Japanese journalist's camera given to family
Almost 16 years after Japanese video journalist Kenji Nagai was killed while filming a crackdown on protesters in Yangon, his camera was safely tracked down and handed over to his family. Read the story here.
Dialogue on Burma hosted in India
India hosted the Track 1.5 Dialogue in New Delhi on April 26 to discuss Burma's political crisis. The talks included China, Bangladesh, Cambodia, Laos, Thailand, Indonesia, and Vietnam. A source claimed that the negotiations resulted in informal agreements on the reduction of violence, humanitarian aid delivery, and vows to crackdown on transnational crime. Indian officials committed to sending a delegation to Naypyidaw to push for regional governments to engage with the junta. Participants agreed that future discussions about Burma should "bring in perspectives of neighboring countries."
Burmese in Thailand facing harassment
Mae Sot police officers have stepped up searches on Burma nationals living in the border town. "Thai police have been arresting Myanmar people whether they are documented or not. Now we are afraid to even go out and buy food," a Burma national living in Mae Sot told DVB on the condition of anonymity. Some of those detained by police allege their phones have been searched for politically-related content or images. "They are allowed [to search a phone] after the detainee gives consent to it in coordination with their legal representatives," said a political analyst. Women have reported sexual harassment. "I had to visit the police station after my sister was arrested. The police said he would reduce the fine if she slept with him. I was very angry," another Burma national living in Mae Sot told DVB on the condition of anonymity.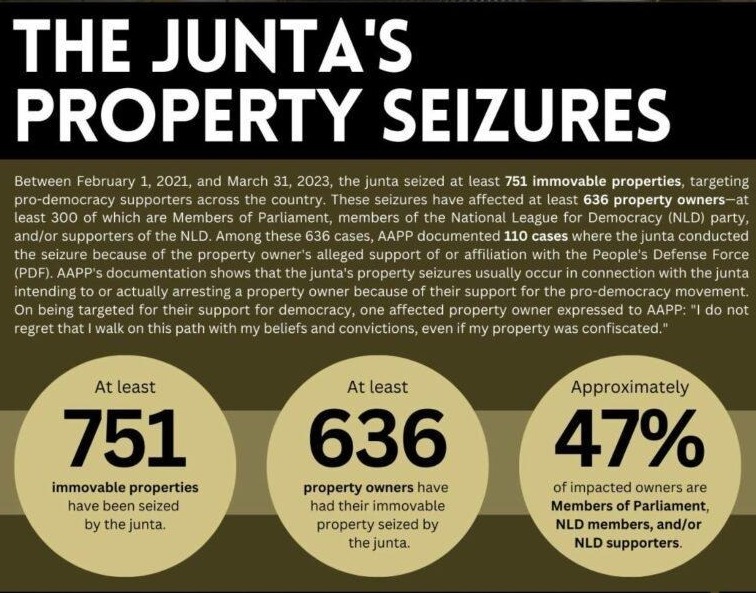 At least 751 properties seized since the coup
The Assistance Association for Political Prisoners (AAPP) stated that at least 751 properties including homes and businesses across Burma have been seized since the military coup. A total of 636 civilians, ousted lawmakers, and democracy activists have had their houses, apartments, shops, hospitals, restaurants, religious buildings and guesthouses seized. The largest number of assets were confiscated in Sagaing Region, followed by Yangon and Mandalay regions.
News by Region
BAGO—Soldiers wearing civilian clothes destroyed a National League for Democracy (NLD) party office in Tharrawaddy Township on April 25. "They destroyed everything and did not even leave the flagpole. They did not tell us anything and did whatever they wanted," said an NLD party spokesperson. This is the first instance of an NLD office being destroyed in Bago Region.
CHIN—The Chinland Defense Force-Mindat (CDF-Mindat) stated on April 24 that since it was founded two years ago it had engaged in 218 clashes with the Burma Army. It claimed to have killed 454 troops. Fifty-five CDF members have also been killed.
KAREN—The Karen National Union (KNU) began its 17th congress on April 24. It had been delayed for three years due to the COVID-19 pandemic and the 2021 military coup. Members of the KNU Central Executive Committee are expected to be re-elected. Civil society organizations (CSOs) have demanded the resignation of the current committee due to their involvement in a controversial China-backed city project.
KACHIN—At least 200 Hmaw Bom villagers were questioned at Hpakant police station on April 25. The villagers have been detained there since April 21. Locals claimed that the Burma Army arrested them to use them as human shields. "They should release the villagers after they use them as they wanted. Instead, the villagers ended up being locked up," a local said.
NAYPYIDAW—The Ministry of Health and Sports (MOHS) instructed its healthcare staff to prepare hospitals for the incoming wave of COVID-19 patients. MOHS stated that the number of infections has steadily increased this month.

SAGAING—The People's Defense Force (PDF) attacked the office of the Road Transport Administration Department in Monywa town on April 26. "We attacked it as it helps the military earn money to operate. Military personnel are also guarding there. I heard that two soldiers were killed," said a PDF spokesperson in Salingyi Township.
SHAN—Three civilians were injured in an attack on a clinic sheltering displaced persons (IDPs) in Pekon Township on April 25, stated the Karenni Nationalities Defense Force (KNDF). Vehicles, medical equipment, and two buildings in the compound, located in Saung Phway village, were destroyed.
Read or listen to our latest op-ed Exiled Media Unite by Ole Chavannes.
Watch our latest report on Burmese protesting at the Thai embassy in Washington, D.C. DVB English is on-demand via Facebook, Twitter, YouTube, Instagram, TikTok & Substack.