Testifying in a Koh Samui court on Wednesday, Zaw Linn, one of two Burmese migrants accused of murder and rape, said that he was innocent of the charges, and that he had only signed a confession after being tortured by police.
In a lengthy dialogue, the 22-year-old from Kyauktaw, Arakan State, said he was handcuffed, had a bag placed over his head, and was beaten, before police threatened to extract his teeth with pliers if he did not admit the crimes.
Speaking to DVB on Thursday, Moe Wai of the Foundation for Education and Development, who attended the trial on 2 September, said Zaw Linn had first told the court how he had come to work on the southern Thai island of Koh Tao two years ago.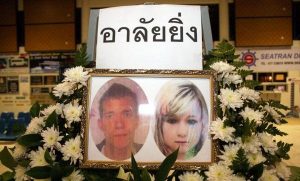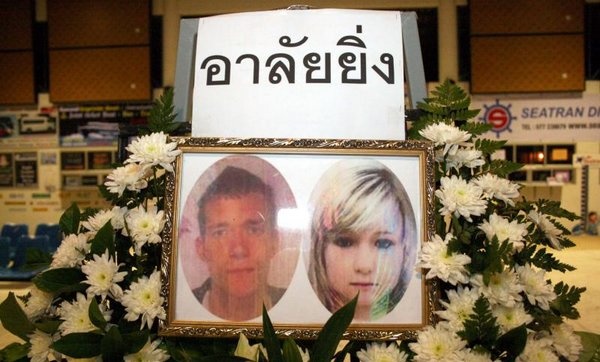 On 15 September last year, he had phoned his friend Wai Phyo, the other suspect in the murder trial, and made an appointment to go out drinking beer as the following day was his holiday, Moe Wai said.
"Along with [another Burmese friend] Maung Maung, they played guitar and purchased cigarettes from 7-Eleven," he continued. "After that, they went for a swim and then went home to sleep."
The following morning, the bodies of English tourists Hannah Witheridge and David Miller were found on Sairee Beach. Both had been bludgeoned to death, while Miss Witheridge was also raped.
"Zaw Linn said the police came to arrest him on 1 October, some 15 days after the incident and during which time he had gone to work as usual," the Burmese NGO worker said. "He said the police came to arrest him and six others in their room between midnight and 1am. They handcuffed him and put him in a car. The other six were taken elsewhere, while he said he was taken to a room, stripped naked, and tortured with a plastic bag over his head. He believes the translator, Ko Kamar, also beat him, perhaps under instruction from some police officers. Then they threatened to kill him.
"Asked by his lawyer where the interrogation took place, Zaw Linn said it was at the Ocean View Bungalows in Koh Tao. He said he was kept naked in the air-conditioned room and beaten, all the while with a plastic bag over his head. He said the police also threatened to pull out his teeth with pliers. He said he felt paralysed with fear. He also said he felt something shoved into his mouth, but couldn't see what was happening."
Later in the day's proceedings, Moe Wai said, the Burmese suspect claimed that he was restrained while the police took a sample from his mouth.
"Zaw Linn then said he was handed a phone and made to speak to his friend, Wai Phyo, who had been arrested in Suratthani [on the Thai mainland]. Wai Phyo told him: 'I can't do this anymore – I'm going to die from torture'. Very scared and realising resistance would not work, at 4am, he confessed," Moe Wai continued.
"After dawn on 2 October, Zaw Linn said, the police took his statement. He spoke only through the translator. He signed a confession and was fingerprinted. Then he was taken to jail.
"On 6 October, when lawyers and Burmese embassy staff came to see him and Wai Phyo, they had regained some confidence and retracted their confession."
Asked to elaborate on the alleged death threats, Moe Wai said the suspect testified that police officers told him that if he confessed he would only land in prison for four or five years, but that if he continued to deny it, they would murder him and dump his body.
"The police allegedly told him that no one had seen him being arrested the night before and so they could easily dispose of him. They told him he had only one choice. Zaw Linn told the court that he chose four to five years in prison rather than losing his life, and also confessed due to the fact that he had already taken so many beatings to the side of the head and kicking in the chest."
In October last year, the father of Wai Phyo, after visiting his son in prison, told DVB that Wai Phyo had told him the police threatened to burn him alive if he did not confess to the murders.
[related]
On Thursday, Reuters reported from outside the courthouse after the hearing. In an interview, defence lawyer Nakhon Chomphuchart said that the prosecution were focusing on the fact that the suspects had confessed and that the confession was plausible. "At the same time, we are trying to show that the suspects' confessions were made under pressure and [that they] were forced to confess," he said.
British migrant rights activist Andy Hall, who has been assisting the Burmese youngsters' legal team and who was also in court for Zaw Linn's testimony, told DVB on Thursday that the torture allegations were now "very clear".
"The issue is that there seems to have been no investigation," he said. "Since last year, this case has already been brought up and given to the DSI [Thailand's Department of Special Investigation], brought to the attorney-general, and also to the [Thai] National Human Rights Commission. There were very serious allegations of police torture which were revealed in the court yesterday. But there has been no investigation."
The trail is now in recess until 11 September when Zaw Linn's testimony continues. He is still to face cross-examination by the prosecution.
Read more about this trial HERE