[dropcap]T[/dropcap]wo weeks ago, Kyi Htay sneaked back into Mae La refugee camp in the dead of night. Working as a medic in southeastern Burma's Karen State — and registered as a refugee in the camp for more than 20 years – the 45-year-old has made this journey dozens of times.
But this trip was different. With multiple checkpoints manned by the Thai military on the roads and the threat of deportation looming if he was caught, Kyi Htay found it more challenging than ever to covertly ferry his family of five back into the camp.
"It was very difficult to sneak in this time compared to before the coup," said Kyi Htay, who had been absent from the camp for almost a year. "But if one of my family members misses the population census, the Thai authorities will cut all our rations."
Kyi Htay's fears are shared by many who go beyond the camp's boundaries to seek supplemental income. When Thai authorities announced in July that Mae La's residents were prohibited from leaving, residents began speculating that this latest enforcement could serve as yet another burden on their already uncertain living situations.
Some of the refugees have lived in Mae La for nearly as long as the three decades the camp has been operating, and thus have tried to carve out a better life for themselves within the confines imposed upon them. With the majority of the residents being ethnic Karen who fled from conflict in their home state, these refugees want to be afforded the same privileges as anyone starting a new life. They want to be able to move freely to make more money; they want ample food to stave off hunger; and they want a sense of security — however nebulous such a concept may be for someone displaced by fighting.
While it is true that they are now facing stricter security since Thailand's military coup in May of this year, the fear that Thai authorities will reduce their rations is a misconception as The Border Consortium (TBC) – which provides food rations to the camps – have no plans to reduce rations after the census is conducted. Yet this hasn't dispelled concerns as many people have complained that they are not being fully informed on their future, and funding cuts along the border have already caused a noticeable decrease in supplies.
Home to more than 40,000 refugees, Mae La is the country's largest refugee camp, extending roughly 184 hectares against the mountain ranges of western Thailand. An estimated 100,000 more refugees from Burma are spread out among the other eight camps.
The recent clampdown has stirred new fears. The refugees worry about earning enough for basic necessities if their rations are not sufficient, about losing their refugee status, and about being deported back to Burma. This omnipresent sense of uncertainty and insecurity is part and parcel of the indeterminate nature of being a displaced person.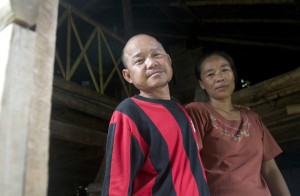 Kyi Htay, the Karen medic, confesses that he is rarely in the camp because he values his role in a clinic in Karen State's Hpa-an district treating cases of malaria. Yet he refuses to give up his refugee status for the sake of his wife and four children, all of whom wish to eventually resettle in the US.
"My wife and children want to go to the US, so I will go too," Kyi Htay said. "I don't really want to be resettled though. I feel great pity for my people and I want to stay with them to help them."
On the other side of this spectrum stands Ma Aye Htoo, 44, who said she wishes never to return to Burma. Along with her husband and four children, she lived in the dense forests of Karen State for four years before coming to Mae La. Though food was scarce, the bigger problem was the lack of medicine, and when two of her children got sick, they passed away that same day. Her remaining two children died later that year.
"Even though there are many people who want to return to Burma, I don't ever want to return there," she said. "I've lived through a lot of misery there. I lost four of my children there, and I will never go back."
While she is not directly affected by a moratorium on camp departures as she does not plan an attempt to leave, the implication of a virtual house arrest weighs deeply upon her.
"It feels like we are stuck in here, like this camp could be a trap," she said. "The other thing is that staying here could be like an addiction, because it seems easier than in Burma."
Saw Wah, a 34-year-old Karen refugee who has lived in Mae La for 15 years, is angered by the lack of transparency, not least because he was never approached to take part in the census.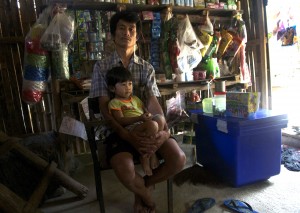 "The Thai authorities should explain things to us; there is no transparency between them and the camp people. This issue confuses everyone – the entire camp feels this way," Saw Wah said. "It decays my hope and my purpose."
As the proprietor of a small grocery store within the camp that sells mostly bottled drinks and snacks, Saw Wah added that the camp restrictions have directly affected his business as his usual customers now have less expendable income.
Duncan McArthur, partnership director for TBC – which assists with distributing rations to the nine border camps — told DVB in an email that his organisation is not expecting the census to affect the distribution of rations to the refugees.
"The population counts are being conducted in an ad hoc manner and vary from camp to camp," McArthur said. "The actual purpose remains unclear, but there haven't been any punitive out comes to date."
He added that any restrictions on the refugees' comings and goings will reduce their access to forest products and labour opportunities.
"This is likely to mean that refugees will not be able to supplement food and shelter assistance at a time when some foreign donors have reduced humanitarian support," McArthur said.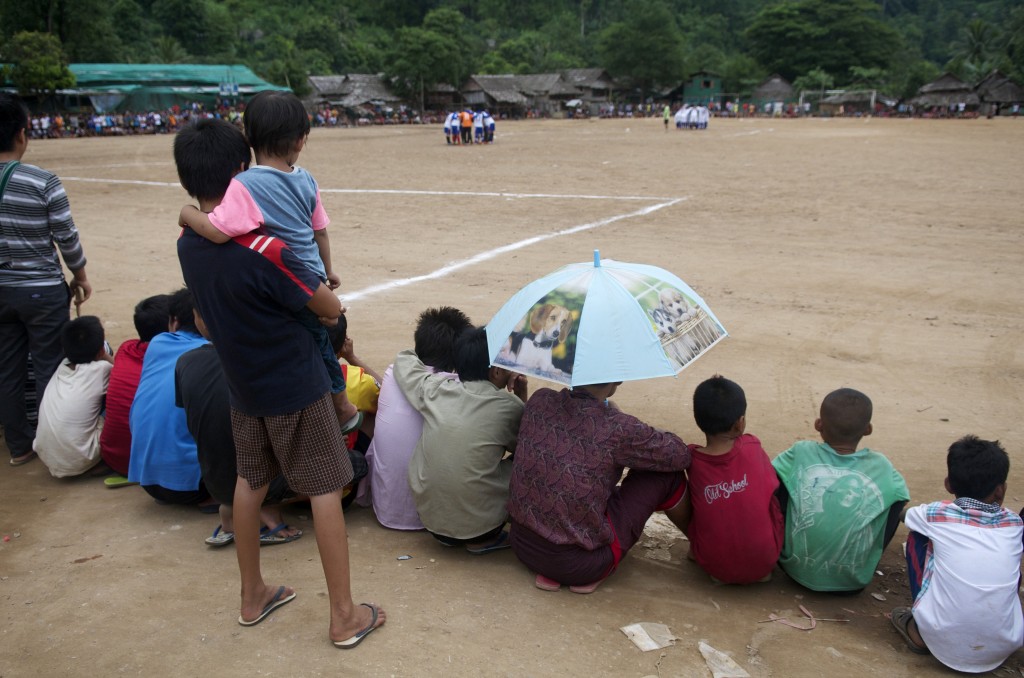 The UNHCR is also not involved in the headcount, nor were they consulted or invited to take part in the process, said Iain Hall, the refugee agency's senior coordinator in Mae Sot. District authorities informed UNHCR that the headcount was "to ascertain the actual number of refugees and asylum seekers presently residing in the camps," he said.
While UNHCR advocates for a comprehensive verification process by the Thai authorities, Hall said that the agency's concerns about the census "such as the inconsistent approach, lack of prior information to the refugees, and some inconsistent 'messaging' by some district-level authorities" were shared with the Thai government.
He also said that while laws governing migrant workers are different from those concerning refugees – current policy bans displaced people from seeking employment outside the camps – Thai authorities have not always enforced these distinctions.
"Over the many years of this protracted situation for the refugees from Myanmar [Burma], the application of that specific regulation may have been inconsistently applied and refugees were able to secure an income outside of the camps, while running the risk of an illegal action," Hall said, adding that while the Thai government has been "sympathetic" to assisting the needs of the refugees and have allowed the development of their skills and income-generation capacities, the Thai government "is also obliged to manage the issue within the confines of their current policy and legislation".
"[The Thai government] has not shared any plan with UNHCR as to the possible actions that it may take concerning refugees that are found working outside the camps," he said.
"There is no timeframe on the repatriation of those refugees that desire to return home to Myanmar [Burma]," Hall said, adding that Thai authorities have issued public statements that "any repatriation will be in accordance with the international standards and in respect of human rights and the associated humanitarian principles related to voluntary repatriation."
"There is no transparency between them and the camp people. This issue confuses everyone – the entire camp feels this way. It decays my hope and my purpose."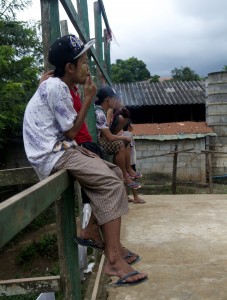 Col. Werachon Sukondhadpatipak, a spokesman for the Thai Army, reiterated that the military government has no intention of immediately repatriating the refugees as it would be a lengthy process. Meanwhile, the census will be used to tally up the actual number of refugees against the figures held by the UNHCR, and this would go into a database, he explained.
"They need to be able to control the movement of the refugees living in the camp, for those moving out and moving in, because some were moving out and trying to seek employment," Sukondhadpatipak said.
As for issues of transparency, Sukondhadpatipak agreed that there should be more on-the-ground communication between the Thai authorities and the camp residents.
A lack of information and a lack of faith are issues that many people in the camp struggle with. Last October, Law Ba Htoo, a refugee in Mae La for 25 years, was informed that he and his family are now eligible for resettlement in the US. Since then, they have been eagerly preparing for their final departure from the camps, and even attended cultural orientation training sessions in March to acclimate them to traveling and living in a new country, he said.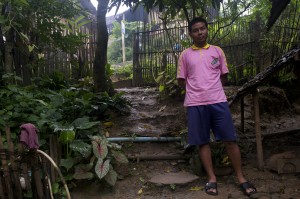 But after March, there has been no news. Since Law Ba Htoo was previously warned that he should be ready to leave at a moment's notice, the 39-year-old Karen man has been cooped up in his home, afraid to leave for the past three months. With his wife and children residing in a different camp about 30 km from Mae La, he misses them very much and they speak daily on the phone.
"Some of my friends… have gone to the US, and some are still here. I am confused about this and no one tells me anything," Law Ba Htoo said. Queries to the UNHCR were unsuccessful, as the staff could not provide him and his family with a firm departure date.
Despite this long wait, Law Ba Htoo believes that he is blessed to have been chosen, as being resettled in a third country is the majority of camp residents' desire. Forced to flee from his home when he was just 14 after the Burmese military burned down his village, Law Ba Htoo considers himself a lucky man. After all, he met his future wife while holding a job at a refugee clinic in Mae Sot, has two daughters, and is now looking forward to a new life in Dallas, Texas. He has no desire to look back.
"Even if I go back to Burma now, it would still be the same situation. It would not be better for us," he said. "We already know the ending to that story."