FROM THE DVB NEWSROOM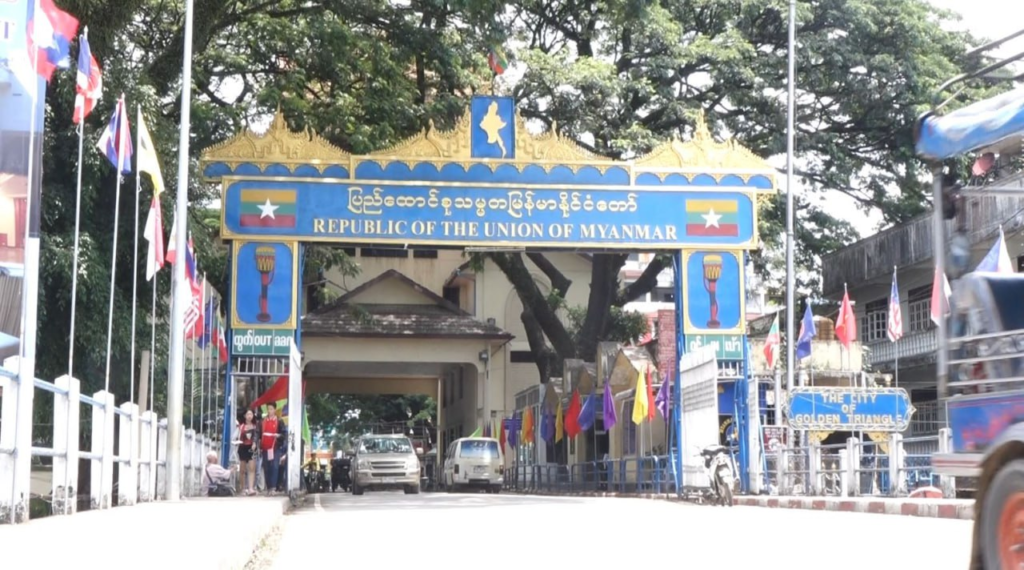 Mae Sai-Tachileik Thai-Burma bridge reopens to much fanfare
A border bridge that connects Tachileik in Shan State with Mae Sai in Chiang Rai Province, Thailand reopened on Feb. 20 after being closed for more than three years due to the COVID-19 pandemic. The bridge will be open from 6 a.m. to 6 p.m. Prior to its closure three years ago, the bridge was open from 6.30 a.m. to 9 p.m. Commerce experts predict that the restoration of border crossings could bring economic benefits to the locals on both sides of the Thai-Burma border. Last month, the Myawaddy-Mae Sot border bridge on the Asia highway reopened.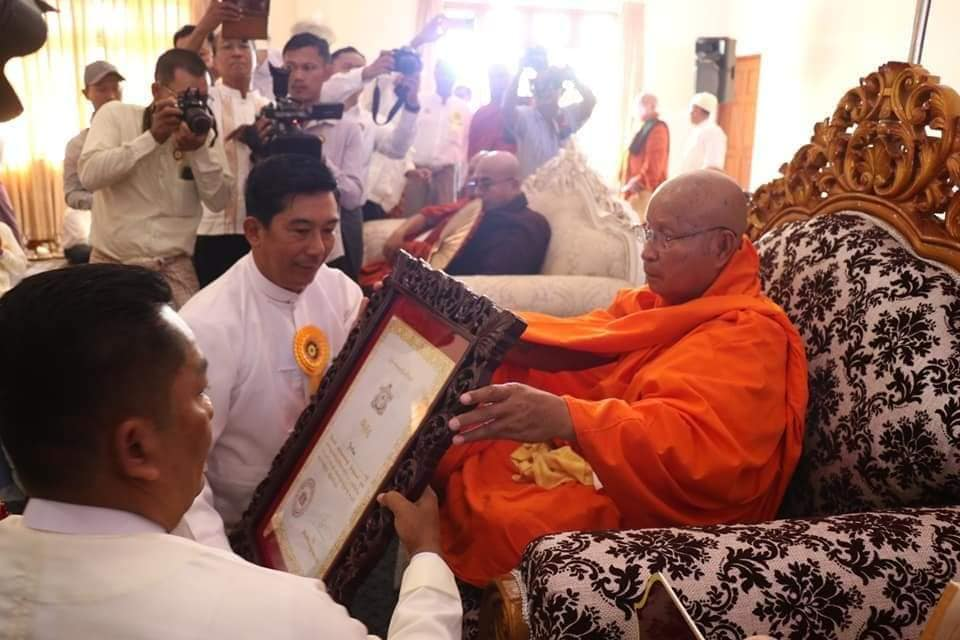 Regime showers more Burmese monks with national awards
A ceremony honoring nationalist Burmese monks was held by the junta and its Union Solidarity and Development Party (USDP) at a monastery in Insein Township on Feb. 18. In the ceremony, the two monks Wirathu and Zwekabin Sayadaw were given the title "Thiri Pyanchi" – a national award for people who have done "outstanding work for the good of the country." Officials from the USDP including its Central Vice President, Myo Zaw Thein, Yangon Region's USDP chairman, and junta officials such as Yangon Region Commander Major-General Nyunt Win Swe and Social Affairs Minister of Yangon Region Aung Win Thein also attended. The USDP donated K3 million ($1,435 USD) to the two monks. Religious associations donated more than K70 million ($33,493 USD), the USDP claimed. Last month, Min Aung Hlaing presented the "Thiri Pyanchi" award to Wirathu in Naypyidaw.
News by Region
BAGO—A Burma Army column was attacked on Feb. 16 in Yedashe Township, causing heavy losses, the Bago Region People's Defense Force (PDF) claimed. The PDF alleged that 30 Burma Army troops were killed, but DVB could not independently verify these claims.
MANDALAY—A deputy police officer was shot in Mogok on Feb. 19, according to the Mogok PDF. "We had prepared to attack this person for a week. He is a guy who always beats people at checkpoints and does not treat them like human beings. We don't know yet if he is dead," the PDF information officer told DVB.
A man was killed by the Burma Army in Mahaungmyae Township on Feb. 19 after being "wrongfully arrested," according to locals . His body was returned to his family within hours after he was killed. "[He was] a strong National League for Democracy supporter. Around 6.30 p.m., he was arrested and beaten by the soldiers," a man told DVB.
MON—Forty Rohingya were arrested in Thanbyuzayat Township on Feb. 19. "They first came to Thanbuyzayat, then they planned to go to Yangon. They were supposed to migrate to Malaysia with the help of the brokers, but they were apprehended in the forest," a local told DVB. Junta officials are reportedly investigating. On Feb. 8, three Rohingya were detained on a bus in Ann town, Rakhine State heading to Yangon. On Feb. 17, 56 Rohingya were arrested in a village of Sittwe Township. They were bound for Malaysia. According to news reports, 300 Rohingya were arrested in Yangon and Ayeyarwaddy regions last month. Seventy-seven were sentenced to two years in prison.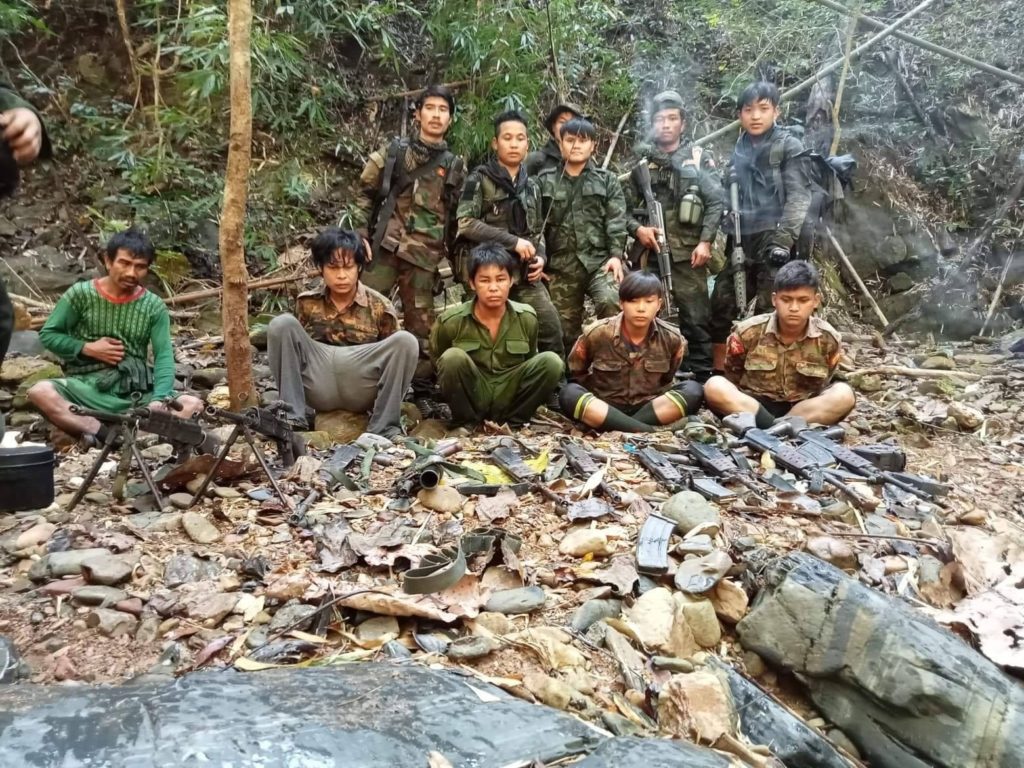 SHAN—At least six Burma Army troops were killed and another five were captured alive during an attack by Karenni resistance forces in southern Shan State on Feb. 19, according to the Karenni Military Information Center (KMIC). It reported that the Karenni attacked supply and transport vehicles carrying food and weapons for the Burma Army. Eight soldiers were killed in clashes on Feb. 14 and 18, according to KMIC.
YANGON—Two 100-household administrators were killed, and four others injured when the Dagon Seikken PDF raided a ward administration office in South Dagon Township on Feb. 19. "I heard the loud sound of gunfire and bombs. They attacked while the administrative officials were in the office," a local told DVB. The injured are said to be three administration officials and a motorcycle driver.
A 100-household administrator was killed in Thanlyin on Feb. 18, the Thanlyin PDF claimed. A source close to the administration said that the administrator attended military training hosted at a Burma Navy base in th township and was recently granted permission to carry a firearm.
An unnamed group claimed responsibility for an attack on a Burma Army bunker in Insein Township. Watchtowers and bunkers have appeared on city streets to monitor activities since the coup. The unnamed group was unable to confirm to DVB if Burma Army soldiers were killed or wounded. "The bunker is near the prison. Soldiers investigated near the market," a local said. Two people were arrested.
A member of a nationalist Buddhist group named Nay Myo Aung was reportedly killed in Thaketa Township on Feb. 19, according to his friends and colleagues in Mabatha. A member of the nationalist Buddhist monk group told DVB that it was tipped off that Nay Myo Aung was being targeted by unknown assailants. "We told him to stay in hiding," the member added. "Two locals were arrested because of information he provided to the military," a man claimed.