Rangoon township authorities have issued an ultimatum to more than 200 Michaungkan villagers to disband their protest site at the town's Myasaryan pagoda by 6pm on Monday or else face forceful removal.
The ultimatum came after a violent incident on Saturday when the protestors were attacked by a group of men dressed in black waistcoats with military ID cards pinned to their shirts who claimed to be "cleaning workers from the army". At least eight people were injured, including elderly women. Sources at the site describe "thugs" armed with batons attacking the residents who have been staging a sit-in protest in the Thingangyun village in east Rangoon since 26 November.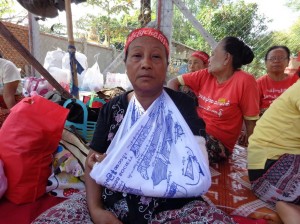 Last week, DVB reported that some 400 residents had received funeral rites from Buddhist monks, saying they were ready to die protesting for the return of cultivated land which was confiscated from them by the military in 1990.
Two protest leaders were sentenced to three months in prison with labour in late November under Article 18 – the Peaceful Assembly and Peaceful Processions Law – which activists and observers say is being used randomly by authorities across Burma to crack down on demonstrators and activists campaigning against land confiscation issues.
Speaking to DVB on Sunday, several female protestors reiterated that they were willing to lay down their lives defying the authorities unless their lands are returned to them.
Thaung Khin, 63, said her arm was broken in the scuffle with the black-shirted thugs as she stood in a line and pushed back against them.
[related]
"I pushed against them with all my might, but I was knocked to the ground," she said. "I lost consciousness for a moment."
She said that three other injured protestors were still being treated in hospital.
Thein Nyunt, an MP representing Thingangyun constituency, on Sunday held talks with the remaining villagers at the protest site and asked them to withdraw saying that a festival had been planned in the area to celebrate the SEA Games.
The MP said he could not guarantee a return of the disputed land to the villagers, however he said he would negotiate compensation for those who lost lands.
However, a protest leader said this was insufficient, and reiterated the villagers' demands: the return of all seized lands; compensation for losses over the years; and a repeal of the charges leveled at them.