FROM THE DVB NEWSROOM
Moe Myint's mother attends her funeral in Thailand
The mother of a Burma national who was killed in a shooting at Siam Paragon mall in Bangkok traveled to Thailand to attend her daughter's funeral on Oct. 8, the Straits Times reported. Khin Win placed a cup of milk tea next to her daughter's coffin, which was Moe Myint's favorite drink. Hundreds of other mourners, including the regime's ambassador to Thailand Chit Swe, attended the funeral in Nonthaburi, north of Bangkok.
Moe Myint was a 31-year-old sales assistant at a toy store in Siam Paragon. Her employer, who also attended the funeral, vowed to continue sending the 10,000 THB ($269 USD) remittance to her family in Burma every month. A Chinese national was also killed in the attack and five others were injured, including a Laos national.
Over 1,300 arrested for criticizing military online
More than 1,300 people have been arrested for criticizing the military regime on social media from February 2022 to September 2023, states Data for Myanmar. It claimed that 65 people have been arrested monthly for online offenses. The regime arrested around 500 people from May to August, 2022. Nearly half of them were from the Yangon and Mandalay regions.
The regime announced that it will take action against people sharing content online that incites violence or supports the National Unity Government (NUG) and the Committee Representing Pyidaungsu Hluttaw (CRPH) under the Counter-Terrorism Law, Electronic Communications Act and other legislation revised since the 2021 military coup.
Factory workers given an additional allowance of K1,000
The regime's Ministry of Labour announced that it will give factory workers an additional allowance of K1,000 per day. "I think the increased rate will not be valid when calculating overtime pay," said a spokesperson of Solidarity of Trade Union Myanmar (STUM). The minimum wage for garment factory workers in Burma has been K4,800 per day since 2008 and the law stipulates that it must be amended at least once every two years.
News by Region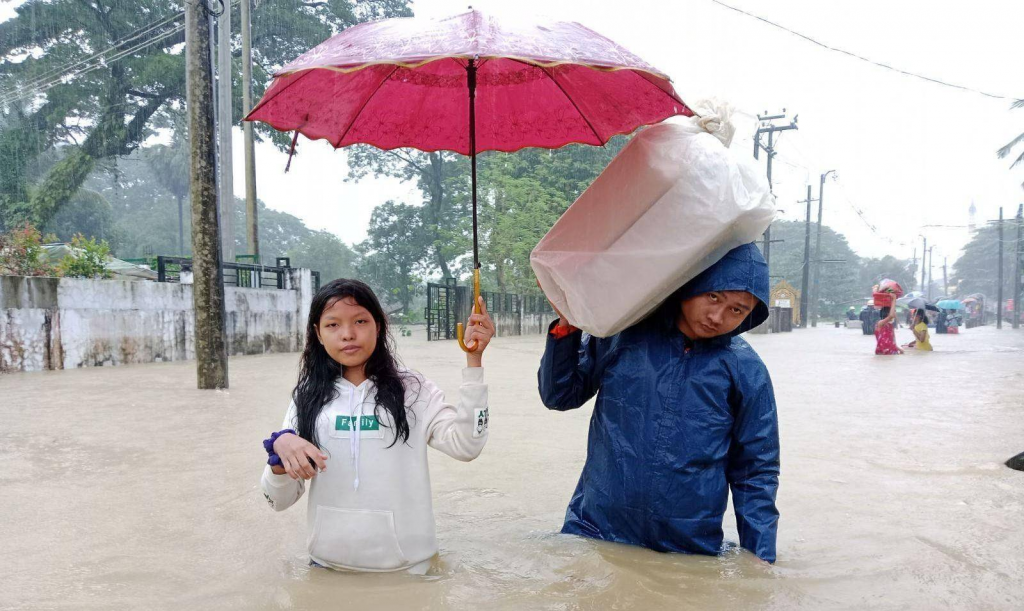 BAGO—Heavy rainfall in Bago Township has caused flooding since Oct. 7, forcing residents to evacuate to monasteries and rescue centers. "Almost the entire city is flooded and people are in need of food, water and shelter," said Min Min, a Bago resident.
More than 5,000 residents are sheltering at 22 relief centers. Water levels in the Bago River have exceeded critical thresholds. The state-owned telecommunications company Myanmar Post and Telecommunications (MPT) announced that its phone lines are unavailable in Bago, Mon, Karen, and Tanintharyi.
KARENNI—More than 500 people have been killed by the Burma Army's attacks on civilians since the 2021 coup, states the Progressive Karenni People Force (PKPF). It added that 142 out of the 524 killed were Internally Displaced Persons (IDP). Many died from treatable illness due to the lack of medicine. Others were killed during arrests, landmine attacks, interrogations and airstrikes.
"We are providing [data] to respective human rights organizations and trying to reach the media. At the same time, we are trying to file a legal case to get responsibility and accountability from a human rights perspective," said Banyar, the spokesperson at Karenni Human Rights Group. The PKPF added that 333 Karenni fighters have also been killed since 2021.
NAYPYIDAW—The Kachin Independence Army (KIO/KIA) stated it was invited to attend a ceremony marking the 8th anniversary of the Nationwide Ceasefire Agreement (NCA) in Naypyidaw on Oct. 15. Its spokesperson Naw Bu told DVB that the KIO/KIA central committee has not decided whether it will attend or not.
The regime states that it has invited all Ethnic Armed Organizations (EAOs). The Ta'ang National Liberation Army (TNLA) said that it has not received an invitation. The Peace Process Steering Team (PPST), composed of NCA signatories, will host the ceremony.
SHAN—At least 377 Chinese nationals arrested for cyber scams by the Kokang authorities on Sept. 23 were transferred to China at Laukkai on Oct. 7. "Kokang's authorities transferred them to China for illegal entry," said a source from the Kokang Self-Administered Zone.
China arrested 11 businessmen from Burma on Oct. 1. It promised to release them in exchange for the Chinese nationals, according to a source close to the military regime. It stated that it has arrested and prosecuted 210 people accused of being involved in cyber scams and online gambling.
YANGON—An unexploded bomb was discovered attached to a keypad in a bush near Thuwanna park in Thingangyun Township on Oct. 9. "It was found by a gardener from the park near Max fuel station," said a Thingangyun resident. The Burma Army detonated the bomb then held a meeting at the township office, according to a source in the administration. 
(Unofficial rate: $1 USD = K3,350, Official rate: $1 USD = K2,100)