FROM THE DVB NEWSROOM
Court dismisses Aung San Suu Kyi appeals on corruption
The Supreme Court has dismissed Aung San Suu Kyi's special appeals in six of her corruption cases, in which she was convicted of misusing her authority and accepting bribes. Aung San Suu Kyi, 78, has appealed her convictions on several other charges, including election fraud, violating the Official Secret Act, and six additional corruption cases.
All are still being reviewed by the Supreme Court. The regime reduced Aung San Suu Kyi's 33 year prison sentence to 27 years in August. Her son, Kim Aris, has been unable to speak to his mother since she was taken into custody by the military during its February 1, 2021 coup.
ILO calls for end of trade union suppression
The International Labour Organization's (ILO) Commission of Inquiry for Burma stated that Naypyidaw has curtailed civil liberties, trade union rights, and used forced labor since 2021. It claimed that these actions are in violation of Burma's commitments under the Freedom of Association and Protection of the Right to Organise Convention and Forced Labour Convention.
The ILO called on the military regime to take "immediate action, so as to stop egregious violations of the two Conventions and prevent further abuses." It added that Naypyidaw should cease all forms of violence against trade union members and restore civil liberties. It urged the military to end the use of forced labor and recruitment into the Burma Army.
Regime wants attention on killings of alleged informants
The regime's ambassador to the E.U. Soe Lin Han accused the international community of ignoring the murder of alleged military informants. He made the claim during the E.U.-Association of Southeast Asian Nations (ASEAN) Human Rights Dialogue summit on Oct. 3.
Soe Lin Han argued that civil society groups should refrain from relying solely on the statements of one group and its supporters as it can create "an echo chamber." He argued that their actions may serve "self-satisfying purposes" within the field of human rights. The number of people that were killed on accusations of being military informants is unknown.
News by Region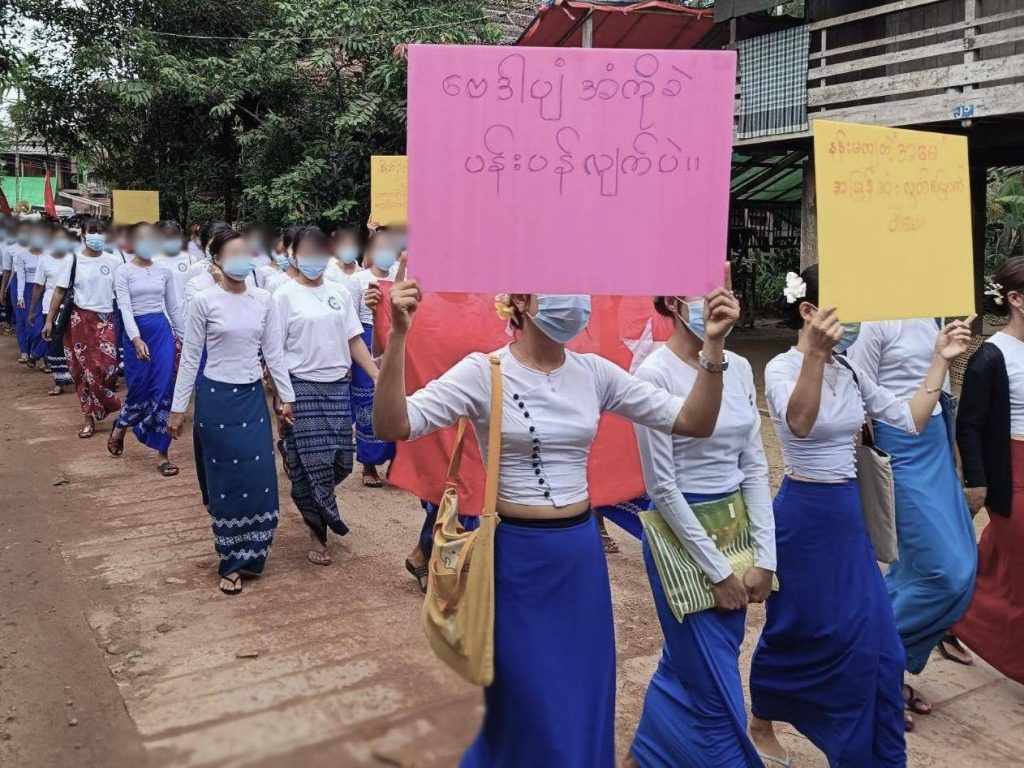 MON—At least 146 civilians in southeast Burma have been killed and 315 were injured from January to June, according to a report released by the Human Rights Foundation of Monland (HURFOM). Mon, Karen, and Tanintharyi regions were the areas covered by the report. HURFOM added that 840 civilians were arrested and detained during the period.
At least 146 were killed, nearly 500 were injured, and 1,155 people were arrested in 2022, state HURFOM. It called on the international community to deliver cross border aid and work with local groups. "HURFOM calls upon international and regional actors to stand with those who believe in supporting and advancing a future in Burma firmly rooted in democracy."
KAREN—Hlaingbwe Township residents state that the Burma Army has issued orders to shoot people outside after 8 pm in the Karen National Union 7th Brigade area. The order was given by the new Minister of Security and Border Affairs.
'Security measures within the city have intensified, and with increased scrutiny, there's a fear of being arrested without having committed any crimes," a local told DVB. There have been no reports of fighting in the area.
ARAKAN—One person was killed and another was injured at a home near the Arakan Liberation Party (ALP) headquarters in Sittwe on Oct. 5. 'They entered the house and attacked. The father was killed and his daughter was injured. I don't know which group was responsible for the attack," a witness told DVB. The ALP has not yet responded.
Around 70,000 methamphetamine pills worth K140 million was seized from four people at a checkpoint in Buthidaung Township on Oct. 3. "Four individuals traveling on two motorbikes were arrested," a local official confirmed. They had reportedly been offered K300,000 each for transporting the drugs.
"Locals heavily rely on such transportation jobs for their daily income, primarily due to the absence of factories or alternative employment opportunities in Rakhine. The prevalence of drug use among young people in Rakhine has risen," said a Buthidaung resident.
CHIN—A Burma national was apprehended with 149 grams of heroin valued at approximately Rs 1,04,30,000 ($125,473 USD) in India's Mizoram State on Oct. 4. An Indian official stated that this arrest represents "another success" in the ongoing fight against smuggling activities from Burma.
On the same day, Mizoram Police arrested a Burma national with 10.4 kilograms of rare methamphetamine, valued at Rs. 31 crore ($3,729,331 USD) at Lengpui Airport in Aizawl. She was allegedly attempting to transport the drugs to Delhi. 
(Unofficial rate: $1 USD = K3,350, Official rate: $1 USD = K2,100)