The families of two people killed when a bridge in Myaungmya Township collapsed over the weekend have received 2.6 million kyats ($1,950) in financial assistance from two Union ministries and the Irrawaddy Region government.
Almost the entirety of the suspension bridge fell into Yway River as a six-wheeled vehicle was crossing it in the early hours of Sunday. The driver of the vehicle, Thant Zaw Htike, and an accompanying passenger were killed.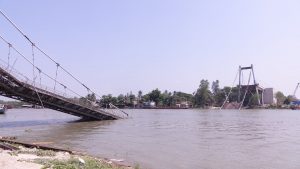 Burma's Ministry of Construction offered 2 million kyats to each of the families of two victims, and the Irrawaddy Region government the Union Ministry of Social Welfare, Relief and Resettlement provided 300,000 kyats each additionally.
The bridge had served as a major transportation link between Maungmya and neighbouring Labutta Township, with the collapse significantly impacting travel and commodity flows in the area.
According to Tun Aye, a local resident, the logistical challenges are likely to persist for some time to come.
"The construction of a new bridge that is some distance from the collapsed suspension bridge is ongoing," he told DVB. "The new bridge was intended to replace the old one. However, the old bridge collapsed before the new one could even replace it, hampering transportation."
[related]
Win Htay, the Irrawaddy Region government's transport minister, told DVB that the regional administration had arranged for three ferries to cross to and from Myaungmya until a road link can be re-established.