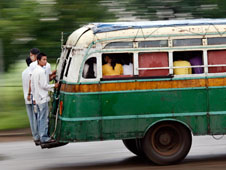 For years, passengers in Rangoon have endured overcrowded, slow, unreliable buses. The belch of black smoke, the constant honking of horns, and the sight of boys hanging off the back of antiquated vehicles as they bump along potholed streets was one of the most notable features of city life.
Traffic has been compounded in recent years by a marked increase in population and car ownership, and city planners are struggling to alleviate the constant gridlock at many junctions.
But this week two new bus services were unveiled, which will bring in fresh fleets of more modern buses, and hopefully help ease congestion and offer Rangoon commuters an easier ride.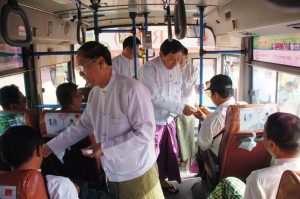 One such operation coming to the city is the new Bus Rapid Transit (BRT) system, which, according to Maung Aung, an advisor to the Ministry of Trade and Commerce, aims to provide a more comfortable and more efficient transportation service for Rangoon's commuters.
This week a public company limited (PCL) was created to cater for the new operation.
"The main objective of the PCL is to provide a smooth and convenient BRT system for the public," said Maung Aung. "This signals a significant shift to a PCL system in Rangoon's mass transportation sector."
The PCL has been set up with a 25 billion kyat (US$25 million) investment –with 40 percent (10 billion kyat) coming from the government, and a 60 percent stake to be offered to the private sector.
Maung Aung said shares in the company would be opened to public buyers in the coming weeks.
In an event launching the BRT PCL at the Rangoon divisional government assembly on Monday, regional Chief Minister Myint Swe said, "We are making arrangements to ensure the BRT service will be reasonably priced.
"If the BRT system proves successful, it will ease traffic congestion in the city to some extent and make life more convenient for both drivers and commuters."
The new BRT network will be based out of a main terminal in Mingalardon Township, just north of the city centre. Its routes will include the busy Pyay and Kaba Aye Pagoda roads. Service is slated to begin in about four months' time, with between 60 and 100 buses ordered from South Korea set to traverse the streets of the former Burmese capital.
[related]
On 3 May, another new bus service was launched in Rangoon. The SRT-1 – a joint-venture between the Road Transport Administration Department and a private firm, San Yaung Ni Road Transport Co Ltd – has 25 buses and will operate between Botahtaung Township and Aung Mingalar bus terminal. Buses will charge passengers 200 kyat ($0.20) for the whole trip, and 50 kyat for individual stops.
Myint Wai, the manager of San Yaung Ni Road Transport, announced that fares for the SRT service can only be paid via a pre-paid iPay Card system.
"Ideally, we would like to provide the best service for our customers, but there are limitations – such as an insufficient supply of CNG [compressed natural gas] and the fact that we use a iPay card system, which can be time-consuming with just one bus conductor dealing with many passengers," said Myint Wai.
According to government statistics, there are currently more than 3,500 buses in Rangoon, run by some 360 operators, and carrying some two million passengers every day.
In December 2014, Rangoon Division Minister of Finance San San Nwe unveiled a plan to construct three new overpasses in the city to alleviate the grinding traffic woes. The flyovers are to be built in Tamwe, Bahan and Mayangone townships. In addition to an existing project to construct an overpass on Pyay Road in Mayangone, the estimated cost of the four new road bridges was expected to be over 70 billion kyat ($70 million). An additional 30 billion kyat was requested to pay for traffic lights at 65 busy junctions in the city.
Watch DVB Debate video: How to solve Rangoon's traffic congestion
DVB readers: What do you think? Is Rangoon's traffic easing or becoming quicker at any of the main intersections where roadworks have been undertaken? Or is the city doomed to eternal gridlock? Have your say in the comments below.