FROM THE DVB NEWSROOM
Ninety-three NLD party members killed since 2021
The National League for Democracy (NLD) party stated that 93 of its members, including two members of parliament, have been killed and 1,200 have been arrested since the coup. It added that the properties of 625 opponents of the 2021 military coup, including NLD members, have been seized. Its offices have been raided by the military 154 times. The NLD requested international assistance to "build a federal democratic union" and to "expose the crimes committed by the Burma Army in order to take action in accordance with international law."
A 'flower strike' to honor Aung San Suu Kyi
Democracy activists are calling on people to join a "flower strike" to commemorate Aung San Suu Kyi's 78th birthday on June 19. The ousted State Counsellor will be celebrating her birthday behind bars for the third time since the 2021 coup. She spent at least 15 years from 1989 to 2010 under house arrest. "No matter how power-hungry fascists brandish their swords, let us show on June 19 that the revolutionary flowers of the people will continue to flourish," said Dr. Tayzar San, a leader of the anti-coup resistance. The flower strike is planned to take place both inside and outside of Burma.
No arrests made despite threats to 'PDF Game' players
No arrests have been made despite repeated threats to arrest War of Heroes (aka PDF Game) players. "I have not heard of anyone being arrested for playing [it]," said an unnamed source from the regime's administration. A lawyer agreed that no arrests have been made since the video game's release in 2022.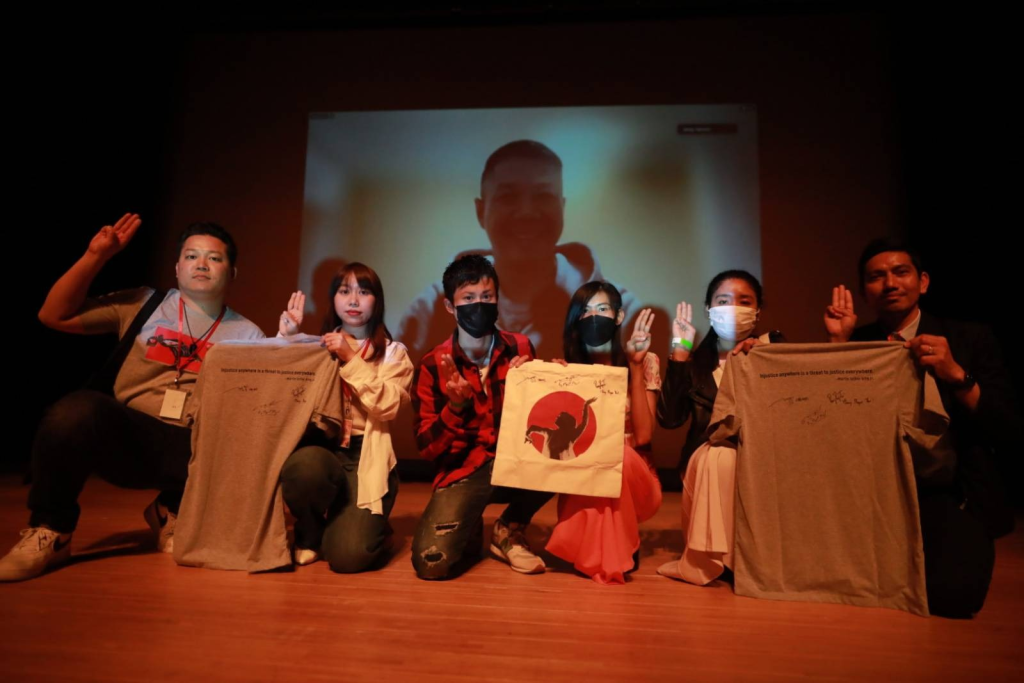 Film festival in Japan raises funds for resistance
At least $95,521 USD was raised by Myanmar Spring Film Festival Japan, which took place across seven cities including Tokyo, Yokohama, and Nagoya from May 6-28. "We were anticipating to raise around K70 million [$33,432 USD], so we are very pleased with the amount received," said Stalla, the spokesperson of the event. "Watching the movies allowed us to momentarily experience the lives of our comrades, and together we will forge ahead," said an event organizer. Similar film screenings were held in New York City last week.
News by Region
KACHIN—Residents from Phat Ma village, Putao Township destroyed illegal gold mining sites in Phat Ma creek on June 12. "They mine for gold in the creek with heavy machines by joining hands with regime's administrators. We frequently demand them to stop these mines and now it is out of control. So we went there and destroyed them," said a Phat Ma villager. Phat Ma and five other villages drink water from Phat Ma creek and use it for farming, but illegal mining has contaminated it with mud. The contracts issued to businesses to mine the area expired last April, but the mining sites continue to operate.
KARENNI—A total of 3,342 refugees were rescued by Thai authorities in neighboring Mae Hong Son Province of Thailand. Fighting started after Karenni resistance groups attacked Burma Army and police outposts in the eastern part of the state. Thai soldiers and volunteers assisted 3,034 refugees in Baan Sao Hin village and another 308 in Baan Pha Tho and Baan Pha Khe villages, located in northern Thailand.
SHAN—Tensions between the Shan State Progressive Party/Shan State Army-South (SSPP/SAA) and Burma Army have escalated after the SSPP/SSA refused the military's order for it to abandon its 10 military positions in Laihka Township. "Currently, around 300 Burma Army troops have approached our side. Our defense is ready if they start to shoot. It is not possible for us to withdraw," said a SSPP/SSA spokesperson.
TANINTHARYI—A man was killed and another was injured when they activated a landmine while collecting fruits in a forest near a village of Myeik District on June 14. "The incident happened around 1 p.m., but they were not discovered until around 3 p.m," a man told DVB. It is unknown which group planted the landmine.