FROM THE DVB NEWSROOM
NUG appoints its first Rohingya minister
The National Unity Government (NUG) promoted Aung Kyaw Moe from his role as advisor at its Ministry of Human Rights to its new deputy minister, to work alongside Minister Aung Myo Min. "When I held the position of adviser, my responsibilities were primarily focused on providing policy advice. Now that I am a part of the government, I have assumed a higher level of accountability," said Aung Kyaw Moe.
ASEAN delivers more humanitarian aid to Burma
Three humanitarian aid deliveries from the Association of Southeast Asian Nations (ASEAN) arrived in Yangon from June 21-28. The total amount of aid delivered is $431,280 USD. In total, ASEAN has sent 10 aid deliveries worth $1.6 million USD since Cyclone Mocha made landfall on May 14. There has been no evidence that the humanitarian aid from ASEAN, India, or Bangladesh have reached cyclone-impacted communities in Rakhine State, reported the Border News Agency. International aid groups had their travel authorizations rescinded on June 7.
One of Aung San Suu Kyi's accusers released from prison
Maung Weik, the Chairperson of Sae Paing Development Ltd. and Myanmar Developer Association (MDA), was released from prison on June 29. He testified for the prosecution during Aung San Suu Kyi's corruption trial, admitting that he had donated money to the Daw Khin Kyi Foundation, a charity founded by Aung San Suu Kyi and named after her mother.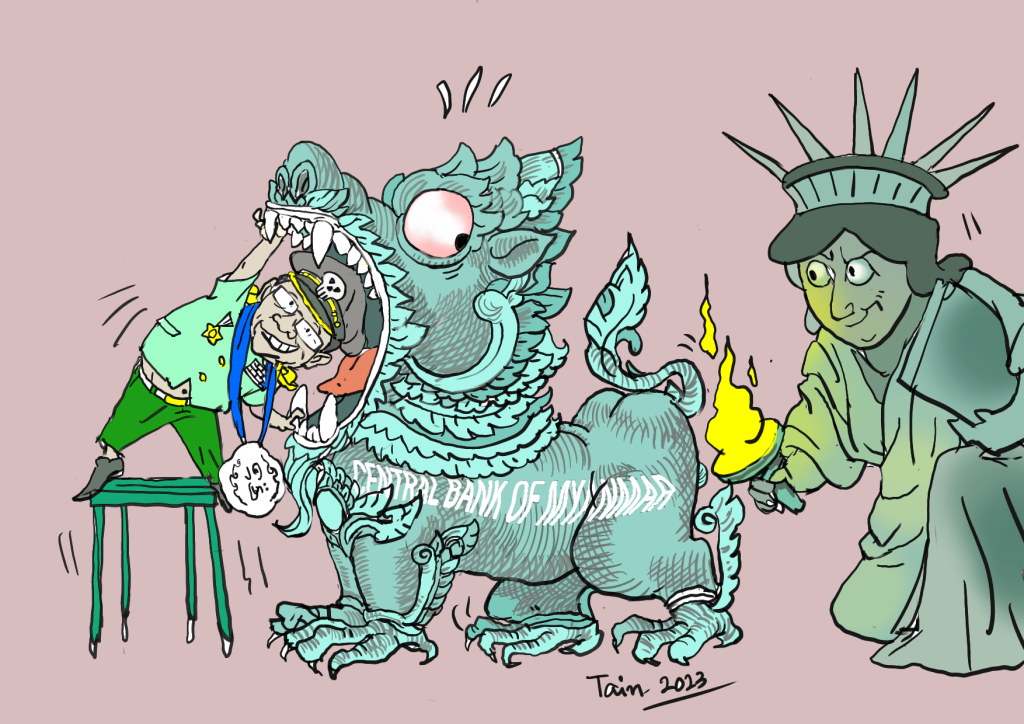 News by Region
BAGO—Two military-appointed administrators of Minhla Township were killed inside their homes on the Yangon-Pyay Road June 30. The People's Defense Force (PDF) claimed that it carried out the attack. "Because of them, many people have been arrested," said a PDF spokesperson.
KACHIN—Regime spokesperson Zaw Min Tun confirmed that a convoy carrying Chinese military representatives was attacked on June 27. No casualties were reported. Zaw Min Tun blamed the Kachin Independence Army (KIA) for the attack on Kanpaiti-Myitkyina Road without any evidence. "Our forces and Border Guard Force escorted the convoy. One of the BGF vehicles was attacked by small arms. We secured the convoy and it went to Myitkyina as arranged. They attended the meeting," said Zaw Min Tun. Locals claimed that the 13-vehicle convoy was attacked by a militia group based in the area. Fighting between the Burma Army and the KIA broke out near Kanpaiti town on June 26.
RAKHINE—The Arakan Liberation Party (ALP) has accused the Arakan Army (AA) of assassinating three of its members, including the vice president and a battalion commander. Three others were injured. The ALP claimed that it was targeted by the AA while returning from a cyclone rescue plan meeting. The AA has yet to respond to the ALP accusations. It denied claims earlier this year that it killed three high-ranking ALP members.
SAGAING—Residents of Kanbalu Township are being forced to pay fines or have their properties seized if they do not nominate people to attend Pyu Saw Htee militia training. "One person from every household was forced to attend a meeting held at a school in Ye Kyi village. The monk [Wathawa] said 20 to 30 people from each village must attend the training," said an unnamed Kanbalu resident. The militia fined households that failed to attend the meeting K10,000 ($4.74 USD).
Nine people, including a monk, were killed in an airstrike in Pale Township on June 27. Three villages were targeted. A monastery, a school and other buildings were destroyed. "First in the afternoon, they dropped a bomb near the monastery, and after 10 minutes, the fighter jet fired on the village," said Zaw Htet, leader of Pale Township People's Administration. The NUG claimed that this attack is one of over 70 massacres committed by the Burma Army in the past 27 months.
YANGON—Regime officials met with a delegation of the Russian State Atomic Energy Corporation (Rosatom) in Yangon on June 29, regime media reported. Rosatom Deputy Director-General Nikolay Spassky handed over a feasibility study for a thermal power plant project for the regime's Ministry of Electric Power. The regime is also working with Rosatom on nuclear infrastructure assessment and enhancement.
Read our latest story: Chin groups call on India to allow UN to assist refugees in northeast.