FROM THE DVB NEWSROOM
NUG orders PDF not to target foreign investment projects
The National Unity Government (NUG) ordered the People's Defense Force (PDF) not to attack foreign investment projects. "We instructed all forces under the NUG to only attack military targets. Businesses should also avoid encouraging the Burma Army to commit crimes against the people," said Kyaw Zaw, the NUG spokesperson. The PDF attacked Burma Army troops at Wanbao copper mine after it burned down 1,000 homes in Salingyi Township, Sagaing Region. The NUG added that Chinese mining projects in Sagaing have been attacked for having Burma Army troops stationed inside.
Regime meets with five NCA signatories 
The regime met with five signatories of the Nationwide Ceasefire Agreement (NCA) in Naypyidaw on June 26-27, regime media reported. The Arakan Liberation Party (ALP), Democratic Karen Buddhist Army (DKBA), KNU/KNLA Peace Council, Lahu Democratic Union (LDU), and Pa-O National Liberation Organization (PNLO) attended the meeting. Other NCA signatories such as the Restoration Council of Shan State (RCSS) and New Mon State Party (NMSP) did not attend. Regime media reported that the topics discussed included amendments to the 2008 constitution, holding a peace conference, and the annihilation of narcotics.
Regime bestows honors on Russian ambassador
The regime announced on June 26 that it awarded the "Wanna Kyaw Htin" honorary title to Russian ambassador to Burma Nikolay Listopadov for his distinguished contribution to the interests of the country and its people. It bestowed this title on Listopadov for his efforts to establish "friendly cooperation" between Burma and Russia. Listopadov has served as Russia's ambassador in Yangon since 2016, and has worked two previous stints at the embassy between 1983-1986 and 1990-1994. Regime media reported that the ambassador has built a closer bond between the two nations, and has translated Burmese Buddhist texts into the Russian language.
News by Region
AYEYARWADY—At least 30 women have been charged by police with 12 of them still detained at Myaungmya police station since the June 19 "Flower Strike" to commemorate Aung San Suu Kyi's birthday. "A group of women wore flowers on that day during their morning exercise and the military tried to arrest and charge them for incitement. Twelve women from that group were arrested and the rest fled as the military tried to arrest them," said a Myaungmya town resident. At least 100 people nationwide have been arrested for wearing flowers to commemorate Aung San Suu Kyi's 78th birthday, while she remains locked up inside Naypyidaw Prison serving a 33-year sentence.
KARENNI—The last Burma Army outpost in Mese Township surrendered to resistance forces on June 23, stated the Karenni military central information committee. Resistance groups claimed that over 20 Burma Army personnel from the 430th Light Infantry Battalion laid down their weapons after the battalion commander and deputy-battalion commander surrendered on June 23. The Karenni Army, Karenni Nationalities Defense Force (KNDF), Karen National Liberation Army, and the Karenni National People's Liberation Front (KNPLF) participated in the battle. The KNPLF became a Border Guard Force (BGF) in 1994 after agreeing to a ceasefire with the Burma Army. Fighting has intensified in Mese Township since June 13 and resistance forces suffered casualties during the seizure of the outpost. Around 5,000 locals in Mese Township were forced to flee to Thailand due to the fighting.
MANDALAY—Over K14.15 billion ($6.7 million USD) worth of drugs and a truck were seized in Pyin Oo Lwin Township, stated the Central Committee for Drug Abuse Control (CCDAC) on June 25. Regime authorities inspected a truck in the township on June 8 and seized drugs including amphetamine, ketamine and heroin that were allegedly being transported from Shan to Karen State. Two people on the truck and three other suspected drug traffickers were also arrested.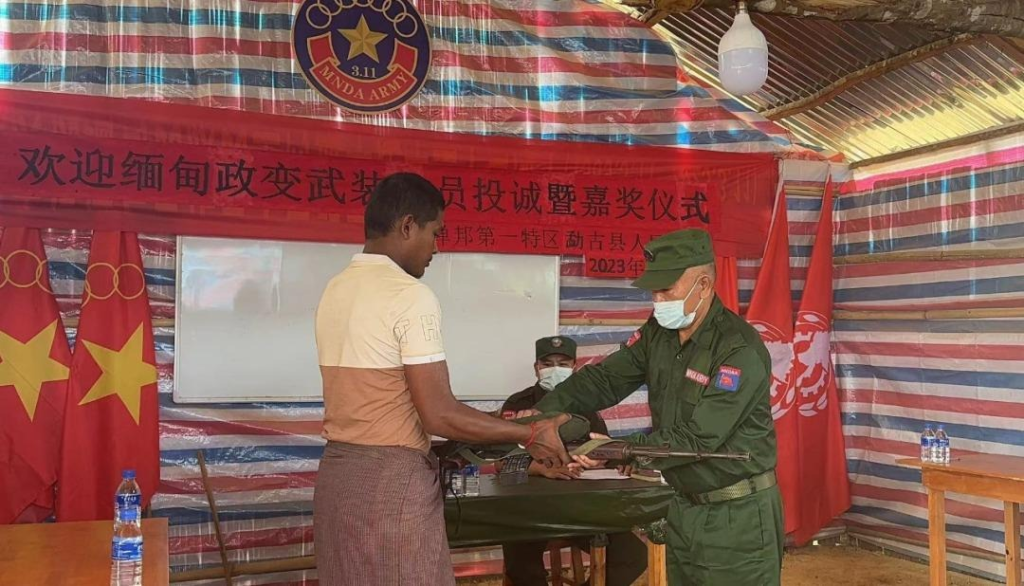 SHAN—A Burma Army soldier defected to the Myanmar National Democratic Alliance Army (MNDAA) on June 20. "Burma Army officials usually scolded and beat their juniors. I was sick of their bullying of civilians and joined the MNDAA as I heard it ruled fairly," said the unnamed defector. He was awarded K2 million ($952.52 USD) and appointed a section commander on June 25, the MNDAA stated. It claims at least 10 Burma Army soldiers have defected to the MNDAA.
YANGON—Five workers from the Hosheng Myanmar garment factory will be charged, according to a labor group assisting the workers. "Due to the information obtained during interrogations, they might be charged with incitement and under the Unlawful Association Act. Their next hearing is on July 7 and they have not been allowed to meet with their families," said an unnamed labor rights activist. The workers led a protest demanding a daily wage increase from K4,800 ($2.29 USD) to K5,600 ($2.67 USD) and were dismissed by the factory on June 10. The Burma Army arrested them on June 14. They also arrested two activists assisting the workers and the owner of a building used to host their meetings. The Federation of General Workers Myanmar condemned the arrests.