FROM THE DVB NEWSROOM
NUG vows to repeal 1982 Citizenship Law
The National Unity Government (NUG) states that it and the Committee Representing Pyidaungsu Hluttaw (CRPH) would replace the 1982 Citizenship Law, which deprives the Rohingya of citizenship in Burma. It also vowed to repeal the National Verification Card process and the 2015 Race and Religion Protection Laws.
The NUG added that it would enact laws prohibiting discrimination based on sexual orientation and gender identity. It stands by commitments made to the U.N. Human Rights Council in 2022, which includes the abolition of the death penalty, cooperation with the International Court of Justice (ICJ) in the Rohingya genocide case, and increasing the political representation of women at decision making levels. Its statement read: "[The] Federal Democracy Charter promises an inclusive nation founded on peace, justice, equality, human rights and the protection of minorities."
Over 100 cyber scam suspects handed over to China
At least 104 suspects involved in cyber scam operations in northern Burma were handed over to Chinese authorities on Sept. 16, the China Daily reported. China's Ministry of Public Security deployed in Yunnan Province along the border with Burma to crackdown on scam operations.
To date, 1,482 people suspected of being involved in cyber scam operations in Burma have been handed over to China. Beijing has been working with Naypyidaw and Ethnic Armed Organizations (EAO) to crack down along its border. Crime syndicates have trafficked Chinese and foreign nationals to work as internet fraudsters, often forcefully.
Regime ministers meet with Chinese Special Envoy
The regime's Minister of Foreign Affairs Than Swe met with China's Special Envoy for Asian Affairs Deng Xijun in Naypyidaw on Sept. 18, regime media reported. Border security between the two countries and Burma's peace process were among the topics the two reportedly discussed. Deng also met with the regime's Minister of International Cooperation Ko Ko Hlaing to discuss the proposed Rohingya repatriation plan as well as the Nationwide Ceasefire Agreement.
News by Region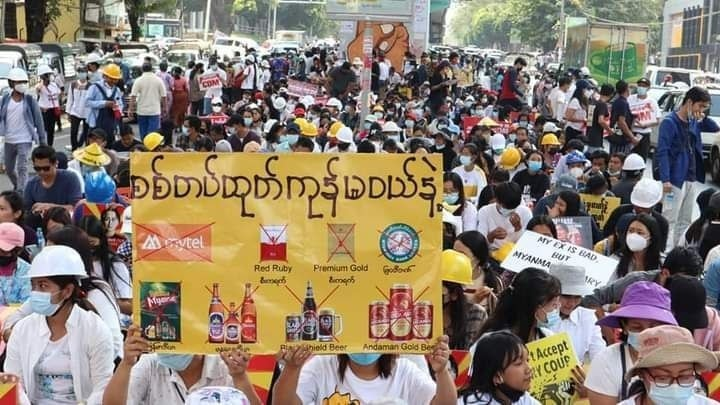 YANGON—Regime officials visited Yangon's 19th Street and urged bar owners to resume selling military-owned alcohol brands during the second week of September. "The shop does not sell any of it anymore because demand has become low," a shop owner in Yangon told DVB.
Activists have called for a boycott of alcohol brands such as Myanmar Beer, Andaman Gold, Dagon Beer, Mandalay Rum, Black Shield Stout, and Army Rum. Demand for these brands have decreased since 2021. There have been reports that the regime is forcing businesses to restock its products.
KACHIN—Burma Army ships set fire to gold-dredging boats docked near Yelal village in Shwegu Township on Sept. 18. "The army opened fire on three boats that continued working near Shwegu. They also set fire to other boats. I don't know how many boats were destroyed," said a Shwegu resident.
SHAN—One person was injured and a building was damaged during fighting between the Burma Army and the Ta'ang National Liberation Army (TNLA) in Muse Township on Sept. 18, the Shan Herald Agency for News reported. "There has been continuous firing from both big and small arms," said a Muse resident. At least 250 people have been displaced from their homes.
SAGAING—At least 10 were killed in villages located in Sagaing Township, Mandalay Free Press reported Sept. 18. "The identities of the victims remain unknown. Locals have been fleeing from the villages for safety," said a Sagaing resident. A police officer and his wife were killed in Thalonphyu village on Sept. 13. Around 40 people were detained for questioning.
TANINTHARYI—The leader of a charity group involved in natural disaster and relief efforts in Dawei district was arrested by two resistance groups in Dawei Township on Sept. 16. They claimed that the man was detained for suspected ties with the military.
"Since it's a charity group, there are times when the police directly contact him to collect [dead] bodies," said a member of the charity group. The man's family has confirmed they've been able to contact him and state that he's being treated well.