FROM THE DVB NEWSROOM
*Myint grabbed an empty plastic bottle and ran toward a queue of nearly 300 people on Bogyoke Aung San Road in Hlaingthaya Township. "An oil truck just came in," she said as she joined the queue to wait for her half viss (0.48 kg) of cooking oil for K2,500 ($1.19 USD). This is less than half the price she would need to pay at a retail store.
A man wearing a white collared shirt working for the regime's Myanmar Edible Oil Dealers Association (MEODA) took pictures of her and the others in the queue. "They sold to around 100 people, took pictures and left. Why didn't they tell us [if there] was [only enough] for around 100 people? We wasted our time for nothing," complained a Hlaingthaya resident.
Myint took her empty bottle to a nearby retail store that sells cooking oil at more than double the price fixed by MEODA. It cost her K8,500 ($4.05 USD) with an additional cost of K2,000 ($0.95 USD) for transportation fees.
Hlaingthaya residents confirmed the price Myint has to pay to buy cooking oil as inflation has hit this community of over 5,000 low-income households with over 33,000 eking out a daily living. The regime sends its MEODA trucks to distribute low-cost cooking oil once a month to this area.
"It's a joke that they said they can control the price of the oil by sending a truck. They should provide enough cooking oil to the retailers. Those retailers also have limited oil to re-sell," said a Hlaingthaya resident.
The wholesale price of cooking oil was fixed by the regime at K4,524 ($2.16 USD) for 1.6 kg. Shop owners have to purchase it from the agricultural markets in Yangon: Bayint Naung, Lanmadaw and Nyaung Pin Lay. But here it costs K8,000 ($3.82 USD) per 1.6 kg, said a grocery store owner from North Dagon Township.
"We have to line up in the Bayint Naung market to buy 8 kg of oil per day. We resell 1.6 kg for K8,500 [$4.06 USD]," added the grocery store owner. This means he earns K500 ($0.24 USD) profit daily from his business of selling cooking oil.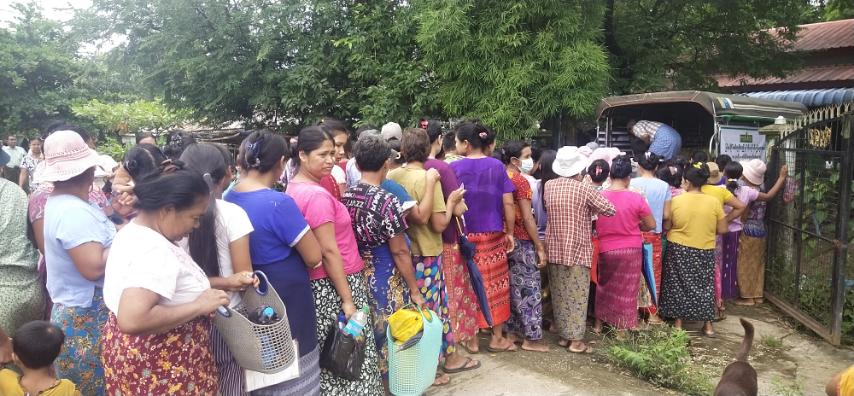 A business analyst explained that the regime, via MEODA, should provide enough cooking oil directly to retailers rather than having trucks deliver it once a month to communities at a lower cost. Many stores run out of cooking oil and this leads to angered customers.
In June, the regime founded the Union Steering Committee led by two ministers to help stabilize commodity prices. Members of the committee include officials from the Central Bank of Myanmar, as well as the Yangon, Mandalay and Naypyidaw City Development Centers, along with the Union of Myanmar Federation of Chambers of Commerce and Industry (UMFCCI).
On July 31, the regime circulated its newly-minted K200,000 banknotes, which led to rapid inflation and a rise in commodity prices. The regime's Bureau of Special Investigation arrested heads of companies licensed by MEODA to distribute cooking oil at fixed prices when the price of 1.6 kg of cooking oil reached K12,000 ($5.72 USD). Aye Sein, Myint Kyuu, Wan Htike, Tun Tun Win and MEODA Chairperson San Lin were arrested on Aug. 30.
"They were released shortly after their arrest. I'm afraid they bribed the officials," said a source close to the military.
Aung Zaw Lin replaced Maung Maung Kyaw as the director of the Bureau of Special Investigation after he was transferred to a regime ministry following allegations of bribery. On Sept. 6, the Bureau of Special Investigation arrested Yan Naung Soe, the secretary of Foreign Exchange Supervisory Committee (FESC).
"People and retailers have become [the real] victims," said a businessman in Yangon.
The regime has set the wholesale price of 1.6 kg of cooking oil at K4,524 ($2.15 USD). Min Aung Hlaing said he will investigate and take action against individuals and companies trying to profit from the inflated prices.
*Name changed to protect identity