FROM THE DVB NEWSROOM
*Ma Zar cuddles her nine-month-old son while her two other children are nowhere to be seen. Her husband Kyaw Zaw tells her he's going out with his brothers in the village. The family lives in Nyaung Kone village, located in Pale Township, Yinmabin District, Sagaing Region. Its residents are farmers and bamboo basket weavers.
Ma Zar didn't realize it would be the last time she would see her husband alive. Kyaw Zaw, 38, and his two brothers along with seven other people were killed in an airstrike on June 27. Eleven others were injured. Thirteen homes, two religious buildings and a monastery were also destroyed.
"I know this kind of tragedy could happen. But I didn't think he would die like this, not even able to fight back," said Ma Zar. She comes from a farming family. Her daughter, 13, and son, 9, were in a school classroom when the airstrike took place.
"I asked my father to bring the kids to me. I thought my husband would have managed to escape the attack," said Ma Zar, while fighting back tears. It was Ma Zar's sister who told her that Kyaw Zaw was killed.
"I ran carrying my son toward the house where my husband and his brothers met. There were many people gathered. They told me not to look at my husband's dead body. They worried about me. But I saw one of his slippers stained with blood," said Ma Zar.
DVB identified the plane as a Russian-made YAK-130 fighter jet. It dropped the bomb that killed Kyaw Zaw, his two brothers, and seven others.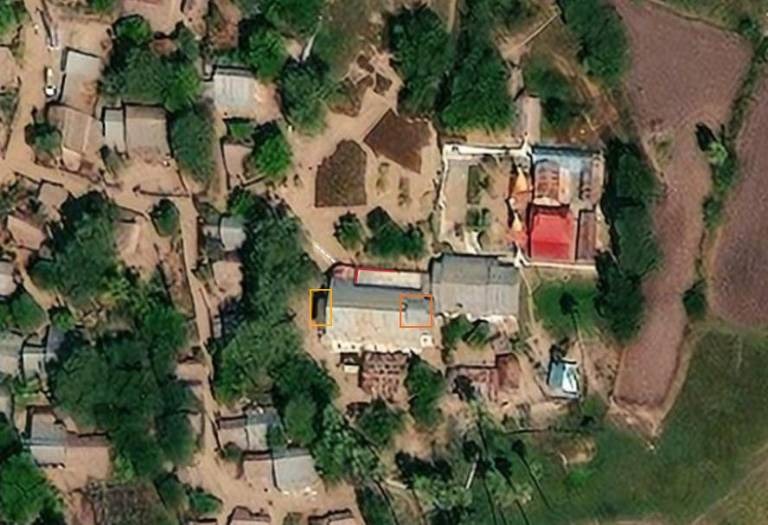 "Usually, our school opens in the morning. But on that day, I arrived at the school at 3 p.m. Students arrived shortly afterwards. Then we felt the explosion. I thought it was thunder because the sky had been covered with clouds. I could see that the monastery was on fire because it's not far from the school," said a teacher on the condition of anonymity.
All 47 students including Ma Zar's daughter and son were safe in their classrooms. "Children in the village are overwhelmed with fear. They are scared even when they hear loud sounds," she said.
No fighting between the People's Defense Force (PDF) and the military has occurred in Pale Township so far this year. The Pale PDF urged caution after the airstrike because the military seems to be targeting civilians. "The airstrike occurred near the monastery. Ten minutes later, the jet returned and fired at homes," said Zaw Htet, the Pale PDF spokesperson.
Funerals were held on July 3 for Kyaw Zaw and the other airstrike victims. The school closed after the airstrike but reopened July 10. It closed again on July 11 when a fighter jet flew near the village.
"Parents are in panic. So, they left with their children after the airstrike. But some of us refuse to leave the village because we need to bury the dead and have funerals," said a victim's family member.
Those injured in the airstrike were released from hospital the first week of July. Local media reported news of the airstrike but regime media did not.
The National Unity Government (NUG) said that this airstrike was one of the more than 70 massacres committed by the military since the 2021 coup. Most areas of Sagaing Region, including Pale Township, are under the control of resistance groups loyal to the NUG.
On April 11, an airstrike on Pazigyi village, Kanbalu Township, Sagaing Region resulted in 168 people killed and 16 injured. Regime spokesperson Zaw Min Tun claimed that the airstrike was carried out on the PDF.
The Assistance Association for Political Prisoners (AAPP) states that more than 3,700 people have been killed since the 2021 military coup – over half in Sagaing Region.
"I hope we are the last to suffer like this. I told my kids not to worry that their father is no longer with us because they have me," added Ma Zar.
*not her real name (due to security concerns).