FROM THE DVB NEWSROOM
Editor's note: We'll be switching our Daily Briefing newsletter over to MailChimp on July 17. This won't affect how most of you receive it in your email, but if you don't see it in your inbox, please check your Spam folder.
Thai Foreign Minister meets Aung San Suu Kyi in Naypyidaw
Thailand's Foreign Minister Don Pramudwinai told the Association of Southeast Asian Nations (ASEAN) at a meeting in Jakarta, Indonesia July 11-12 that he met with jailed leader Aung San Suu Kyi in Naypyidaw on July 9. He said that she appeared in good health both physically and mentally. He claimed that Aung San Suu Kyi called for dialogue to solve Burma's political crisis which has taken its toll on the people and the economy, AFP reported. It is the first time that the military regime in Naypyidaw has allowed a foreign diplomat to meet with Aung San Suu Kyi since the 2021 coup. Over the last two years the jailed leader has only been seen in regime media photos while attending her court hearings. Aung San Suu Kyi, 78, was sentenced to a total of 33 years in prison.
Prayut Chan-o-cha retires from politics
Thailand's Prime Minister Prayut Chan-o-cha announced his resignation from politics and his United Thai Nation Party, Thai PBS reported. A Pro-democracy coalition, led by the Move Forward Party, won the most seats in parliament during the Thai general elections in May. Prayut's government openly engaged with Burma's military regime. Move Forward Party leader Pita Limjaroenrat has vowed to take a stronger stance against Naypyidaw. It is unknown whether Pita will become Prime Minister as the Election Commission has accused him of violating Thai law for holding shares in a defunct media company. The commission forwarded the case to the Constitutional Court on July 12, Reuters reported. Prayut Chan-o-cha has led Thailand since he seized power in a 2014 military coup against the democratically-elected government.
Restoration Council of Shan State meets with regime
The Restoration Council of Shan State (RCSS) met with the regime's State Peace Talks Team (SPTT) in Naypyidaw on July 11-12, regime media reported. Both sides reportedly discussed amendments to the 2008 constitution, holding a peace conference, and the elimination of narcotics. RCSS First Secretary Sao Sai Ngin and members of its Central Committee attended the meeting. The RCSS was a 2015 signatory to the Nationwide Ceasefire Agreement (NCA).
News by Region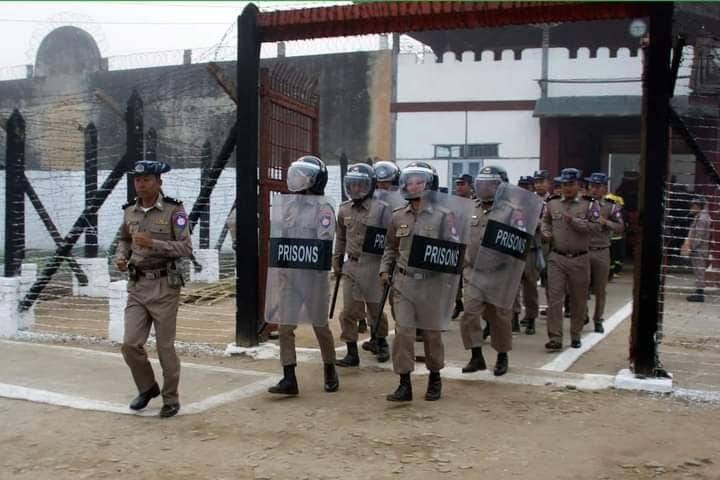 BAGO—At least five political prisoners have been confirmed killed by their families. Aung Myo Thu, Khant Linn Naing, Pyae Phyo Hein, Pyae Phyo Aung, and Yar Lay (aka Zin Myint Tun), were killed while allegedly attempting to escape during a prison transfer from Daik-U Prison (Kyaiksakaw) to Thayarwady Prison on June 27. Read more here.
KACHIN—The Kachin Independence Army (KIO/KIA) attacked a military cargo truck traveling on Bhamo-Namsanyan road in Dawthponeyan Township on July 11. "The KIA fired at the truck that left Bhamo with an RPG," said a Dawthoponeyan Township resident. Soldiers stationed at a Burma Army outpost near Nwalan village returned fire. Locals claim that the Burma Army has been resupplying its forces in Namsanyan village using civilian vehicles.
KARENNI—Three civilians were killed following an ambush by resistance forces on a 15-vehicle Burma Army convoy traveling from Mobye to Loikaw on July 12. Resistance forces claimed the Burma Army convoy opened fire at Konetha village, killing a seventeen-year-old boy. Two more civilians were killed and others were injured at Nwarlawo village.
MAGWAY—Around 80 businesses in Pakokku Township have been threatened by people claiming to be members of resistance groups, demanding money be sent through digital payment platforms. The calls primarily target wealthy individuals and businesses with threats to bomb their homes if they do not send payment ranging from K300,000 to K1 million ($143-477 USD). Some businesses have complied with the demands. "We are currently investigating the phone numbers used. Once identified, appropriate action will be taken to address the issue effectively," said Zin Yaw, an officer with the Pakokku Township People Defense Force (PDF). The PDF has advised locals to refrain from transferring money to the callers and report it to them.
SAGAING—One woman was killed and her brother was injured when an artillery shell hit their home in Kalay town on July 11. "A weapon fell from the roof. The house was also slightly damaged," said a Kalay town resident. At least eight people have been killed and 30 have been injured in similar attacks this month.
SHAN—Two Ta'ang National Liberation Army (TNLA/PSLF) members were killed after an exchange of gunfire with the Burma Army near a village in Pangsang Township on July 11. "I discovered two dead Palaung [TNLA] soldiers on my way back. At that time, nobody had arrived to pick them up," said a Pangsang Township resident. A noodle shop was damaged by artillery fired during the fighting.
RAKHINE—The Toungup District court sentenced six people to four years in prison under the Counter-Terrorism Law on July 11. They were arrested in 2020 in Taungup Township and were accused of having connections to the Arakan Army (AA). Than Than Sint, a sister to one of the men sentenced, called it an unjust action. "The individuals have no ties with the AA. Since the AA is no longer classified as a terrorist group, sentencing them under the Counter-Terrorism Act is unfair," she said.
Check out DVB Newsbreak, a daily five-minute Burmese language podcast available at 5 p.m. weekdays. Find it on YouTube, Spotify, InforMM, Apple & Google Podcasts.