FROM THE DVB NEWSROOM
Online businesses in Burma ordered to register
Online businesses have been required to register since July 21, states the regime's Ministry of Economy and Commerce. Online vendors must complete the registration process to obtain a license. Failure to obtain a license can lead to prosecution under the Important Goods and Services Law. Businesses must limit their sales during the application process. The ministry warned against engaging in any form of political speech, organizing, incitement, or protest in online sales. To register, businesses are required to pay a registration and service fee. The license expires after two years, and an extension must be done 60 days before the expiration date.
NUG Spring Development Bank begins
The National Unity Government (NUG) launched its Spring Development Bank (SDB) on July 22. It stated that 1,000 people successfully opened bank accounts over the weekend. "The bank limited its initial registrations to 1,000 accounts in its beta version," said an unnamed account holder. The SDB has been assisted by financial experts over the last seven months. In July 2022, NUG Pay was launched as a digital payment system using blockchain technology.
Bangladesh arrests top ARSA commander
The Bangladesh Rapid Action Battalion (RAB) announced on July 22 that it had arrested Hafez Nur Mohammad, an Arakan Rohingya Salvation Army (ARSA) commander, in Cox's Bazar, Bangladesh, the Dhaka Tribune reported. The RAB is an anti-terrorism unit of Bangladesh's police force. Mohammad is reportedly a registered refugee staying in Kutupalong camp. Human rights groups have accused ARSA of committing murders, sexual assault, and kidnappings in the refugee camps located near Cox's Bazar. An ARSA attack on police in northern Rakhine State in August 2017 led to the Burma Army "clearance operations" called a "textbook example of ethnic cleansing" by the U.N. and a genocide by the U.S. government.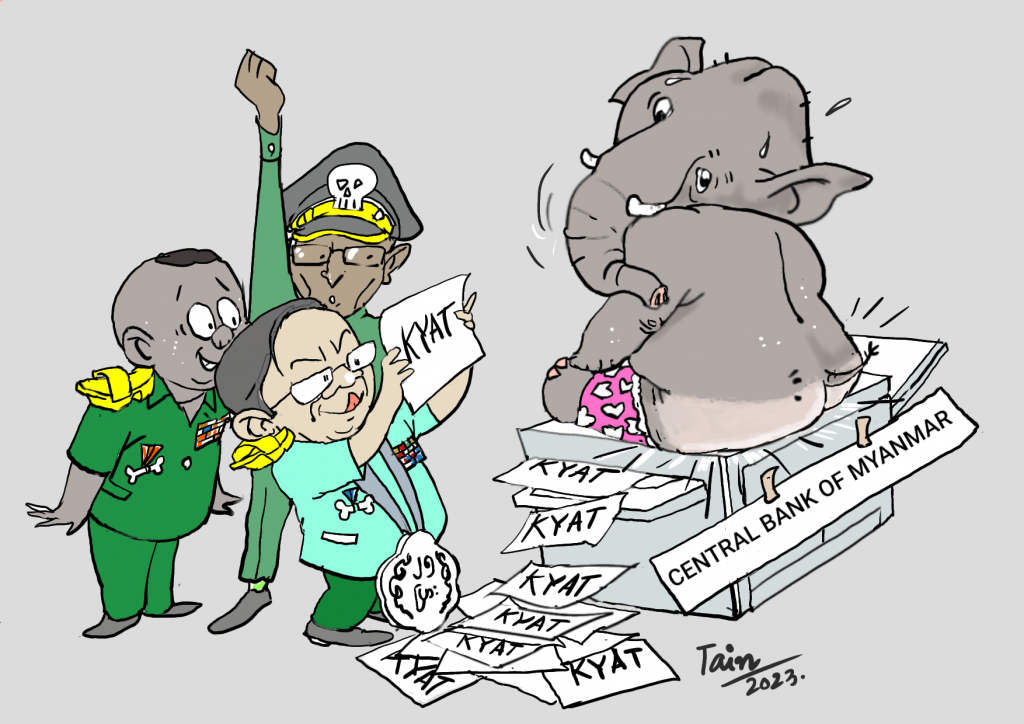 Kyat depreciates after new banknote unveiled
Currency exchange operators said that the Burmese kyat further depreciated on July 23 after the regime unveiled its new 20,000 kyat banknote. "I see the new banknote only making inflation worse. It has been going up today [July 23] since the market opened in the morning," said a Yangon currency exchange operator. The exchange rate increased from K3,100 to K3,400 per $1 USD. Gold rose from K3.2 million to K3.6 million per tical. Many gold shops have closed due to the fluctuating prices.
News by Region
BAGO—A father and son died, while the mother and daughter were injured inside their home in Taungoo Township on July 24. "The father and son were killed by a tree, and the mother and daughter were injured by a branch. Both are in critical condition," said a Taungoo Township resident.
KACHIN—General Soe Hlaing was appointed as the new commander of the Burma Army Northern Military Headquarters in Myitkyina on July 21. This appointment came after General Ko Ko Maung was arrested on July 13. The reason for the arrest remains unknown. Soe Hlaing was recently promoted to the rank of general. He previously served as Brigadier General at the No. 10 Operations Command Headquarters in Saging's Kale town.
MANDALAY—More than 300 underground resistance group members have been arrested since the 2021 military coup and more than 60 have been killed during interrogation, claimed Htet Aung from the Mandalay Rescue Team. He told DVB that members have been arrested and killed during interrogation in Mandalay by pro-regime forces.
SHAN—A member of a pro-regime militia was killed and three Burma Army soldiers were injured during clashes between the Burma Army and the Ta'ang National Liberation Army (TNLA) near a village in Muse Township on July 23. Artillery damaged two houses in the village. "Shortly after the battle broke out, three Burma Army personnel arrived at a local hospital seeking medical attention," a Muse resident told DVB.
TANINTHARYI—Five employees and the principal of Dawei Agricultural Institute were arrested by an unknown armed group in Launglon Township on July 20. The group later released them. "They were warned not to operate the university," said a Launglon Township resident. Regime media reported the People's Defense Force (PDF) arrested the six.