FROM THE DVB NEWSROOM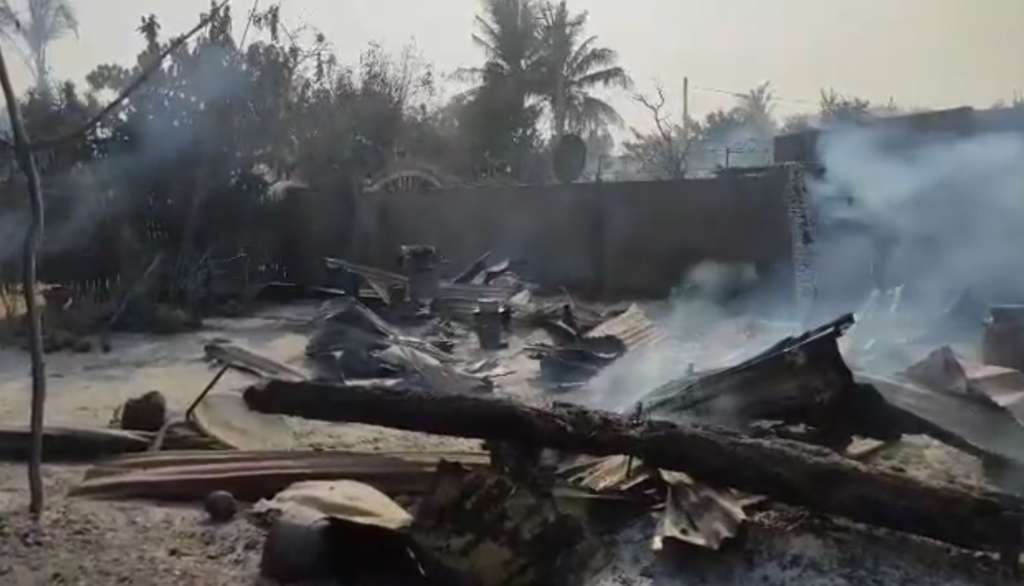 Over 60,000 homes destroyed by arson since 2021 military coup
More than 60,000 civilian houses were destroyed in arson attacks committed by regime forces since the 2021 military coup, according to Data for Myanmar. In Sagaing Region, 47,778 homes were destroyed by arson. In Magway Region, 9,019 homes were destroyed. In Chin State, 1,485 homes were destroyed. In Burma's other states and regions, 2,177 homes were destroyed.
CSOs call on UN to prevent Rohingya repatriation
Over 200 civil society organizations (CSOs) issued a joint letter on March 20 demanding that the UN Secretary-General prevent Rohingya refugees from being repatriated to Burma. The letter stated that Rohingya from Rakhine state have been denied citizenship "under a system of apartheid" and are being locked up in internment camps. The letter condemned the United Nations High Commissioner for Refugees (UNHCR), World Food Program (WFP) and other organizations for being allegedly involved in a pilot project organized by the regime to repatriate Rohingya refugees to Burma from Bangladesh. The UNHCR denied its involvement in this pilot project.
NUG threatens legal action against Thai state company
The National Unity Government (NUG) stated that it may take legal action against the Thai state-owned PTT Exploration and Production Public Company (PTTEP) on March 20. The NUG wants PTT to transfer revenue reports, funds and monthly reports of the Yadana gas project in Burma within 30 days. "If their cooperation doesn't meet our expectations, we will apply to an arbitral tribunal in Singapore under the terms of the agreement," said Tin Tun Naing, the NUG Minister of Planning, Finance and Investment. The regime earns $1.1 billion USD annually from offshore oil and natural gas exploration. PTTEP paid $819 million USD to the regime from May to August 2022. PTTEP announced in April 2022 that it would withdraw from Yetagun and Tanintharyi gas fields, as well as Tanintharyi Pipeline Company. It became the main operator of the Yadana gas project after Total Energies left Burma in July 2022.
Dozens of Burmese migrants arrested in southern Thailand
Thirty-nine undocumented Burmese migrants were arrested in Nakhon Ratchasima province on March 17, Thai media reported. The story stated that some of the migrants were discovered malnourished and had difficulties walking. The migrants paid brokers 30,000 baht ($873.78 USD) per person to be smuggled through Thailand, overland to Malaysia. More than 80 Burma nationals have been arrested in Nakhon Ratchasima from March 15-17.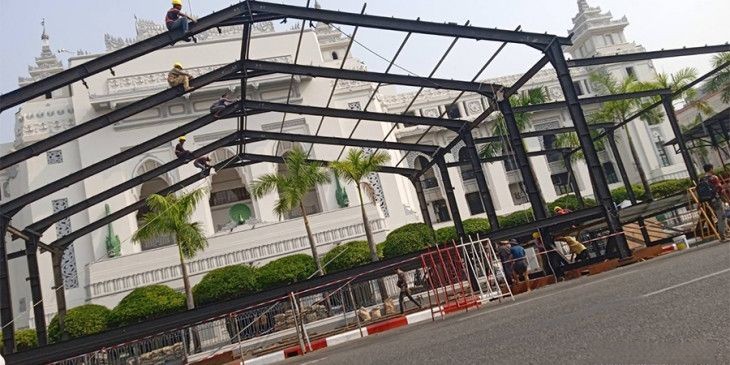 Anti-coup resistance warns public against celebrating Thingyan
Anti-coup resistance groups have warned the public not to participate in regime planned Thingyan festivals in Yangon, Mandalay, and Naypyidaw. Artists and musicians hired to perform at the events were told their activities would be monitored via social media. "If you want to enjoy the festival, do so quietly as there are a lot of people who cry quietly and want to be joyful but have no chance to feel it," a spokesperson from an anti-coup resistance group told DVB.
News by Region
KACHIN—An armed group formed after the 2021 military coup called the Eastern Naga National Organization confirmed that it detained about 50 young men in Hpakant on March 8. "The ENNO/ENDA is currently in the process of recruiting soldiers and building a military force," a spokesperson told Kachin Waves, a Laiza-based media outlet. Seventeen of the 50 arrested have been released. The armed group stated that it was formed to protect ethnic Naga and is allied with the NUG.
MAGWAY—Fifteen residents were arrested by the Burma Army after it set fire to Mi Laung Kyun village, in Yesagyo Township on March 19, villagers said. "Some of them were wounded because they tried to flee during the arrest," a local said. The extent of the damage is unknown because the Burma Army is currently deployed in the village.
MANDALAY—A bomb was thrown into the office of the Road Transportation Department in Mandalay Chanayethazan Township by an unidentified man on March 20, seriously injuring four staff. Burma Army troops are currently stationed at the office and have conducted inspections.
MON—Two men were killed and a pregnant woman was injured after artillery shells landed in a home in Karaway Seik village of Kyaikhto Township on March 20. Over 1,000 residents in Kyaikhto have been forced to flee their homes from Burma Army shelling. Locals said that the shelling began after regime forces suffered casualties.
RAKHINE—The Arakan Liberation Party (ALP) stated that it does not accept Saw Mra Razar Linn as its chairperson on March 20. "She made herself chairperson without informing the chairman and 90 percent of the central committee. It has no legitimacy, and she is no longer relevant to the ALP," said Khaing Kyaw Khaing, the ALP secretary.
YANGON—A medical student and his aunt were shot by gunmen at home in Sanchaung Township on March 20, according to sources close to the police. "I don't know why they were shot," a resident told DVB.
A staff housing compound for police officers was attacked with an explosive device in Yankin Township on March 20. A resistance group claimed it conducted the attack with its allies. There have been no reports of casualties.