FROM THE DVB NEWSROOM
Editor's note: We'll be switching our Daily Briefing newsletter over to MailChimp on Monday, July 17. This won't affect how most of you receive it in your email, but if you don't see it please check your Spam folder.
Pita Limjaroenrat loses vote to become Thai Prime Minister
Move Forward Party (MFP) leader Pita Limjaroenrat failed to secure enough votes in parliament to become Thailand's next prime minister on July 13. He needed at least 375 votes but only received 324. This is out of the 750 total, including both the 500 democratically-elected parliamentarians and 250 military-appointed senators. Pita vowed to try again. "I accept the result of the vote, but I am not giving up," he said. The next vote to select Thailand's PM is on July 19. Pita has pledged to help end Burma's political crisis if he becomes PM.
Indonesia's diplomatic efforts in Burma have stalled
The Association of Southeast Asian Nations (ASEAN) chair Indonesia has made little progress in its negotiations with different stakeholders in Burma, Reuters reported. Both the military regime and National Unity Government (NUG) refused to participate in informal talks, two diplomats told Reuters on the condition of anonymity. The NUG will only engage when all political prisoners are released, and the 2008 military-drafted constitution is abolished. But Naypyidaw has set the preservation of the constitution as a precondition for its participation in any talks with opponents to military rule. Diplomatic sources also stated that NUG officials met with representatives from Ethnic Armed Organizations (EAOs) three times this year in Bali, Indonesia.
Regime confirms Aung San Suu Kyi met with Don Pramudwinai
Regime spokesperson Zaw Min Tun confirmed the meeting between jailed leader Aung San Suu Kyi and Thai Foreign Minister Don Pramudwinai on July 9. He added that the Thai FM visited Naypyidaw and met with Aung San Suu Kyi for over one hour. "Since the two met freely, we don't know the details of the discussion. But from what we have seen, Aung San Suu Kyi is in good health," said Zaw Min Tun. An unnamed NUG spokesperson expressed doubts about the veracity of Don Pramudwinai's statements as the Thai FM was not sent to Naypyidaw on behalf of ASEAN. Nor was he invited by Aung San Suu Kyi.
Regime revokes licenses of 10 forex companies
Regime media reported on July 13 that the business licenses of ten foreign exchange companies operating under the Central Bank of Myanmar (CBM) were revoked for failing to follow proper protocol. "It announced the name of those businesses. The exchange rate is now lower than the previous days," said a businessman on the condition of anonymity. The CBM has sought to control the exchange rate of the Burmese kyat and to control the purchasing of foreign currency. It instructed the market exchange rate for kyat to be brought down to K2,920 for $1 USD, but the rate is currently K3,040-3,100.
News by Region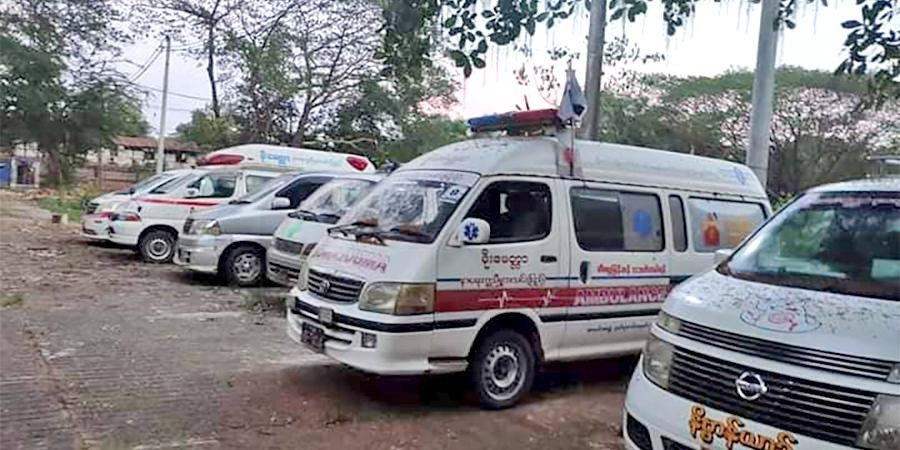 BAGO—The regime's Ministry of Internal Affairs has seized 14 ambulances from the Moe Myitta funeral service in Pyay town, Bago Region since the 2021 coup. "The ministry issued a letter that people [in the town] can fill out forms to take the vehicles, but we didn't try to take them as we feel bad for the members of that service," said an unnamed local rescue team member. The Burma Army confiscated the funeral service's property for providing healthcare services to anti-coup protesters and for hosting the funeral of two protesters killed by regime forces. One of the ambulances was seen at Sitagu monastery in Thegon Township in February after Moe Myitta funeral service was shut down by the regime.
CHIN—The price of basic commodities in Paletwa town has been rising due to the limited access to waterways from Rakhine State's Kyauktaw town. "A bag of rice costs between K140,000-K150,000 [$67-72 USD]. The price of edible oil is also high. We usually rely on goods transported from Rakhine. I think the price of rice will continue to rise because of Cyclone Mocha," said a Paletwa town resident. The regime has limited access to Paletwa since August 2022, after fighting between the Arakan Army (AA) and the Burma Army.
MANDALAY—Two members of a local resistance group were arrested on July 8, regime media reported. Nyaing Chan Aung and Pa Pa Win were arrested while they were seeking medical treatment at a clinic. "Despite attempts to disguise himself, Nyaing Chan Aung's distinctive tattoo on his hand led to his recognition and subsequent arrest," said an unnamed member of his group. Pro-regime social media channels claimed that the two arrested were responsible for the murder of four Patheingyi Township administration officials and two bombings. Following the arrests of Nyaing Chan Aung and Pa Pa Win, their family members expressed concern about their well being.
YANGON—Family members of seven men arrested for killing a Burma Army veteran in Hlaing Township are concerned about their whereabouts. "I frequently ask Insein prison if they're inside. They said that authorities from the prison took them to the Regional Office, but the Regional Office said they were transferred elsewhere," said a mother of one of the men. Regime media reported that the seven men were arrested in January and February. North Dagon police station filed three charges against the suspects, including for illegally carrying firearms. They were jailed at Insein Prison, but regime authorities transferred them out on Feb. 9 for interrogation. Their relatives have lost contact with them since then.
Read our latest story in collaboration with Myanmar Witness: One family loses three in airstrike on Sagaing's Nyaung Kone village.