FROM THE DVB NEWSROOM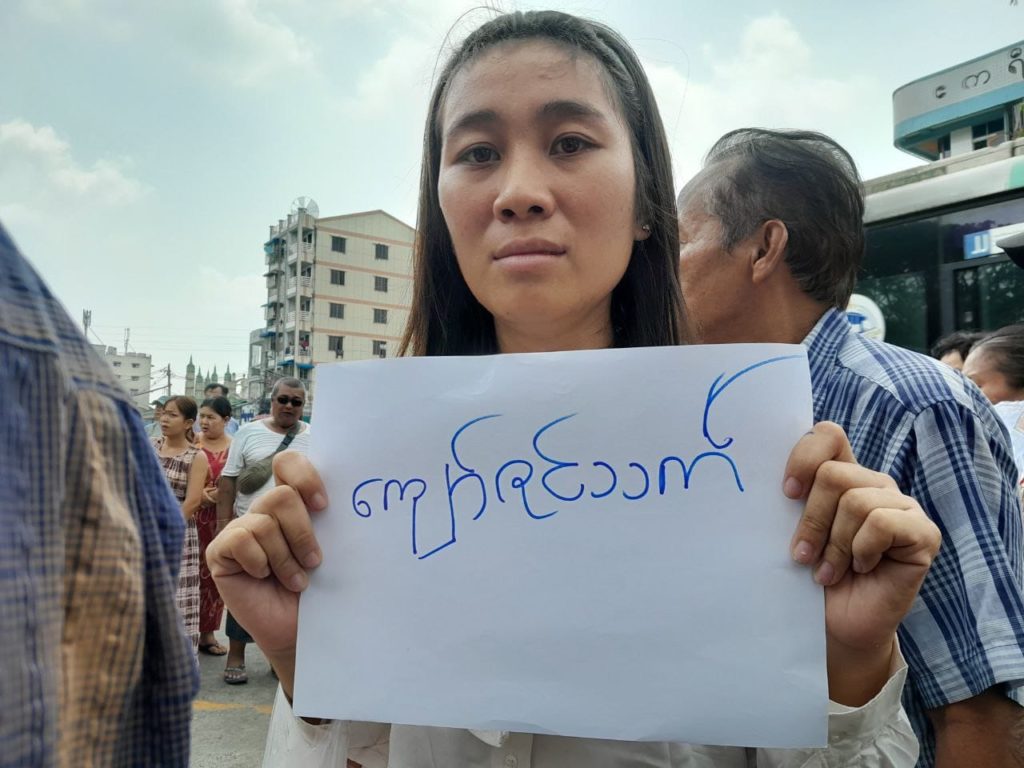 Political prisoners released in amnesty
An amnesty for 2,153 political prisoners in Burma took place on May 3. Those freed were all convicted and sentenced to three years each under Section 505 (A) of the Penal Code for incitement. The Assistance Association of Political Prisoners (AAPP) states that 21,807 people have been arrested since the 2021 military coup with 5,839 being sentenced. Over the last two years, 3,910 prisoners have been released by the regime. Read more here.
Journalists and filmmakers freed
Four journalists and two world-renowned filmmakers were among the 2,153 political prisoners released on May 3. All had been sentenced to three years under Section 505 (A) of the Penal Code for alleged dissent against the military. Photographer Zaw Tun (aka Blake) was released after serving only one year and four months. He was arrested alongside Soe Naing on Dec. 10 while photographing the Silent Strike in Yangon. Soe Naing died in detention five days later, on Dec. 15. Three other journalists have been killed since the 2021 military coup. Freelance reporter Nyein Nyein Aye (aka Maybel), photojournalist Phoe Thar, and editor Kyaw Zeyya were all released, along with filmmakers Ma Aeint and Maung Thein Dan. At least 170 media workers have been arrested since the 2021 military coup. Fifty-three are currently in custody and facing prison sentences. 
Military appoints new management at MEB
Five Burma Army majors and 14 captains were appointed to manage the Myanmar Economic Bank in March. The new appointments occurred after Min Aung Hlaing ordered the appointment of military personnel to the Ministry of Planning and Finance. "They are already in the office working. They were appointed as managers and assistant managers," a source said. The Ministry of Defense confirmed five majors had been moved to the MEB management department on March 15. It stated that 50 military personnel will be transferred to other government departments and military-owned businesses.
Drugs seized near Thai-Burma border
Two million methamphetamine tablets were seized near the Burma border in Mae Ai district, Chiang Mai Province in northern Thailand on May 1, local Thai media reported. Thai authorities discovered 20 bags containing two million methamphetamine tablets inside a vehicle in Mae Ai. The driver and two Thai citizens were arrested. Mae Ai is located across the border from Mong Sat district, Shan State where the United Wa State Army (UWSA) and Lahu People's Militias are active.
Burmese arrested with unregistered firearms
Two Burma nationals were arrested carrying unregistered firearms in Mae Sot district, Tak Province in western Thailand on May 1. Police discovered the two men had relations to Karen armed groups in Burma and smuggled firearms to them from Thailand. The men were charged with carrying "illegal weapons."
News by Region
BAGO—Three locals were killed and five others were injured in an airstrike on Htantabin Township, located in the Karen National Union (KNU) Brigade 2 area, on May 2. "This is a brutal act against unarmed people. We want this dictatorship to end," a local told DVB. The KNU claimed that reports of a meeting between KNU Brigade 2 officials and the People's Defense Force (PDF) may have leaked to the military.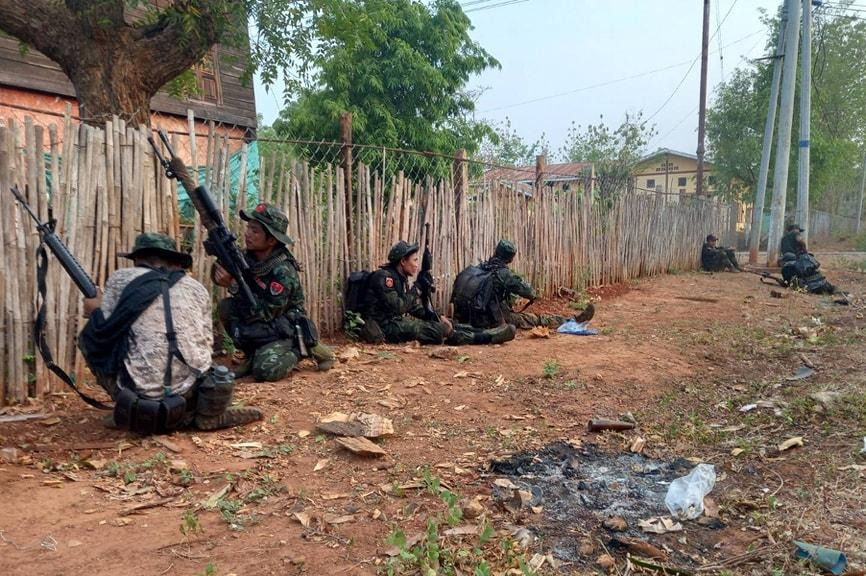 KARENNI—Two PDF members were killed and one was injured after an attack on a veterans affairs office, immigration office, police station, and a broadcast station in Bawlekhe town on May 3. Bawlakhe PDF claimed seven Burma Army troops were killed, their weapons were seized, and the veterans affairs office was burned down.
KACHIN—A man was killed during an interrogation in Hpakant town. The victim was identified as Ko Htwal, 30, a miner from Hmaw Bom. He was among 200 villagers detained in Hmaw Bom village on April 21. "The detainees were brought to a Masutyang prison, and they were beaten during interrogations. His beatings went beyond the limit and he was killed," a man close to the victim's family told DVB. "The detainees are mainly being investigated for having ties with the Kachin Independence Army [KIA] or PDF. They were handcuffed and beaten during interrogation. Some were released on bail. More than 100 have not yet been released," said a villager released from detention.
At least 20 locals have been arrested in Kamaing Township since May 1. "More than 100 troops marched towards Kamaing town. On their way, farmers were arrested and taken away," a villager told DVB. Some were reportedly released, but many are still in custody. "While on their way, the troops were attacked with explosives, injuring about five soldiers. Then, after the attack, they arrested the villagers to use as human shields," another villager said.
MANDALAY—Two police officers were killed during a PDF raid on a police station in Kyaukpadaung Township on May 3, the NUG Ministry of Defense claimed. The wives and children of the police officers living at the police station were reportedly released. Weapons were seized in the attack. A police station in Natogyi Township was raided by the PDF on May 1. One police officer was killed and one police car was destroyed in the attack, a PDF spokesperson told DVB.
SHAN—The Myanmar National Democratic Alliance Army (MNDAA) executed four men in Lashio Township on May 2, local media reported. At least one of those executed was a member of the Burma Army-backed Mangpang People's Militia. The four men were accused of 25 crimes, including kidnapping, blackmail, robbery and the murder of a Burmese citizen and Chinese national. K7.45 billion ($3.57 million USD) was stolen along with property and a vehicle. The crimes allegedly took place between July 2022 and February 2023.
YANGON—Former regime official Aung Than Oo died at Insein Prison while receiving treatment at a prison hospital on May 3. "He was in prison for just over four months," a prison official told DVB. Former regime officials Hla Soe and Soe Soe Zaw were sentenced to prison under corruption charges last December. Aung Than Oo was a member of the military-proxy Union Solidarity and Development Party (USDP) and was the chairperson of the Myanmar Rice Chamber of Commerce. He won a parliamentary seat for the USDP in the 2010 elections, but lost in the 2015 and 2020 elections.