President Thein Sein did not engage in discussion about the Myitsone dam project when he met with China Power Investment Corporation (CPI) during his visit to China, says Information Minister and Presidential Spokesman Ye Htut.
The presidential spokesman made the statement when Eleven Media Group asked him about the president's meeting with CPI.
"[The president] met with CPI on 3 September. It's no longer CPI. It's reformed to be a new joint venture with another company. It's just one month old. It also has a new name. And it has a new chairman. So it's just an introduction. The company did not discuss the Myitsone dam. It only talked about Chiphwenge hydropower project which is soon to distribute electricity to Kachin State; Burma's flood disaster; and China's experiences in preventing floods and maintenance of waterways," said the information minister.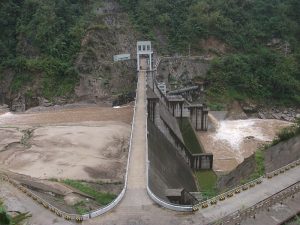 President Thein Sein departed Burma on 2 September to pay an official visit to China to attend the 70th anniversary of the end of WWII at the invitation of Chinese President Xi Jinping.
State media reported that, after attending the anniversary, he met with a CPI delegation led by its chairman Wang Binghua at the China World Hotel, though it disclosed no details about their discussion.
He also met with the Chinese president during the visit.
Thein Sein said he will decide to run for a second term depending on the country's situation.
State newspapers reported on 5 September that he discussed with Chinese President Xi recovery plans for flood victims; a 900-million-yuan (US$140 million) assistance project for the construction of flood prevention facilities in Burma's lower delta region; the promotion of bilateral relations; border stability; and cooperation in economics and trade.
President Thein Sein decreed on 29 September 2011 that the Myitsone dam project would be suspended during his administration – a decision that gained him public support.
When the postponement of the Myitsone was announced, the CPI chairman was Lu Qizhou; who has been replaced with Wang Binghua.
[related]
China's foreign ministry demanded on 1 October 2011 that Burma reconsider the suspension of the $3.6 billion dam project.
Spokesperson for China's Ministry of Foreign Affairs, Hong Lei, said at the time that China "urges the respective national governments to protect the legal and legitimate rights of Chinese companies."
Hong Lei suggested that both sides properly settle relevant matters through friendly consultations.
Read also: Beijing briefed ahead of Shwe Mann ouster: sources