In late May, Ma Thida moved with her two children to Thalabaung Village, a dirt poor slum in Mingaladon Township on Rangoon's northern outskirts, where she built a small wood-and-thatch hut so they could live without having to pay rent.
But only five days later, on 3 June, all her efforts were undone when dozens of thuggish-looking men carrying bamboo rods stormed the area at dawn and razed the rickety shelters and vegetable plots of the roughly 500 slum dwellers.
Ma Thida, 32, recounted: "I lost consciousness for a moment when I was pushed to the ground by the attackers. When I regained consciousness my house had totally collapsed.
"This is just a grazing ground for animals. People squatted and built bamboo houses early this year … But then, more than a hundred homes disappeared within four days," she told Myanmar Now.
Ma Thida is one of an estimated 200,000 people who have sought cheap housing in unregulated shanty settlements on the fringes of Burma's largest city, according to regional authorities, who classify them as "illegal squatters" living on government land, farmland, in industrial zones, and along railway tracks.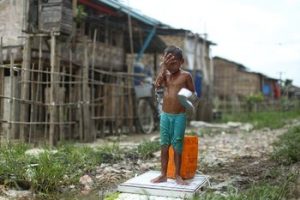 Most are impoverished farmers from the surrounding Irrawaddy [Ayeyarwady] delta who have moved to seek a better future in the city; many come from communities devastated by Cyclone Nargis in 2008. Rising rent rates in Rangoon, officially known as Yangon, left them with few options but to squat.
Land disputes have increased dramatically since 2011, when a semi-civilian, reformist government took power after half a century of military rule, Human Rights Watch said in a report last month.
In a country where around two-thirds of the labour force is engaged in agriculture or depends on it for income, political parties, in both urban and rural areas, are campaigning strongly on land issues ahead of elections on 8 November.
Development drives forced slum clearance
In recent years, many slum residents have found themselves under increasing pressure from local authorities who have been supporting large-scale residential and industrial development on Rangoon's periphery.
Such projects have expanded rapidly on the back of strong economic growth and a real estate boom in the port city of some 5.5 million, triggered by the reform measures of President Thein Sein's quasi-civilian government.
The problem is not new – a 2007 report by the Internal Displacement Monitoring Centre estimated some 47,800 squatters were evicted in Rangoon by the former junta between 1988 and 2006 – but it seems to have grown in scale.
Since 2012, there have been at least half a dozen large-scale forcible evictions in Rangoon, involving several thousand slum dwellers and attacks by plainclothes thugs and security forces, according to local media reports. Violent evictions have also been reported in Mandalay and in the capital Naypyidaw.
Former residents of Thalabaung Village say they first settled in the area some five years ago. They told Myanmar Now their homes were raided by thugs who were being coordinated by the police.
A Mingaladon Township administrator, who spoke on condition of anonymity, said the eviction had been a "preemptive measure" to clear the land – which officially belongs to the ministry of livestock and fisheries – for an unspecified industrial project.
The site is located near the Tiger Beer brewery, operated under a license owned by an army-run company, and locals believe their huts were torn down to make way for an expansion of the plant.
A Rangoon Region police colonel said authorities had no choice but to use force to clear slums as residents often resisted orders to vacate the areas.
"We don't want to use force against ordinary people. However, we sometimes have to defend ourselves [during evictions]. If they observed the advance instructions clashes would not occur," said the officer, who declined to be named as he was not authourised to speak to the media.
He denied police made use of plainclothes vigilantes, but added that evictions were often carried out following requests by companies seeking to develop the areas.
Nay Linn is a parliament lawmaker for the National Unity Party representing Rangoon's Hlaing Tharyar Township, an industrial area where bamboo settlements with no electricity or piped water have sprung up in the shadow of factories. He said authorities were using excessive force during evictions.
"When squatters' houses are to be removed or demolished they should be given a certain amount of time to prepare to leave," he said. "[But now] authorities or companies are using force to quickly remove them."
No legal protection
Thein Lwin left his village in the Irrawaddy delta two years ago to work in a brick factory where he was given accommodation in the workers' quarters on the factory premises. But the job didn't last long, and after he left he was forced to live in three slums in Hlaing Tharyar, on Rangoon's western edge, as one by one they were cleared.
"I rented [cheap] houses in Hlaing Tharyar, but some guys came to these areas and kicked me out – I have had to move three times," he told Myanmar Now.
[related]
All across Burma, there has been an increase in pressure on land in recent years and rural communities have fought against expanding agro-industrial plantations growing sugarcane and rubber.
In some cases, communities have also tried to reclaim land confiscated by the former military regime – a parliamentary inquiry estimated in 2013 that the junta had forcibly seized about 250,000 acres of farmland during its rule.
Burma's land laws provide little protection for farmers, as officially all land is owned by the government. Residents of city slums have an even flimsier legal safety net. Authorities often bring criminal charges of trespassing against squatters who resist eviction, said Phoe Phyu, a well-known land rights lawyer.
"Myanmar has no existing law that protects the squatters," he said, adding that residents must apply for a permit to be allowed to stay on any piece of land, even if its ownership unclear – something most are unaware of.
Few cheap housing options
Rangoon and other cities in Burma are expected to grow rapidly in the coming years and rural-to-urban migration is likely to increase, but the former capital already suffers from a shortage of low-cost housing.
Tin Win, Rangoon Division's former minister for border affairs, said regional authorities are spending US$20 million to develop low-rent housing projects in North and South Dagon and Hlaing Tharyar townships, to help meet the growing demand.
"We will select the squatters who actually do not have any houses and will lease them apartments … We are hopeful we can address the squatter problem," he told Myanmar Now.
But real estate agents said not enough was being done to address the housing shortage, while Rangoon's property boom of recent years has driven up rent rates across the city, fuelling the growth of bamboo shanty towns.
"Few people care about the squatters. When some industrial zones emerge and land prices increase the land owners try to forcibly remove them," said Than Oo, managing director of Mandine real estate agency.
As the election approaches, the first in decades to be contested by all main parties, Nay Linn, the Hlaing Tharyar lawmaker, said unscrupulous politicians and phony brokers were tricking residents into believing they could gain tenure over their land in return for party support or cash payments.
"There are over 150,000 households in Hlaing Tharyar Township, among them there are both the homeless and cheats," he said. "Certain political parties persuade the squatters to become party members with promises of legal settlement."
Ma Thida, evicted from Thalabaung Village with her children, said authorities should consider the plight of slum dwellers and offer them opportunities to live legally without the constant fear of eviction.
Her family has been torn apart. She is now back in Pegu [Bago], a town 96 km north of Rangoon, but her two school-going children are at an acquaintance's house near the slum where they could continue their schooling. Her husband is sleeping at his workplace – a factory in Rangoon.
"Forced removal of squatters cannot solve the problem," she said. "They will just move to another place and the same problem will happen again."
========================================================================================================================
Major forced evictions since 2012
Rangoon and several other cities in Burma have seen a number of large-scale forced evictions of slums in recent years, often leading to clashes between security forces and locals residents, according to local media reports.
– In July 2012, the government's Aviation Department forcibly removed an unofficial settlement of hundreds of families in Rangoon's Mayangon Township.
– In September 2012, authorities used force to clear a slum of more than 100 families in Mandalay's Chanmyatharzi Township, Myananda Ward. Clashes ensued and several residents were arrested.
– In February 2013, some 300 families who had been living in Thameekalay Village, in Rangoon's Hlegu Township, resisted eviction from a plot of military-owned land, where they had been living for about 20 years.
– In February 2013, a large group of poor families built some 1,000 homes at unregulated site in Hlaing Tharyar Township, Ward 5. Soon after, authorities ordered security forces to clear the slum and clashes broke with residents.
– In August 2013, Dozens of poor families began building huts near Shwelinban Creek in Hlaing Tharyar Township when police forces descended and clashes ensued.
– In July 2015, some 500 residents of a slum in Tabadaung Village in Rangoon's Mingaladon Township were attacked by dozens of plainclothes men, who destroyed their makeshift homes and vegetable gardens.
This article, written by Htet Khaung Linn, was republished courtesy of Myanmar Now.