FROM THE DVB NEWSROOM
Editor's note: We'll be switching our Daily Briefing newsletter over to MailChimp on July 17. This won't affect how most of you receive it in your email, but if you don't see it in your inbox, please check your Spam folder.
Refugee influx to India's Mizoram surpasses 60,000 since coup
Over 60,000 refugees from Chin State and nearby areas have fled to the Indian state of Mizoram since the 2021 coup, according to the U.S.-based Institute of Chin Affairs (ICA). It states that approximately 45,000 people from Burma crossed into Mizoram last year. This year over 15,000 have done the same. "Previously, one could find work easily. However, with the influx of a large number of people, job opportunities have become scarce," a Mizoram State resident told DVB. Violence in Chin State over the last two years has displaced over 200,000 people from their homes. The ICA adds that Internally Displaced Persons (IDPs) in Chin State, along with the refugees in Mizoram State, are in urgent need of humanitarian assistance.
ASEAN foreign ministers to discuss Burma this week
The Association of Southeast Asian Nations (ASEAN) foreign ministers will meet to discuss Burma's political crisis in Jakarta, Indonesia on July 12, Thai PBS reported. Indonesia, the current ASEAN chair, is expected to call for additional measures to be taken against Naypyidaw since it has failed to abide by the Five-Point Consensus (5PC) and end all violence, which it agreed to do in April 2021. It also agreed to the delivery of humanitarian aid and political dialogue with all stakeholders. The AP reported that envoys from the U.S., Russia, and China will be present at the ASEAN talks. U.S. Secretary of State Antony Blinken is expected to press ASEAN to take a stronger stance against Naypyidaw. Jakarta has been engaging with various stakeholders in Burma, including the military regime, the National Unity Government (NUG), and other resistance groups.
Regime building two new prisons for political prisoners
The military regime is building two new prisons that will house political prisoners, RFA reported. One of the prisons is being constructed in Mawlamyine Township in Mon State while the other will be built in Pathein Township of Ayeyarwady Region. The Mawlamyine prison site is located in a dense forest. "I believe that the junta intentionally chose the remote places that would be good for keeping the news in the dark and covering its tracks," said an unnamed spokesperson from the Mon State Revolutionary Organization (MSRO). The two prisons will be run by the military, sources close to the prison department told RFA. The Assistance Association for Political Prisoners (AAPP) states that there are currently 19,389 political prisoners in Burma.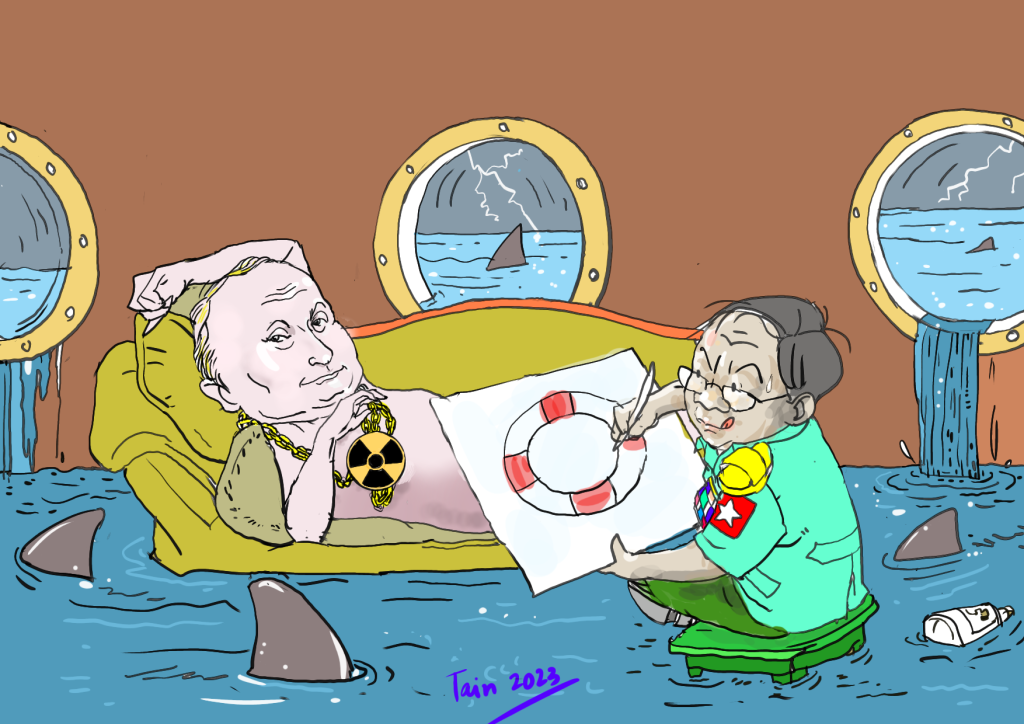 News by Region
KAREN—The Karen National Union (KNU) states that 76 fighters belonging to it and other resistance groups were killed in 2,500 battles from January to June 2023 in KNU territory. It claimed that 2,600 Burma Army troops were also killed.
KACHIN—The Burma Army fired artillery shells near the Kachin Independence Organization (KIO/KIA) headquarters of Laiza on July 9. "Essential supplies have become scarce due to the ongoing fighting," said a Laiza resident. The fighting started last week. Airstrikes have been reported. At least five Tanai Township residents were detained by the Burma Army on July 9. Locals believe that they were accused of providing information to the KIA. The brother of a pro-military militia leader was killed near Tanai township on July 8.
The owner of Shin Yin Hotel and KTV Bar in Seikmu village of Hpakant Township was killed on July 8. The woman's body was later discovered at an intersection with gunshot wounds. "Around five individuals arrived and abducted her. I am unaware of the identity of the group responsible," a Seikmu resident told DVB. At least three people were killed on May 12 during a Burma Army raid on the hotel while members of the Kachin Independence Army (KIA) and People's Defense Force (PDF) were inside.
SAGAING—The price of food has been steadily increasing in Kalay Township due to the Burma Army blockade of a road connecting the township with Chin State. The road was blocked due to fighting in the area. "They say that the prices are rising because the roads are closed, and products are not coming in," a Kalay Township resident told DVB.
Two men from Homalin Township were convicted and sentenced to 10 years in prison under the Counter-Terrorism Act on July 8. They were arrested in July 2022 for allegedly possessing explosives.