FROM THE DVB NEWSROOM
Editor's note: We'll be switching our Daily Briefing newsletter over to MailChimp on July 17. This won't affect how most of you receive it in your email, but if you don't see it in your inbox, please check your Spam folder.
Protesters to be targeted on Martyrs' Day
The military has formed local groups in each Yangon township to monitor anti-coup protests on July 19, Martyrs' Day in Burma. "They are trying to arrest activists [preemptively] like they did during the 'Flower Strike.' Officials from administration, fire department, police stations, military battalions and the Bureau of Special Investigation are participating," said an unnamed source close to the military. Veterans have been ordered to monitor Bahan Township and arrest protestors, or anyone suspected of planning to protest. The Yangon Regional Government will close roads around the Martyrs' Mausoleum in Yankin Township on July 19. Martyrs' Day commemorates the assassination of General Aung San and seven other officials killed six months before Burma celebrated its independence 76 years ago.
Thailand plans to repatriate 126 students to Burma
Educational organizations in Thailand have criticized the planned repatriation of 126 undocumented students to Burma. "Thailand enacted a policy called Education for All in 2005. This applies to the children of stateless migrant workers in Thailand. In this case, the government should cooperate to protect a child's right to education," said Htoo Chit, director of Thailand's Foundation for Education and Development (FED). In June, Thai authorities discovered that Thairath Wittaya 6 school in Ang Thong province had 126 undocumented students from Burma. Thai PBS reported that the U.S. Embassy in Bangkok met with Thai officials on July 11 to discuss the case.
Whistleblowers call on France to press India over arms shipments
The whistleblower group Justice for Myanmar (JFM) wrote a letter to France's President Emmanuel Macron on July 10 calling for pressure on India to stop its arms sales to the military regime. Macron is scheduled to meet with Indian Prime Minister Narendra Modi in Paris on July 14. "We also request that you require India to ban further exports of arms, dual use goods and technology to the junta as a condition on the export of French arms and technology to India," stated the JFM letter. A U.N. report by Tom Andrews implicated state-owned Indian firms in sending military equipment to Naypyidaw.
News by Region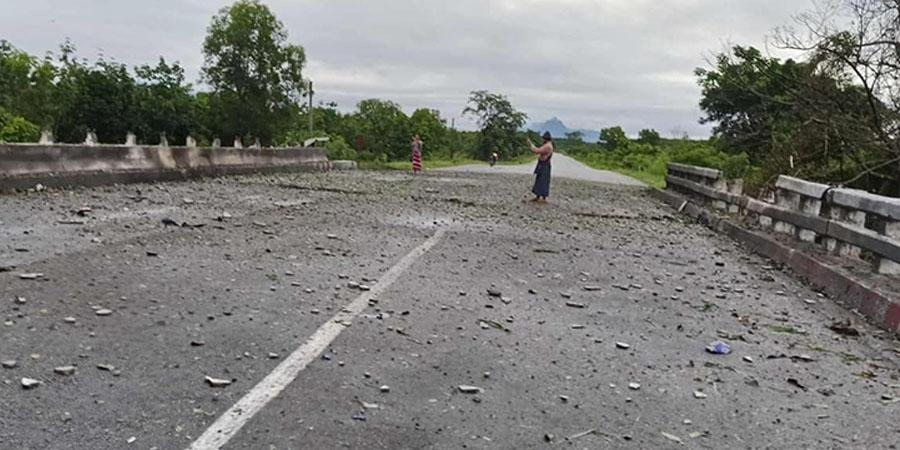 MON—A bridge on Thaton-Hpa-an Road, connecting Karen and Mon states, was damaged by an explosion on July 1o. "The authorities checked the bridge and temporarily closed it, but small vehicles were later allowed to travel on the bridge. In the afternoon, they allowed all vehicles to use it," said a Naung Kyan village resident. A crack was spotted in the middle and bottom of the bridge.
MANDALAY—The regime deployed soldiers in Mogok to order jade mines closed last week. "They told us to shut down all mining businesses. Soldiers are deployed in our village," said a resident of King village. Locals believe that the number of soldiers has increased because coup leader Min Aung Hlaing will attend a ceremony at a Mogok monastery.
RAKHINE—Residents in Rakhine State have been suffering from diarrhea and skin problems after drinking contaminated water since Cyclone Mocha made landfall on May 14, Development Media Group (DMG) reported. More than 400 people in Pauktaw Township and 200 in Ponnagyun Township have been unable to access healthcare services. These areas have been unable to clean contaminated water sources due to the lack of equipment. All humanitarian aid deliveries have been banned since June 8.
SAGAING—Eight houses in Mau village, Monywa Township were burned down by the Burma Army on July 11. "Their military convoy was attacked with landmines yesterday. That is why they returned today with three military trucks and set fire to the village despite there not being any fighting," said a Mau village resident.
YANGON—Unemployed garment factory workers belonging to labor unions have been unable to find new jobs and say they've been blacklisted. "Many factories that had workers' unions were shut down. They [owners] said they had no new orders and shut down the factory while giving compensation when the workers demanded their rights. They can't control workers if the unions exist," said an unnamed garment factory worker. The regime has declared 16 trade unions as unlawful associations. The Solidarity Trade Union of Myanmar (STUM) states that foreign-owned factories that shut down, fire workers, and re-open at another location under a new name must be blacklisted, not unionized workers.