FROM THE DVB NEWSROOM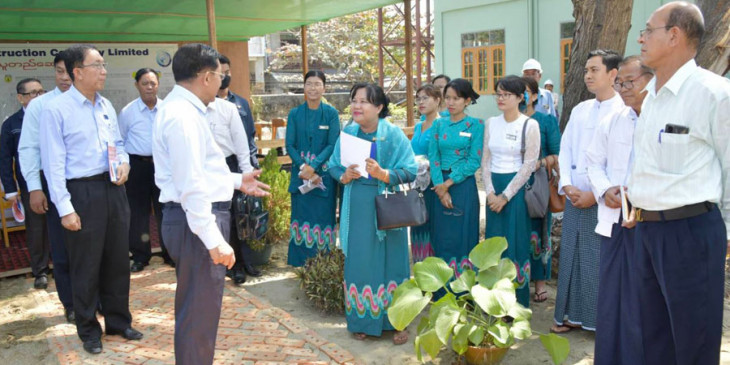 Regime to take action against "western democratic culture" in schools
The regime states it would take action against private schools in Burma teaching "western democratic culture." A leaked letter dated Feb. 17 informed all district and township education offices in Karen State of the planned action against schools. The letter has not yet appeared in other states and regions. The letter stated that the regime has ordered a new law to be enacted regulating private schools from teaching "western democratic culture" in Burma.
"As private schools have been teaching western democratic culture, the Ministry of Education has been ordered to draft and publish rules and regulations relating to private schools as a focal point," the leaked letter stated. DVB has not yet been able to confirm the letter's authenticity. "Ne Win practiced Burmese-style socialism. [Min Aung Hlaing] is trying to make a Burmese-style democracy. No matter what kind of democracy he proclaims, it will be dictatorial," said Ko Soe Win Swe, a political analyst.
JFM reports India state-owned company sends weapons to Burma
The whistleblower group Justice For Myanmar (JFM) reported that Yantra India Limited has exported weapons to Burma. The weapons were funneled through a company owned by the Burmese arm broker Kyaw Kyaw Htun last October. The Burma Army reportedly used the weapons in attacks on Hpakant and Bhamo townships last December. "India is directly supporting the junta's indiscriminate attacks against civilians, and therefore aiding and abetting those crimes," said Yadanar Maung, JFM spokesperson. JFM urged Australia, Japan and the U.S. to exert pressure on India to stop it from selling weapons to the junta.
Over 100 Burma nationals arrested in western Thailand
A total of 118 undocumented Burma nationals were arrested in Prachuap Khiri Khan province, Thailand on Feb. 28. Thai authorities found the people hidden inside a container truck after a roadside inspection, Thai media reported. Twenty-one children under age 15 were among them. The Burma nationals entered Thailand via Mae Sot. They were being transported to Malaysia. They are reported to have paid 25,000 baht ($717.65 USD) each to brokers for jobs in Malaysia.
News by Region
KACHIN—A total of 193 people from two villages in Hpakant Township were arrested by the Burma Army from Feb. 28 to March 1. The 193 people come from Shaw Raw Kha and Sa Pi Khu villages. "Some of them were released later but many were detained inside a company compound in Shaw Raw Kha village," a local said. They were arrested after the Burma Army caught a man allegedly planting landmines.
MAGWAY—Twenty-five places have been recognized as regional heritage sites after a meeting between the National Unity Government (NUG) heritage team and the Magway Region People's Administration. The sites include religious buildings, colonial buildings and fortresses in Magway Region. The directive states that anyone who fails to protect the sites can be prosecuted under the Counter Terrorism Law, the Protection and Preservation of Cultural Heritage Regions Law, and the Protection and Preservation of Ancient Monuments Law. The Burma Army has attacked heritage sites including the ancient Pyu city Hanlin, a heritage site in Shwebo district, and a 129-year-old Catholic church in Ye-U Township, Sagaing Region since the coup.
NAYPYIDAW—Ten inmates inside escaped a prison vehicle while being transported back to Yamethin Prison in Tatkon Township on March 1, according to sources close to the administration. "It happened near the 246 Milestone. There were two prison vehicles. Inmates from one vehicle argued and fought each other and so the officials opened the vehicle to check on them. However, the inmates started to attack the officers, grabbed a gun and shot at an official. Then they fled without taking the firearms," the source said. One official was injured and is in critical condition. Regime authorities are continuing their search for the 10 escaped inmates. 
RAKHINE—Chinese companies signed an agreement with the Department of Electric Power and Planning (DEPP) to build Burma's first wind turbines in Ann, Thandwe and Gwa townships, regime media reported. Burma's Primes Advanced Technologies (PRIMUS), Hong Kong's Asia Ecoenergy Development (AED), and China's Yunnan Machinery and Equipment Import and Export Company, have signed a memorandum of agreement (MOA) with the Ministry of Electricity and Energy (MOEE) in Naypyidaw. MOEE Minister Thaung Han said the project plans to produce a total of 360 megawatts of electricity. The three projects are planned to begin operations in 2025.
SAGAING—Four civilians were killed during fighting between the Burma Army and resistance forces in Kone village, Yinmabin Township from Feb. 28 to March 1. Two resistance fighters were injured.