As clashes intensify in northern Shan State between Burmese government forces and ethnic rebels, aid workers say humanitarian supplies are fast drying up for the thousands of Kokang civilians who fled their homes to take refuge in shelters.
Speaking exclusively to DVB, medical and aid workers at the Sino-Burmese border have called for an urgent response of increased international support and more attention to be focused on the plight of the tens of thousands of refugees from the Kokang region.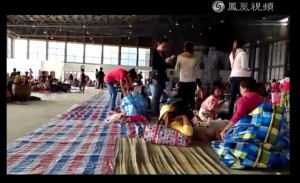 "The number of refugees is growing by the day, and it is getting harder and harder to provide enough food, volunteers, doctors, medicine and clothes to meet their needs. They require an urgent helping hand," said Xiao Ruan, a member of KokangBoAi, a Chinese non-governmental aid agency, which has set up a shelter for displaced Kokang families around Nansan Township in Yunnan Province, just a stone's throw from the Burmese border.
Since hostilities broke out in the Kokang Special Region on 9 February between the Burmese army and Kokang rebels of the Myanmar Nationalities Democratic Alliance Army (MNDAA), more than 30,000 refugees have taken refuge on Chinese soil.
"Many refugees are here in Nansan's 125 Camp*," said a refugee identified as Mr Yang by the Voice of America's Chinese service on Monday. "But many others have not been allocated places. The international community should pay more attention to these people."
He said that many displaced persons from Laogai [Laukkai] and villages caught in the crossfire of the conflict have crossed into China and dispersed amongst various villages and towns. Others appear to be living in a makeshift fashion in the forest, he added.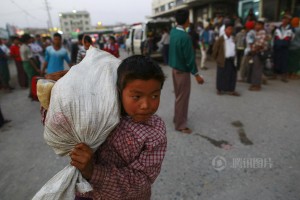 A medic surnamed Zhao, who is assisting at a Nansan refugee camp, has said that Health Unlimited placed two doctors at the camp, but that they must attend to around 3,000 refugees.
"The doctors are essentially there just to ensure that cholera and diarrhoea do not break out in the camp," he said.
"So far, we are doing OK. We go through a sterilisation process three times per day, and send more serious cases to Nansan Hospital."
Zhao said the camp received a donation of some 10,000 kilograms of rice and also has access to spring water, but lacks meat and nutritious food.
KokangBoAi's Ruan said he had been told that infectious diseases had broken out at some camps set up temporarily in mountainous areas.
Ruan said that the regional authorities of Zhenkang County, which oversees Nansan, have tightened their grip on NGOs providing relief to refugees in case the supplies fall into the hands of ethnic rebels. He said some local youth groups had been trying to provide medicine and supplies to Kokang rebels.
"The Burmese authorities have been in touch with their Chinese counterparts to discuss plans for resettling the refugees back in their hometowns, but no dates have been fixed," he said.
Burma's state-run media reported on Tuesday that "stability had returned" to the troubled region, and that as many as 800 residents from Laogai had returned home by Sunday.
The MNDAA released a statement on Wednesday on its official Chinese website, accusing local police officers in Laogai of resorting to "both mild and severe measures" to lure refugees back to the town. It added that "such an irresponsible move puts our brothers and sisters' precious lives at risk."
The MNDAA claimed that Burmese soldiers killed a number of Kokang civilians who returned to Laogai on Tuesday, accusing them of being Kokang rebels in plain clothes.
[related]
Earlier this week, Burmese aid groups suspended relief convoys into the Kokang region, following a series of ambushes on non-military convoys.
The Kokang militia on Tuesday denied any involvement in two separate attacks on Red Cross convoys.
"The attack reported by Burmese media about a second Red Cross convoy on 21 February had nothing to do with the MNDAA," read the statement, written in Chinese and posted on the MNDAA website. "The area where the Red Cross-flagged truck was attacked is under the tight control of the Burmese army … The MNDAA does not even have forces in that area, nor does it attack civilian vehicles."
*125 Camp is the name of the shelter. The original report indicated that 125 different shelters had been set up. We apologise for this mistake.