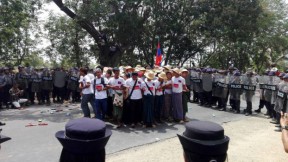 Fifteen workers from the Myanmar Veneer and Plywood Private Ltd (MVPPL), standing trial for scuffling with police at a protest in Naypyidaw five months ago, were indicted on a variety of charges on Monday.
The defendants had been previously charged on four accounts each: unlawful assembly; continuing to be part of an unlawful assembly by defying an order to disperse; rioting; and sedition.
The Tatkon township court in Naypyidaw on 17 October dropped the rioting charges against the 12 men on trial, but upheld the other three charges, including that of sedition.
The tree female defendants were indicted only on the two unlawful assembly charges, said the group's lawyer Aung Thurein Tun.
The 15 were among a group of demonstrating workers from the Sagaing Division-based wood processing plant who in May marched 400 kilometres from Sagaing to Naypyidaw to publicise a dispute with MVPPL. The protestors said that the firm had sacked employees for demanding overtime and other improvements to working conditions. The rally came to an abrupt end when the marchers were stopped at a roadblock and confronted by riot police upon arriving in Tatkon on 18 May.
[related]
In total, 51 protestors were initially charged, however only 15 were brought to trial; charges against the others were dropped.
The judge has appointed 24 October as the date for verdicts.