FROM THE DVB NEWSROOM
Srettha Thavisin is Thailand's 30th prime minister
The Pheu Thai Party's Srettha Thavisin secured enough votes in parliament to become Thailand's prime minister on Aug. 22. He received 482 out of 750 votes in parliament and became the country's 30th PM after Move Forward Party leader Pita Limjaroenrat failed to secure enough votes in parliament from the military-appointed Senate in July. Pheu Thai will lead an eleven party coalition, including military-proxy parties United Thai Nation and Palang Pracharath. Former PM Thaksin Shinawatra returned to Thailand from a 15-year self-exile and was sentenced to eight years in prison.
Military offers bonuses for new recruits
The military is offering up to K3 million ($1,429 USD) to Burma Army personnel that recruit new soldiers, said sources close to the four recruitment teams operating across the country. "The payment to recruit someone has now increased to K3.5 million, but no one is interested," added the source. The director of military recruitment Tauk Tun issued an order on July 1 to offer recruitment bonuses. A veteran said that some battalion commanders have also arrested and coerced people to join the army. The military recruitment program is led by Vice Senior General Soe Win and the Directorate of Military Reinforcement.
Central Bank tightens foreign currency rules
The Central Bank of Myanmar (CBM) warned on Aug. 20 that unauthorized owners of foreign currency will be prosecuted under the Foreign Exchange Management Law. Citizens are permitted to hold up to $10,000 USD but must convert it into local currency or deposit into a bank account if they do not use it within six months, states a 2014 directive. The CBM announcement came a day after it met with industrialists in Naypyidaw. The regime indicated that only licensed currency exchange businesses are allowed to hold and trade foreign currency as cash. Since the 2021 coup, the regime has imposed restrictions to regulate the flow of foreign currency and has sold tens of millions of USD to meet domestic demand. Exporters have also been instructed to resell a specific percentage of the dollars they receive.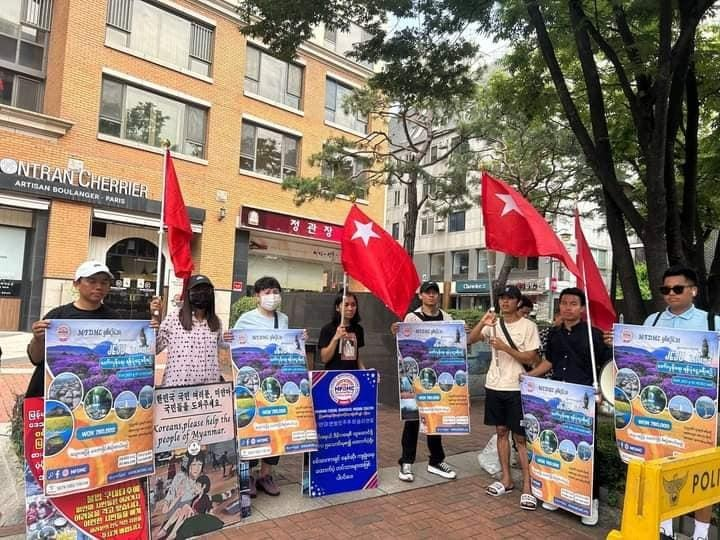 News by Region
ARAKAN (RAKHINE)—More than 13,000 Internally Displaced Persons (IDPs) in Buthidaung Township have been unable to return to their homes since fighting between the Arakan Army (AA) and the Burma Army broke out in 2018. Regime administrators in Buthidaung and Maungdaw told camp officials in October 2022 that IDPs from villages where no fighting was taking place would be allowed to return home at the end of October. "[The military] told us to provide the list of IDPs who want to go home and even said they will also provide money. We gave them the list. IDPs from four villages of San Godaung village tract are homeless and the Burma Army are still deployed there. They called them red-level villages [where no fighting is taking place] and people from those villages are not allowed to go home yet," said an IDP from San Godaung village tract.
MAGWAY—Htan Bone and Let Htoke Taw village residents said that more than 30 houses in Myaing Township were torched by the Burma Army on Aug. 20-21. The villages were attacked after a military column raided Kan Ni and Shwe Lin Swal villages and arrested over 200 civilians. The detained have not yet been released and villagers are trying to contact them. Fighting broke out in the area.
SHAN—The Phaung Daw Oo Pagoda festival will return during Thadingyut at Inle Lake this year. It has not been held since 2020 due to the COVID-19 pandemic. "There have been many human rights violations in the Inle region since the coup. This is not a religious event but a political trick," said an Inle Lake resident. Activists urged the public to boycott the Thadingyut Festival on Oct. 30.
TANINTHARYI—A headmistress at a school and a man from East Mawtone village tract in Tanintharyi Township were killed on Aug. 20. "She gave information to the military," said a Tanintharyi resident. On that same night, an alleged military informant was killed at his home in West Mawtone village. No group has claimed responsibility for the murders. Residents claimed the Burma Army fired artillery at East Mawtone village following the killings.